Local Foods, Local Places: Passaic, NJ
A city builds on its food assets to become a cultural destination that meets local needs
Passaic, New Jersey, is a city of about 70,000, just 15 minutes from New York City. Originally a community of southern and eastern European immigrants, the city's Hispanic population has grown to comprise more than two-thirds of the population. One of the city's core assets is the concentration of food establishments along the Market Street commercial corridor—21 restaurants, 11 bodegas, and three bakeries—representing the city's ethnic heritage.
This neighborhood was designated by the city as a redevelopment area in 2004, and after nearly a decade of little activity, developers began to show interest in repurposing some of the area's older, industrial properties. While encouraging redevelopment, the city wants to make sure the lower-income residents of the area can benefit from this revitalization.  
The 2016 Local Foods, Local Places workshop helped bring together local business owners, residents, and community stakeholders to plan how to leverage this cultural corridor to attract outside visitors, better serve local customers, and support neighborhood revitalization.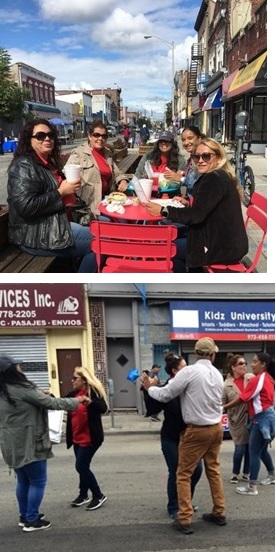 The city's first Taste of Market Street event brought out residents and visitors to explore the neighborhood's many cultural food offerings. (Photo courtesy of Mary Ann Buga)An early success was the first "Taste of Market Street" event in 2017 to build community, share plans for neighborhood improvements, and highlight the neighborhood's cultures and cuisines. The city's Urban Enterprise Zone program and Valley National Bank helped pay for several parklets that allowed al fresco dining in parking spaces along the street.
The day included music, dancing, and informational displays on health and environmental initiatives that community partners were undertaking in Passaic. The event not only supported the local businesses; it also helped reinforce the community's desire to clean up brownfields and empty lots in the neighborhood for parks, playgrounds, and walking paths to provide more opportunities for such outdoor activities.
In addition to creating a destination that attracts visitors to dine and shop in the neighborhood, the city recognized that giving residents more options for healthy, fresh food was vital to improving their health. With one of the lowest car-ownership rates in the state, residents rely predominantly on local bodegas for their food.
In 2016, the New Jersey Healthy Communities Network gave SMILE for Charity, a nonprofit organization in Passaic, along with Rutgers University Cooperative Extension and the New Jersey Supplemental Nutrition Assistance Program Education, a grant to implement the New Jersey Healthy Corner Store Initiative in six corner stores in the Market Street corridor. With the grant money recently awarded at the time of the Local Foods, Local Places workshop, stakeholders were able to use the opportunity to discuss implementation ideas and encourage participation in the initiative among Market Street businesses. 
The initiative started by offering small business training to corner store owners, including information about pricing and the benefits of using local distributors instead of third-party sellers. The initiative gave the stores blenders and recipes for smoothies—a value-added product that increases store profits, reduces spoilage of fresh produce, and creates a healthy offering for customers. Each store had an individualized plan that included changes in inventory to offer healthy options that appealed to the store's customer base and changes to the store layout to make healthy food offerings more prominent.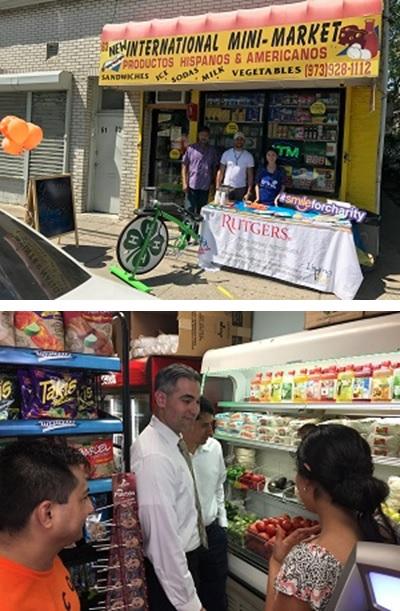 Residents and city officials came out to celebrate the grand opening of the Healthy Corner Store Initiative. (Photo courtesy of SMILE for Charity)Nutrition training helped store owners understand the health benefits for the entire community, and they were able to help reach customers as peer educators. Store owners also came up with their own ideas. Adopting a common snack in Mexico, they started offering cups of fresh fruits and vegetables with chili powder and lemon. Stores quickly started selling out, with students stopping by after school, replacing their normal snack of chips with this healthier alternative.  
Another benefit of these efforts is that the corner store owners on Market Street starting talking to one another about their businesses and supporting each other in different ways. For example, they created a buying club so larger distributors will make deliveries to the entire corridor, which they previously would not have done for individual stores. With coordination and support, the Market Street corridor is well on its way to becoming both a destination for authentic cultural cuisine and a vibrant, local-serving corridor that gives residents fresh, healthy food options. 
LESSONS LEARNED
A concentration of similar businesses can help create an identity for an area that will attract visitors from outside the neighborhood. 
Events can help generate enthusiasm among residents and demonstrate to business owners that coordination and cooperation will yield dividends that make the effort worthwhile. 
Residents will buy healthy food if it is appealing and convenient to purchase and consume, and they will participate in healthy outdoor activities if given the space and opportunity to do so.
---
Published: May 2018
Source: Personal Communication with Sara Elnakib, Family and Community Health Sciences Educator, Rutgers Cooperative Extension of Passaic County on November 2, 2017, and Joe Buga, Project Manager, Passaic Enterprise Zone Development Corporation on December 4, 2017.