Local Foods, Local Places: Walterboro, SC
Support for Food Entrepreneurs Spurs Downtown Redevelopment
Walterboro, South Carolina, was founded in 1783 as a summer retreat for low country rice plantation owners. Today, the town, located in Colleton County, has a population of a little more than 5,000 people. The downtown farmers market wanted to support vendors who needed a low-cost, commercial kitchen in which they could create value-added products, learn how to navigate regulatory requirements, receive small business development training, and help develop the local foods culture of the low country region.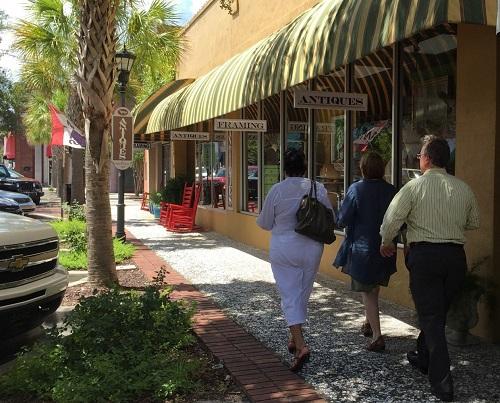 Downtown Walterboro attracts many visitors with its antique stores and charming streets.Colleton County secured a zero-interest, $1 million loan for a commercial kitchen from the Palmetto Rural Telephone Cooperative through the USDA Rural Economic Development Loan and Grant Program. The program provides funds to local utility sponsors, which use the funds to support local projects that will create and retain jobs in rural areas. Using this loan, the county redeveloped a vacant building into the Colleton Commercial Kitchen and connected it to the Colleton Museum and Farmers Market. The county pays back the loan using revenue from the project, backed up by hospitality tax revenue.
The idea for a commercial kitchen began to take hold in 2013. Most of the first year was spent applying for funding. By January 2014, plans were finalized, and construction bidding began, with construction beginning in May. In June, the South Carolina Department of Health and Environmental Control granted final approvals for the kitchen so operation could begin.
In September 2015, the kitchen got its first user, and less than a year later, the kitchen won the South Carolina Association of Counties award for "most innovative project undertaken to improve the lives of citizens in that country." In 2016, the Colleton Museum and Farmers Market hosted a Local Foods, Local Places workshop to explore how to ensure the facility's long-term success and take advantage of its central location to help revitalize downtown. As of March 2017, the kitchen had 10 users.
The kitchen offers a food-production facility that can be leased by the hour, small business training, and a retail café and market where kitchen users can sell their products. After two years of operation, the kitchen:
Created 12 new businesses that sell value-added products in local retail outlets.
Created 60 new jobs.
Certified 280 food professionals.
Rented the facility to the public for more than 40 events.
Prepared more than 200,000 meals for after-school and summer feeding programs.
Produced 120,000 ounces of bottled sauces.
Produced more than 18,000 bakery items.
Matt Mardell, program manager at the kitchen, notes, "Our gift shop used to take in maybe $40 a month, but now it's bringing in about $40,000 a quarter. It's a massive financial impact driven by local business, which in turn is great for economic development."
Beyond the success of the kitchen itself, the building renovation and creation of a retail café along with street beautification and landscaping improvements have contributed to downtown's vitality and spurred redevelopment on parcels in the immediate surroundings. Several existing businesses and an apartment building have been renovated, and a gym and law offices opened in vacant buildings nearby.
LESSONS LEARNED
Being the only facility of its type, size, and operation in South Carolina helped ensure sufficient demand for the services.
The market and café provide a ready outlet for entrepreneurs to sell their products.
The investment in the kitchen yielded dividends for the entire downtown because of its central location.
---
Published July 2017
Source: Personal communication with Matt Mardell, Program Manager, Colleton County Commercial Kitchen.
This case study appears in the Local Foods, Local Places Toolkit.