National Award for Smart Growth Achievement
On this page
---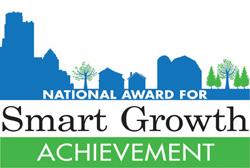 Background
From 2002 to 2015, EPA presented the National Award for Smart Growth Achievement to recognize and support communities that use innovative policies and strategies to strengthen their economies, provide housing and transportation choices, develop in ways that bring benefits to a wide range of residents, and protect the environment. EPA will no longer present the award.
Smart growth development practices:
Support national environmental goals by preserving open spaces and parkland and protecting critical habitat.
Improve transportation choices, including walking, bicycling, and transit, which reduces emissions from automobiles.
Promote brownfield redevelopment.
Reduce impervious surfaces, which improves water quality.
To learn more about smart growth and the environment, see our About Smart Growth page.
---
Learn About the Winners
The 64 projects in 28 states that won awards and honorable mentions can offer useful lessons and models for other communities. Winning projects range from statewide initiatives to individual buildings, in communities large and small across the country. Click on the winning project's name or a year to see the booklet with descriptions of the winners for that year. Videos are included for the award winners from 2009 to 2015.
| Name | Location | State | Year | Category |
| --- | --- | --- | --- | --- |
| | Jackson | TN | | Corridor or Neighborhood Revitalization |
| City of Hamilton and Historic Developers, LLC, Public-Private Partnership | Hamilton | OH | | Built Projects |
| | Newark | NJ | | Plazas, Parks, and Public Places |
| Atlanta BeltLine Eastside Trail and Historic Fourth Ward Park | Atlanta | GA | | Overall Excellence |
| | Dubuque | IA | | Corridor or Neighborhood Revitalization |
| | Chicago region | IL | | Policies, Programs, and Plans |
| | Detroit | MI | | Policies, Programs, and Plans – Honorable Mention |
| | Sacramento | CA | | Built Projects |
| | New York City | NY | | Built Projects - Honorable Mention |
| | Charles City | IA | | Plazas, Parks, and Public Places |
| | Lancaster | CA | | Overall Excellence |
| | Brattleboro | VT | | Main Street or Corridor Revitalization |
| | Buffalo | NY | | Main Street or Corridor Revitalization - Honorable Mention |
| | Portsmouth | VA | | Programs and Policies |
| | San Francisco Bay Area | CA | | Programs and Policies - Honorable Mention |
| | Denver | CO | | Equitable Development |
| | Fort Lauderdale | FL | | Equitable Development - Honorable Mention |
| | St. Louis | MO | | Overall Excellence |
| | Albuquerque | NM | | Smart Growth and Green Building |
| | El Paso | TX | | Programs, Policies, and Regulations |
| | Howard | SD | | Rural Smart Growth |
| | Normal | IL | | Civic Places |
| | New York City | NY | | Overall Excellence |
| | Baltimore | MD | | Smart Growth and Green Building |
| | Portland | OR | | Programs, Policies, and Regulations |
| | | ME | | Rural Smart Growth |
| | San Francisco | CA | | Civic Places |
| | Lancaster County | PA | | Overall Excellence |
| | Charlotte | NC | | Policies and Regulations |
| | Chicago | IL | | Built Projects |
| | Tempe | AZ | | Smart Growth and Green Building |
| | Silver Spring | MD | | Overall Excellence |
| | Atlanta | GA | | Policies and Regulations |
| | Roxbury | MA | | Built Projects |
| | San Francisco | CA | | Equitable Development |
| | Portland | OR | | Overall Excellence |
| | Seattle | WA | | Built Projects |
| | | VT | | Policies and Regulations |
| | Hyannis | MA | | Waterfront and Coastal Communities |
| | New York City | NY | | Equitable Development |
| | | MA | | Overall Excellence |
| | Wichita | KS | | Built Projects |
| | | PA | | Policies and Regulations |
| | Winooski | VT | | Small Communities |
| | Chicago | IL | | Equitable Development |
| | Denver | CO | | Overall Excellence |
| | Lakewood | CO | | Built Projects |
| | Pasadena | CA | | Policies and Regulations |
| | Redding | CT | | Small Communities |
| | Orlando | FL | | Military Base Redevelopment |
| | Davidson | NC | | Overall Excellence |
| | Greensboro | NC | | Built Projects |
| | Santa Cruz | CA | | Policies and Regulations |
| | Sacramento | CA | | Community Outreach and Education |
| | San Juan Pueblo | NM | | Small Communities |
| | Minneapolis-St. Paul | MN | | Overall Excellence |
| | San Diego | CA | | Built Projects |
| | Cuyahoga County | OH | | Policies and Regulations |
| | | GA | | Community Outreach and Education |
| | Raleigh | NC | | Public Schools |
| | Arlington County | VA | | Overall Excellence |
| | Breckenridge | CO | | Built Projects |
| | San Mateo County | CA | | Policies and Regulations |
| | | MA | | Community Outreach and Education |