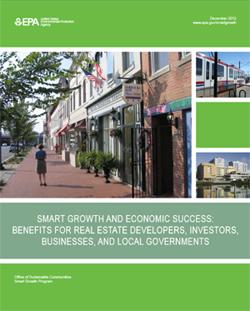 Smart Growth and Economic Success: Benefits for Real Estate Developers, Investors, Business, and Local Governments (2012) is the first in a series of reports designed to inform developers, businesses, local government, and other groups about the benefits of smart growth development. This report incorporates feedback from a 2011 workshop in which business leaders, real estate developers, and economic development professionals discussed how to expand on work in this area.
Some of the advantages for developers, communities, and local governments associated with smart growth include:
Compact development: Compact development can generate more revenue per acre because it uses land more efficiently. It can reduce the costs of land and infrastructure for individual projects and the costs of providing public services and amenities. Locating companies close together can create a density of employment that increases economic productivity and attracts additional investment.
Walkability: Projects in walkable neighborhoods command a price premium, earning real estate developers and investors a higher return on investment. Neighborhoods that are more appealing to pedestrians can attract customers to local businesses, which benefits local governments by generating more property and sales tax revenue.
Range of choices: The demand for homes in smart growth neighborhoods exceeds the supply. Changing demographics will likely further increase the demand for smart growth development. Developers, investors, businesses, and local governments that respond to these market preferences could reap economic advantages.
The other reports in the series delve into more detail:
You may need a PDF reader to view some of the files on this page. See EPA's About PDF page to learn more.