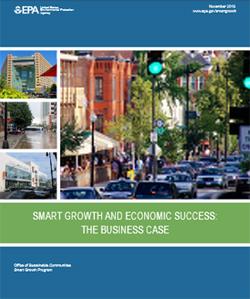 Many companies representing diverse business types have recognized that compact, walkable downtowns are good for business and are choosing their operating locations accordingly. Smart Growth and Economic Success: The Business Case (2013) discusses how locations with housing and transportation options, a mix of uses close together, and a high quality of life can improve environmental outcomes while providing economic advantages for businesses, including:
Increased productivity and innovation: Easier access to labor, suppliers, and supporting businesses improves productivity. An environment that enables and encourages social interaction both within and among firms leads to more idea exchange, innovation, and collaboration. Making it easy for employees to incorporate physical activity into their daily commutes improves their health and well-being, reducing absenteeism and health care costs.
Improved ability to compete for labor: Many professionals and recent college graduates prefer to live near where they work and to be able to walk to shops, restaurants, and entertainment. Low-wage workers need access to affordable housing near jobs and transportation options. Businesses in walkable central business districts near transit can meet the needs of both these groups, making it easier to recruit employees.
Stronger retail sales: Stores find it easier to attract customers when they are in locations that can be reached in multiple ways and provide a diverse, vibrant environment.
This report is the second in a four-part series:
You may need a PDF reader to view some of the files on this page. See EPA's About PDF page to learn more.