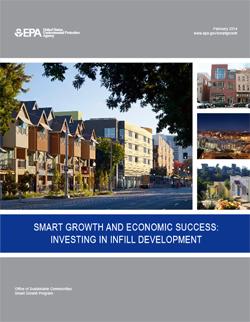 Developers of all sizes, from independent, small-scale developers to large, publicly traded development companies, are building infill projects throughout the country, and are doing so profitably. Nevertheless, infill development can present challenges that can discourage developers, particularly those without infill experience. Smart Growth and Economic Success: Investing in Infill Development discusses how these barriers are often surmountable and are beginning to diminish as infill development becomes more common.
New trends point to a sustained increase in demand for infill development, creating a market opportunity for developers:
Changing demographics and preferences: In the next 20 years, the needs and preferences of aging baby boomers, new households, and one-person households will drive real estate market trends, and infill locations are likely to attract many of these people.
Employer behavior: As more people choose to live in infill neighborhoods, employers are following, and vice versa. Many corporations are moving to infill locations, in part because they recognize the competitive advantages of being closer to the central city.
These trends give developers economic incentives to find solutions to potential barriers to infill, and infill projects' lower infrastructure costs and higher rent and sales prices can help make them profitable. Local governments are helping as well; by changing the regulatory environment to encourage infill, they support development that uses existing infrastructure, cleans up and repurposes contaminated and neglected sites, helps reduce transportation-related pollution, and reduces development pressure on outlying areas.
This report is the third in a four-part series:
You may need a PDF reader to view some of the files on this page. See EPA's About PDF page to learn more.