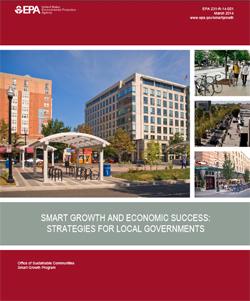 Many local governments are struggling financially as municipal revenues have failed to keep pace with rising costs of local government operations. To avoid cuts to basic services, many municipalities seek to improve their fiscal health while maintaining a high quality of life for residents. Smart growth strategies can help local governments build on existing assets and maximize the return on investment while helping to protect the environment and human health.
Smart Growth and Economic Success: Strategies for Local Governments (2014) reviews the latest evidence of the connection between smart growth approaches and the fiscal strength of local governments to help them make decisions about where and how to grow. Strategies for local governments to lower costs and/or increase revenue include:
Compact development in established town and city centers: Water, sewer, and road infrastructure cost less in compact development than in more dispersed development. In addition, ongoing expenses, including those for police, fire, and emergency services; street maintenance; and trash removal, are higher per capita when development is dispersed and infrastructure must serve people across a larger geographic area.
Transit connecting homes and jobs: Smart growth development can help communities maximize property tax revenue without raising tax rates because properties near transit and compact, walkable, mixed-use development in established town and city centers are associated with higher property values.
Neighborhoods and streets that make walking and biking safe, convenient, and enjoyable: Investing in making retail districts more walkable and bikable helps businesses and restaurants fill empty storefronts and increase sales, raising sales tax revenue for local governments.
This report is the fourth in a four-part series:
You may need a PDF reader to view some of the files on this page. See EPA's About PDF page to learn more.