Smart Growth Strategies for Disaster Resilience and Recovery
On this page:
---
Background

How and where growth occurs, in both the short and long terms, can have a major impact on how well communities can prepare for and recover from natural disasters. But communities have not always used development planning as a strategy to become more resilient to hazards. Integrating smart growth approaches into preparedness and recovery can change this dynamic.
Smart growth strategies like creating flexible land use policies, targeting public investment to catalyze private investment, and engaging the entire community in making decisions about the future can help communities recover from a disaster, rebuild according to a shared community vision, and be better prepared for the next natural disaster.
---
EPA-FEMA Memorandum of Agreement
In 2016, EPA and the Federal Emergency Management Agency (FEMA) updated a Memorandum of Agreement that makes it easier for the two agencies to work together to help communities become safer, healthier, and more resilient. The agencies collaborate to help communities hit by disasters rebuild in ways that protect the environment, create long-term economic prosperity, and enhance neighborhoods.
FEMA and EPA also help communities incorporate strategies that improve quality of life and direct development away from vulnerable areas into their hazard mitigation plans. EPA and FEMA are using the lessons they learn from working together under this agreement and with other federal agencies to better coordinate assistance to communities on hazard mitigation planning and post-disaster recovery. The Memorandum of Agreement also helps the agencies work together on climate change adaptation.
Projects
FEMA and EPA have collaborated on the following projects:
EPA and FEMA Region 9 collaborated to help the Commonwealth of the Northern Mariana Islands (CNMI) recover from Typhoons Souldeor in 2015 and Yutu in 2018. Through planning calls and on-site workshops throughout 2018, EPA and FEMA assistance led to the development of the Guidance Manual for Smart, Safe Growth. This manual discusses adaptation measures, recommendations for government action, planning resources, regulatory instruments, and tools to work toward smart, safe growth in the CNMI. To follow up on this work, FEMA funded an interagency agreement for further EPA technical assistance and to hire a full-time staff person to help CNMI implement smart growth principles and practices as part of long-term recovery.
Safe Growth Strategies for the San Francisco Bay Area
EPA partnered with FEMA on a project to help the Association of Bay Area Governments incorporate resilience to natural hazards and climate change into regional and local land use planning. While focused on the San Francisco Bay area, this project and the final report provide a model other regions and communities could use to assess the vulnerability of their housing and residents and develop strategies to make development safer.
The Association of Bay Area Governments is working to implement these safe growth strategies in the Bay area, through a Resilience Program website Exit for communities and through workshops in each of the nine counties in the region. This project was funded by FEMA Region IX and will include a second phase that expands the vulnerability assessment and strategies to include drought and wildfire and apply the model in other regions in California.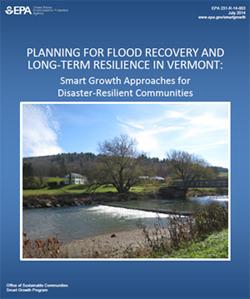 Flood Resilience and Recovery Assistance for the State of Vermont
Through EPA's Smart Growth Implementation Assistance Program, EPA and FEMA worked with several Vermont state agencies, including the Vermont Agency of Commerce and Community Development, and communities in Vermont's Mad River Valley in 2013 to identify smart growth strategies that can help vulnerable communities prepare for and recover from floods.
Although the project focused on state policies, local land use development policies, and hazard mitigation plans for communities in Vermont, the report and its Flood Resilience Checklist can help any community seeking to become more resilient to future floods.
Preparing for Sea Level Rise in Coastal North Carolina
In 2012, in partnership with FEMA, the National Oceanic and Atmospheric Administration, and the North Carolina Department of Environmental Management, EPA worked with the coastal towns of Wilmington and New Bern, North Carolina. Concerns about extreme weather events, more frequent flooding, and sea level rise led both jurisdictions to request assistance to understand potential impacts on neighborhoods and water and sewer infrastructure and identify ways to reduce vulnerability.
The Wilmington project examined ways to protect regional water and sewer infrastructure after a vulnerability assessment revealed that future sea level rise would likely inundate wastewater treatment facilities, pump stations, manholes, and other facilities.

The EPA and FEMA assistance identified land use and infrastructure strategies that could reduce vulnerability, including design solutions such as using green infrastructure to reduce the amount of stormwater that enters or inundates wastewater infrastructure, engineering approaches such as elevating a facility, and land use options such as preserving undeveloped areas that are vulnerable to future flooding.
The New Bern project looked at options for using green infrastructure to manage stormwater, reduce flooding risk, and improve water quality in the Gateway District, a historic African-American neighborhood next to downtown. This neighborhood floods regularly because of its ineffective stormwater conveyance system and topography. Parts of the neighborhood are only 1 to 2 feet above sea level.

With EPA and FEMA's assistance, the city explored how green infrastructure could help improve stormwater conveyance and reduce ponding on streets and in yards. The city also identified potential locations in the Gateway District for new green infrastructure.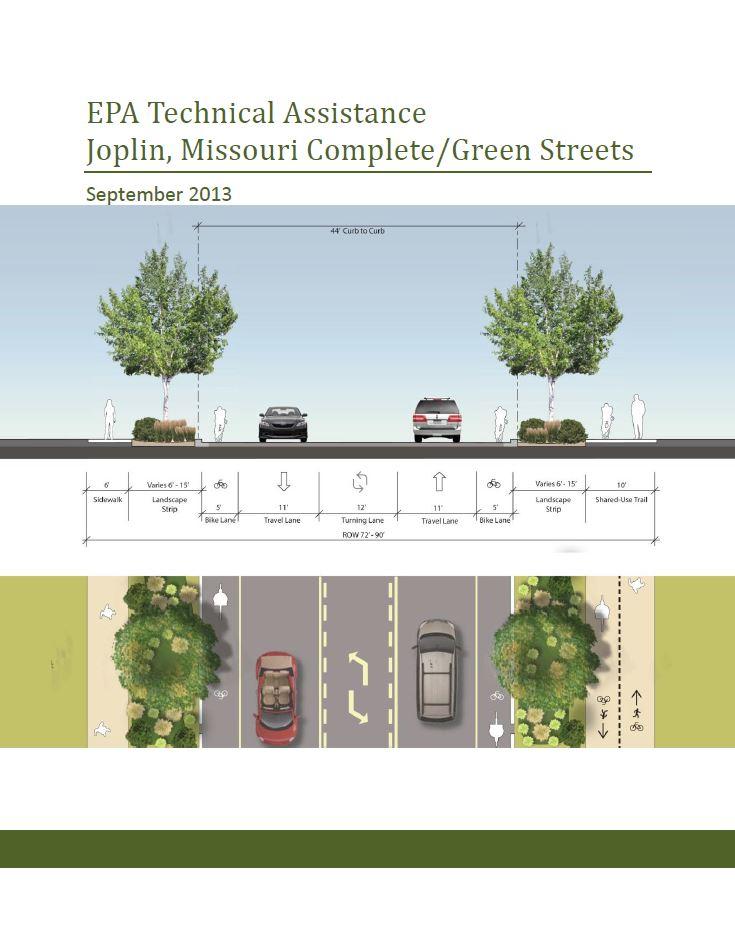 Complete Streets Assistance for Joplin, Missouri
An F-5 tornado hit the East 20th Street corridor in Joplin, Missouri, on May 22, 2011. After the tornado, residents and leaders decided to redesign the corridor as a model for green, complete streets that other locations in the community could follow.
In 2012, EPA provided technical assistance to Joplin to help create green, complete streets, which are attractive; safer for all users, including pedestrians, bicyclists, transit riders, and drivers; and incorporate natural elements to manage stormwater. Before the project began, FEMA worked with local stakeholders to identify long-term community recovery needs and helped EPA match its assistance with those needs.
Land Use Planning Assistance for Spirit Lake Nation
Spirit Lake Nation is a tribe in North Dakota that has experienced 17 years of chronic flooding. In 2011, FEMA, EPA, and outside experts worked with the tribe to develop a land use plan that directs growth away from known flood risk areas and improves overall quality of life on the reservation.
Post-Disaster Assistance to Iowa Communities
In 2009, FEMA and EPA worked with Iowa state agencies and local partners to help six Iowa communities plan their recovery after floods and tornadoes. Information about this work is available in the EPA Archive. Click on Search EPA Archive and search for "Iowa smart growth."
Climate Change and Resilience Assistance for the State of Iowa
In 2009, EPA and FEMA worked with state and local leaders in Iowa to explore how the latest science on changing weather patterns due to climate change could be integrated into state and local planning efforts to adapt to and mitigate future natural disasters. Iowa Climate Change Adaptation and Resilience Report, available in the EPA Archive Search EPA Archive, presents the findings of this pilot project.
---
EPA Resources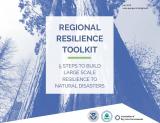 This toolkit, created through a partnership among FEMA, EPA, and the Metropolitan Transportation Commission/Association of Bay Area Governments (MTC/ABAG), helps regions plan for disasters by working across multiple jurisdictions and with nongovernmental partners.
Smart Growth and Climate Change: Disaster resilience is closely tied to climate change adaptation, as climate change is linked to the increasing intensity and frequency of severe storms, heavy downpours, and wildfires in many parts of the country, as well as higher storm surges as sea levels rise.
Governors' Institute on Community Design: The Governors' Institute on Community Design helps governors and their staff make informed decisions about investments and policy decisions that influence the economic health and physical development of their states. The Governors' Institute has helped the governors of Iowa, Vermont, and New Hampshire recover from disaster events and prepare for a more resilient future.
Achieving Hazard-Resilient Coastal & Waterfront Smart Growth: Coastal and Waterfront Smart Growth and Hazard Mitigation Roundtable reports on discussions about approaches to integrate smart growth and hazard mitigation strategies on the coast from a 2011 meeting on how coastal and waterfront communities can create economically and environmentally sustainable neighborhoods while minimizing risks from flooding and related natural hazards. The meeting was organized by NOAA, EPA, and the state Sea Grant College Programs of Rhode Island, Texas, and Hawaii. This publication is available in the EPA Archive: Search EPA Archive
National Award for Smart Growth Achievement
Several winners of EPA's National Award for Smart Growth Achievement include elements to help build resilience to natural disasters.
Webinars
Visit our webinars page for information about webinars on smart growth strategies for disaster resilience and recovery.
---
Other Resources
FEMA Community Recovery Management Toolkit: A compilation of guidance, case studies, tools, and training to help communities manage long-term recovery post-disaster.
"You Can't Stop Urban Flooding" Exit, by Will Doig, NextCity.org (Jan. 2014): Article, including video by Still Life Projects, that shows how Boulder, Colorado, built infrastructure, including bike paths and bridges, that provides everyday benefits for residents while helping prepare the city for floods.