Tisbury MA Impervious Cover Disconnection (ICD) Project: An Integrated Stormwater Management Approach for Promoting Urban Community Sustainability and Resilience
A technical direct assistance project funded by the U.S. EPA Southeast New England Program (SNEP)
You may need a PDF reader to view some of the files on this page. See EPA's About PDF page to learn more.

Some of the following links exit the site. Exit
On this page:
---
Summary:
The Tisbury ICD Project arose in 2017 out of a request by the Martha's Vineyard Commission (MVC) to discuss environmental challenges faced by Martha's Vineyard including potential opportunities for EPA SNEP-funded technical assistance to address water quality impacts to Lagoon Pond resulting from uncontrolled nitrogen discharges. As a result of EPA's Sept 2017 meeting with MVC, EPA became aware of stormwater-related flooding and water quality problems in the Town of Tisbury. These problems represented an important, unique and challenging opportunity to address impervious cover disconnection (ICD) in an urbanized context – a further extension of work both EPA Region 1 and the UNH Stormwater Center had been conducting (e.g., EPA's Opti-Tool model; UNH's Berry Brook Dover, NH) but with the added complexity of addressing ICD-related flooding in an urban context having significant topological slope leading down to a business district located near the ocean. The business district experiences chronic (if not acute) flooding on a regular basis.
The goal of the project is to identify, assess and quantify opportunities for the disconnection of impervious cover (IC) within a geographically-constrained urbanized New England community located near the southern New England coastline. The community, the Town of Tisbury (Town), had requested assistance from the EPA Region 1 to address chronic (even acute) flooding and the generally poor transmission of stormwater runoff related to and resulting from IC and older stormwater infrastructure. An equally important project goal is building an understanding and capacity for integrating green infrastructure (GI) and other stormwater control measures (SCM) into municipal land use decision making. This collaborative project is intended to achieve innovative and cost-effective management of stormwater for a broad range of management objectives (e.g., volumetric control (flooding); reuse, resilience and sustainability; control of pollutants and protection of sensitive surface waters).
More information, including background information with links to pertinent information is provided in the documents referenced below. EPA welcomes the interest and input of all Martha's Vineyards towns / communities, as well as the general public that may be interested in stormwater and IC disconnection.
The Tisbury ICD Project was completed on March 27, 2020. The Technical Support Document (TSD) developed under Task 5 provides a best summary of the outcomes of the Project. Additional technical details may be located in the Task 4J Final Report or accessed via deliverables provided for individual project Tasks.
---
EPA's Project Team Consists Of:
EPA Region 1 and Contractors:
Project Partners:
The overall organization of the Project (by Task) is set forth below, along with a proposed schedule. As they become final, Project Reports (deliverables) are provided below:
---
Project Background:
---
Project Deliverables:
[TBD] = "To Be Developed"
Task 0: Work Plan and Schedule (PDF) (19 pp, 339 K)
Task 1: Prepare Quality Assurance Project Plan (QAPP)
Task 2: Project Management and Administration
Task 3: Municipal Coordination Meeting  (PDF) (93 pp, 12 MB)
Task 4: Stormwater Management Assessment for the Town of Tisbury, MA
Task 5: Develop Streamlined Technical Support Document for Developing Long-Term Community SCM IC Disconnection Strategies
Task 5 Technical Support Document (TSD): Next-Generation Stormwater Management (PDF) (15 pp, 475 K)
---
Proposed Project Schedule: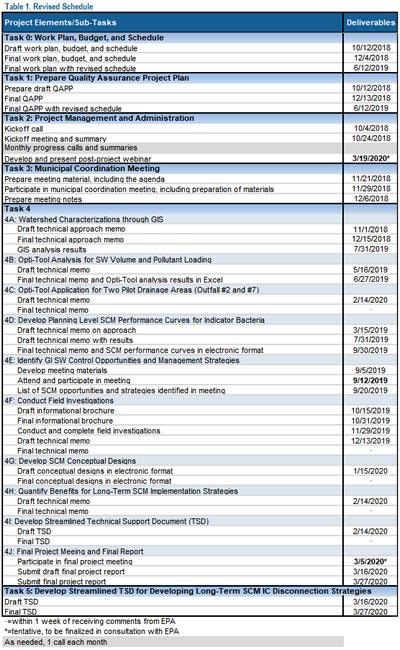 View a larger version of this image (PDF) (1 pg, 104 K, About PDF).
---
Contacts:
USEPA Project Leads
Ray Cody (cody.ray@epa.gov)
Surface Water Branch
Phone: (617) 918-1366
Mark Voorhees (voorhees.mark@epa.gov)
Newt Tedder (tedder.newt@epa.gov)
Suzanne Warner (warner.suzanne@epa.gov)
NPDES (Stormwater) Permitting
USEPA SNEP Coordinator:
Karen Simpson (simpson.karen@epa.gov)
Watersheds and Nonpoint Source Unit
Phone: (617) 918-1672
---
Project Partners:
Town of Tisbury
John "Jay" Grande
Town Administrator
51 Spring St.
P.O. Box 1239
Vineyard Haven, MA 02568
Phone: (508) 696-4200
https://www.tisburyma.gov
Melinda Loberg
Town Selectman
Ray Tattersall
DPW Director
Martha's Vineyard Commission
Adam Turner
Executive Director
33 New York Avenue
P.O. Box 1447
Oak Bluffs, MA 02557
Phone:  (508) 693-3453
http://www.mvcommission.org
Sheri Caseau
Water Resources Planner
Tisbury Waterways Inc.
Gerard Hokanson
President
P.O. Box 4375
Vineyard Haven, MA 02568
Phone: (774) 563-5616
http://www.tisburywaterways.org
MassDOT
Boston Office
10 Park Plaza
Suite 4160
Boston, MA 02116
Phone:  (857) 368-4636
Hung Pham
Stormwater Coordinator
Phone:  (857) 368-8831
MassDOT Highway Division
District 5 Office
1000 County Street
Taunton, MA 02780
Phone:  (508) 884-6633
Pamela R. Haznar, District Project Development Engineer
Andrea L. Coates, District Environmental Engineer
Tisbury MA Impervious Cover Disconnection (ICD) Project Documents