EPA Region 5 RENEW Award
Background
Region 5

EPA Region 5 developed the RENEW Award to recognize outstanding efforts in the reuse of Superfund sites that strengthen communities and advance environmental protection.
Eligibility
The RENEW Award can be given to local, state, tribal, federal or private-sector partners who have demonstrated excellence in working cooperatively with Region 5 to support safe and responsible cleanup and reuse, especially those that promote innovative and sustainable reuse outcomes.
Evaluation Criteria for RENEW Award
Consideration of and effect on the local community and partners
Enhancement of the selected remedy
Consideration of long-term implementation of the selected remedy and its impact on the environment
Implementation of sustainable practices
Innovation in creative thinking
Demonstration of outstanding environmental stewardship
Site Award Winners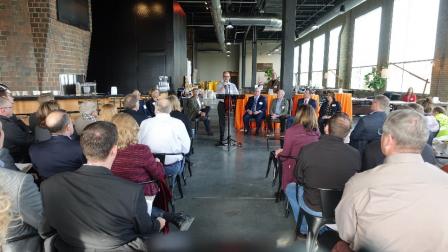 EPA Region 5 Section Chief Timothy Fischer speaking at the award ceremony at the Naval Industrial Reserve Ordnance Plant Superfund site.On October 28th, 2019, EPA Region 5 participated in a celebration of the final phase of development at the Naval Industrial Reserve Ordnance Plant Superfund site in Fridley, Minnesota. At the event, EPA Region 5 presented awards to the United States Department of the Navy, the Minnesota Pollution Control Agency and Hyde Development. The site is now home to the Northern Stacks Industrial Park and Forgotten Star Brewery.
"We are happy to partner with Inovateus to continue Kokomo's trend of transforming underutilized sites into assets. This project has been years in the making, and started when the area underwent a cleanup effort. The transformation from contaminated Superfund site to solar farm has been inspiring and a win for all involved." —Kokomo Mayor Greg Goodnight

On April 12, 2017, EPA officials joined Kokomo Mayor Greg Goodnight and Inovateus Solar for a ribbon-cutting ceremony and a tour of the new solar farm on the Continental Steel Superfund site. At the ribbon-cutting ceremony, EPA Region 5 gave out their second RENEW Award in recognition of excellence in site reuse. The 29-acre solar farm is made of 21,000 solar panels producing enough energy to power 1,000 local homes.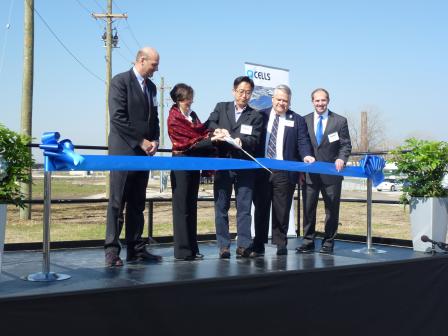 RENEW Award ribbon cutting at the Reilly Tar & Chemical Corp. (Indianapolis Plant) site.On April 9, 2014, EPA celebrated the grand opening of the Maywood Solar Farm on the Reilly Tar & Chemical Corp. (Indianapolis Plant) Superfund site. The 10.86-megawatt facility is one of the largest utility scale solar farm on a Superfund site in the country, and the first such installation in Region 5. EPA Region 5 honored developer Hanwha Q CELLS with the first-ever Region 5 Renew Award in recognition of their commitment to the safe and beneficial reuse of this Superfund site. Awards will continue to be granted to sites meeting part or all of the above eligibility and evaluation criteria.
2014: Reilly Tar & Chemical Corp. (Indianapolis Plant, Indianapolis, Indiana)
Reuse snapshot