Region 1 Excellence in Site Reuse Award
Region 1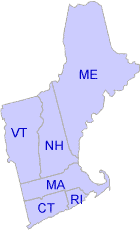 On this page:
Region 1 has facilitated the successful reuse and redevelopment of Superfund sites across New England. These successes are largely due to the diligence and creativity of cooperating site owners, local governments, community organizations, state agencies, tribes, developers and other stakeholders.

To celebrate these outcomes, Region 1 created the Excellence in Site Reuse award. The award recognizes site stakeholders who have made extraordinary efforts to support Superfund redevelopment and reuse.

Region 1 continues to successfully support the beneficial reuse of Superfund sites in a manner that enhances the cleanup remedies in place, minimizes the Agency's responsibilities for long-term care and maintenance, promotes long-term stewardship of the remedies, and provides economic, environmental and social benefits to communities.
The award can be given to a site owner, local government, state agency, tribe, developer or other non-EPA entity.
The recipient must have demonstrated a cooperative relationship with EPA and other key stakeholders and made outstanding contributions to the successful reuse of a Superfund site that is complementary with the remedial actions taken and beneficial to area communities.
Enhancement of the selected remedy.
Reduction of EPA's long-term stewardship responsibilities.
Benefit/effect on the local community.
Enhanced monitoring of institutional controls.
Design of redevelopment complementary with long-term implementation of the selected remedy.
Demonstration of outstanding cooperation and coordination with EPA and stakeholders regarding reuse and remedy protection.
Presentation of the Region 1 Excellence in Site Reuse Awards at the grand opening of the new senior-center facility at the Blackburn & Union Privileges Superfund site.In December 2018, Region 1 participated in the ribbon-cutting ceremony for a new senior center at the Blackburn & Union Privileges site in Walpole, Massachusetts. Region 1 presented Excellence in Site Reuse awards to the town of Walpole (Town) and to the Walpole Council on Aging for their exceptional leadership and reuse coordination in transforming this former industrial property into a recreational, educational and health resource for seniors. Strong community support for the project was evidenced by a $6.8 million contribution from the Town, $1.4 million raised by private donors and substantial support from Walpole Co-operative Bank. The new Walpole Co-operative Bank South Street Center is the first stand-alone senior center facility in the community.
Media HighlightsExit
In 2014, Region 1 recognized site project teams at two federally listed Superfund sites in Massachusetts – Sullivan's Ledge and Shaffer Landfill – with Excellence in Site Reuse awards. These innovative, forward-thinking redevelopment projects have turned underused properties into sources of abundant, clean, renewable energy. A third award acknowledged the contribution of former Massachusetts Governor Deval Patrick in facilitating renewable energy projects on landfills and other contaminated lands.
The Sullivan's Ledge project team, including New Bedford city government, BlueWave Capital and SunEdison, worked together on a 2-megawatt solar power facility on a 12-acre landfill at the Sullivan's Ledge Superfund site in New Bedford, Massachusetts. The team took steps to ensure the landfill's reuse would not compromise the protectiveness of the site's remedy.
Reuse Snapshot
 
EPA also recognized Massachusetts Governor Deval Patrick for his visionary and ambitious agenda to make Massachusetts a national leader in renewable energy production.
EPA Press Release
Media HighlightsExit