Superfund Redevelopment Opportunity Sites
As part of the July 2017 Superfund Task Force Recommendations, EPA identified a list of Superfund National Priorities List sites with the greatest expected redevelopment and commercial potential. EPA developed this list to promote renewed focus on accelerating work and progress at all Superfund sites while working to successfully return Superfund sites to productive use in communities across the country. As EPA moves into the second year of the Superfund Task Force and beyond, EPA has used the lessons learned from this effort to expand support to more sites and broader redevelopment opportunities.
Check out our Redevelopment Story Map, an interactive tool that highlights Superfund Redevelopment Opportunity sites and helps promote revitalization.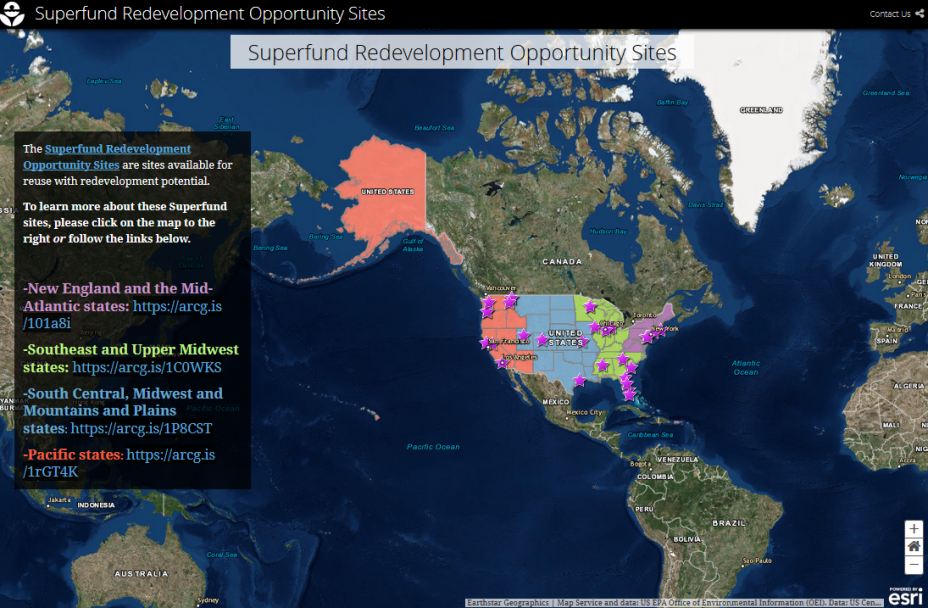 Superfund redevelopment has helped communities reclaim and reuse thousands of acres of formerly contaminated land. EPA believes these sites have significant redevelopment opportunties.
EPA will focus redevelopment training, tools and resources towards these sites and others as additional Superfund Redevelopment opportunities are identified. EPA will work with developers interested in reusing these and other Superfund sites; will identify potentially interested businesses and industries to keep them apprised of redevelopment opportunities; and will continue to engage with community groups in cleanup and redevelopment activities to promote the successful redevelopment and revitalization of their communities.
This is not a complete list, rather it easily directs interested developers and potential owners to Superfund sites where there are redevelopment opportunities and potential. The list is intended to be dynamic; sites will move on and off the list as appropriate.
EPA remains dedicated to addressing risks and accelerating progress at all Superfund sites, not just those where redevelopment opportunities have been identified. The Superfund Task Force Recommendations are aimed at expediting cleanup at all Superfund sites.  
As of January 17, 2018, the list is:
US EPA Superfund Task Force: Superfund Redevelopment Opportunity Sites - January 17, 2018
Site
EPA Region
City or County
State
NPL Status
Site Area of Focus
Current Site Use

Redevelopment Fact Sheet (PDF)(2 pp, 356 K, About PDF)

9
Rancho Cordova
California
F
Entire Site
Industrial

Aircraft Components (D & L Sales)

Redevelopment Fact Sheet (PDF)(2 pp, 900 K)

5
Benton Harbor
Michigan
F
Entire Site
Golf Course

Allied Paper, Inc./Portage Creek/Kalamazoo River

Redevelopment Fact Sheet (PDF)(1 pg, 355 K)

5
Kalamazoo
Michigan
F
Operable Unit 7
Public services, commercial

Redevelopment Fact Sheet (PDF)(1 pg, 646 K)

7
North Kansas City
Missouri
F
Entire Site
Unused

Redevelopment Fact Sheet (PDF)(1 pg, 646 K)

5
Hermantown
Minnesota
F
Entire Site
Medical supply office, some storage facilities

Redevelopment Fact Sheet (PDF)(1 pg, 621 K)

3
Ambler
Pennsylvania
F
Entire Site
Site is three parcels; Park, Reservoir, and Pile. Reservoir parcel being reused as the Wissahickon Waterfowl Preserve. Park and Pile parcels currently vacant.

Bunker Hill Mining & Metallurgical Complex

Redevelopment Fact Sheet (PDF)(1 pg, 574 K)

10
Smelterville
Idaho
F
Entire Site
Public services, commercial, recreational, ecological, residential

Crater Resources Inc./Keystone Coke Co./Alan Wood Steel Co. (aka Crater Resources)

Redevelopment Fact Sheet (PDF)(1 pg, 670 K)

3
Upper Merion Township
Pennsylvania
F
Entire Site
Commercial business park

Redevelopment Fact Sheet (PDF)(1 pg, 741 K)

8
Minturn
Colorado
F
Entire Site
Operable Unit 1: historical mining, Operable Unit 3: undeveloped

Redevelopment Fact Sheet (PDF)(2 pp, 786 K)

4
Indiantown
Florida
F
Entire Site
Vacant

Redevelopment Fact Sheet (PDF)(1 pg, 481 K)

10
Vancouver
Washington
F
Entire Site
Commercial building with parking currently under construction.

Kerr-McGee Chemical Corp - Columbus

Redevelopment Fact Sheet (PDF)(1 pg, 512 K)

4
Columbus
Mississippi
F
Entire Site
Vacant

Kerr-McGee Chemical Corp - Jacksonville

Redevelopment Fact Sheet (PDF)(1 pg, 738 K)

4
Jacksonville
Florida
F
Entire Site
Vacant

Koppers Co., Inc. (Charleston Plant)

Redevelopment Fact Sheet (PDF)(1 pg, 138K)

4
Charleston
South Carolina
F
Entire Site
Vacant

Libby Asbestos and Libby Groundwater Sites

Redevelopment Fact Sheet (PDF)(1 pp, 737 K)

8
Libby
Montana
F
Operable Unit 5 of the Libby Asbestos Site and Libby Groundwater Site
Industrial with some recreation

Many Diversified Interests, Inc. (aka MDI)

Redevelopment Fact Sheet (PDF)(1 pg, 450 K)

6
Houston
Texas
F
Former Foundry Area
Vacant

McCormick & Baxter Creosoting Co. (Portland Plant)

Redevelopment Fact Sheet (PDF)(1 pg, 507 K)

10
Portland
Oregon
F
Located within the Portland Harbor Superfund site
Vacant, revegetated with native plant species that prevent erosion

Redevelopment Fact Sheet (PDF)(1 pp, 573 K)

3
Philadelphia
Pennsylvania
F
Entire Site
Materials recovery/recycling

Redevelopment Fact Sheet (PDF)(1 pg, 272 K)

9
Cloverdale
California
F
Entire Site
Industrial

New Bedford (aka New Bedford Harbor)

Redevelopment Fact Sheet (PDF)(1 pg, 560 K)

1
New Bedford
Massachusetts
F
Entire Site
Commercial fishing port

Operating Industries Inc. Landfill

Redevelopment Fact Sheet (PDF)(1 pg, 606 K)

9
Monterey Park
California
F
Entire Site
Industrial

Redevelopment Fact Sheet (PDF)(1 pg, 590 K)

7
Dubuque
Iowa
F
Entire Site
City equipment storage/Unused

Redevelopment Fact Sheet (PDF)(1 pp, 478 K)

4
Medley
Florida
F
Entire Site
Vacant

Redevelopment Fact Sheet (PDF)(1 pg, 798 K)

10
Renton
Washington
F
Entire Site
Vacant

Raymark Industries, Inc. (aka Raymark Industries)

Redevelopment Fact Sheet (PDF)(1 pg, 599 K)

1
Stratford
Connecticut
F
Entire Site
Vacant

Redevelopment Fact Sheet (PDF)(1 pg, 788 K)

2
Florence
New Jersey
F
Entire Site
Inactive and parcels in reuse

Redevelopment Fact Sheet (PDF)(1 pg, 711 K)

4
Sanford
Florida
F
121 S Palmetto Avenue Parcel
Vacant Building

Sharon Steel Corp. (Midvale Tailings)

Redevelopment Fact Sheet (PDF)(1 pg, 532 K)

8
Midvale
Utah
D
Adjacent to Midvale Slag

Operable Unit 1: vacant with recreational along Jordan River,
Operable Unit 2: residential

Redevelopment Fact Sheet (PDF)(1 pp, 544 K)

5
St. Louis County
Minnesota
F
St. Louis River/Interlake/Duluth Tar
Light industry, manufacturing, materials, wetlands

U.S. Smelter and Lead Refinery, Inc. (aka USS Lead)

Redevelopment Fact Sheet (PDF)(1 pg, 944 K)

5
East Chicago
Indiana
F
Zone 1 (Operable Unit 1)
Public housing complex

Redevelopment Fact Sheet (PDF)(1 pg, 566 K)

4
Greenville
South Carolina
F
Entire Site
Vacant/Abandoned Building
NPL Status Codes
F = Final on the NPL
D = Deleted from the NPL