2006 Community Involvement Training Conference
About the 2006 training conference

The U.S. EPA's 2006 Community Involvement Conference and Training was held June 27–30, 2006, in Milwaukee, Wisconsin, along the shore of Lake Michigan.

This dynamic conference brought together public participation and community involvement professionals from EPA and its federal, state, tribal, and local partners. The conference offered participants original, engaging, and interactive presentations focusing on ways that government can interact with communities to brew something truly impressive: achieving environmental results through community involvement. Presenters representing a wide variety of practitioner groups shared how they involve communities in environmental protection through partnerships, stewardship, engagement, outreach, and education. Nearly 400 people attended this year's conference.

The conference included several plenary sessions and dozens of concurrent sessions, as well as field trips, exhibits, two poster sessions, evening activities, and many networking opportunities. In addition, several optional four- or eight-hour training workshops were offered.
Overview
The U.S. EPA Community Involvement Training Conference has been held annually from 1997-2007 in various locations throughout the United States. As of 2007, the conference moved to a biennial cycle. The conference provids professional training and a venue for discussing topics of interest for federal, tribal, state, and local agency staff who plan and implement environmental community involvement and public communication, education and stewardship programs. Attendees have had an opportunity to learn from and share experiences with each other as well as hear and learn from other stakeholders involved in such programs through:
classroom-style training
case studies
panel sessions
group discussions
information sharing
interactive exercises
field trips
networking opportunities
poster and multimedia presentations
The conference also provided a platform for all parties to discuss successes, obstacles and lessons learned, as well as an opportunity to cultivate cross-program/cross-agency relationships.
Conference Booklet
The conference booklet summarized conference activities and events and included an abstract for all conference sessions (90-minute information and training sessions of 3-, 4-, and 7-hours). In keeping with our Green Meeting goals, we did not print and distribute copies of the conference booklet. Rather, the booklet was distributed via email and posted as a downloadable file.
2006 Community Involvement Training Conference booklet (PDF) (38 pp, 4.4 MB, About PDF)
Search for 2006 Conference Presentations

| Category | Title | Presenters |
| --- | --- | --- |
| Category | Title | Presenters |
Presentations & Exhibits
Posters and formal exhibits offered an opportunity to visually share information with conference attendees. Formal exhibits were unmanned tabletop or free-standing professional displays that presented program or organizational information or examples of products developed by the organization. Exhibits were displayed in the ballroom foyer throughout the conference.
Posters were less formal visual presentations of a specific project or activity. The poster presentations were highlighted during two Poster Sessions, during which poster authors were able to interact with participants. The posters were displayed on large panels in the room where plenary sessions were held. Awards were presented to the two best poster displays.
Neither posters and exhibits marketing commercial products or services were permitted. There was no fee for displaying an exhibit or a poster. However, poster authors were considered presenters and were eligible to pay a reduced conference refreshments fee.
Poster Presentation Session
Posters, which are stand-alone visual presentations, were on display during the first two-and-a-half days of the conference and were highlighted during the Networking Hour/Poster Session on Tuesday evening and also on Thursday morning during a continental breakfast. Laptop computers and other electronic equipment could be used as part of a poster presentation. However, the use of such equipment was intended to supplement the poster materials.
Awards were given for the two best posters. The
Best Overall Award
was selected by a panel of conference organizers, based on the following criteria:
Clarity: Poster had a coherent and effective message
Layout and Design: Poster was well organized and neat (aesthetic composition)
Content and Research: Poster content was engaging and original, well planned, and thoroughly researched
Readability: Poster was legible from five feet away
The People's Choice Award went to the poster that received the most votes from conference participants after they viewed the posters and talked to the poster authors during the poster session.
Poster Award winners were announced during the plenary session on Thursday, June 29, and the award recipients were honored with a prize. In addition, the award-winning posters were displayed on the website after the conference.
Poster Award Winners
The winners for the 2006 Community Involement Trainingn Conference and Poster Awards are: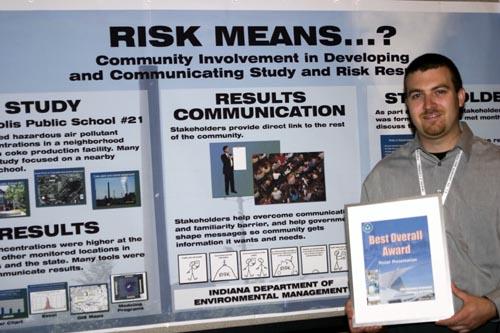 "Risk Means...? Community Involvement in Developing and Communicating Risk Results"
Presented by Brian Wolff of Indiana Department of Environmental Management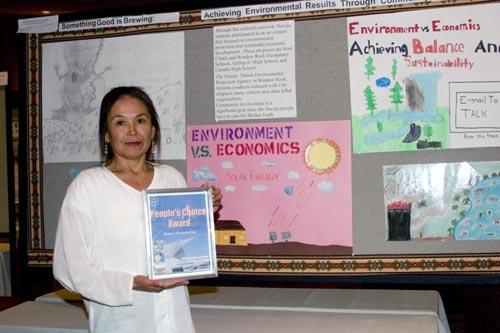 "Community Outreach with Schools - Artwork for Navajo Nation EPA"
Presented by Lillie Lane of Navajo Nation EPA
Exhibits
Free-standing or table-top exhibits on environmental outreach, education, or community involvement topics or activities were displayed in the conference exhibit area during the conference. Exhibits were not eligible for the poster presentation awards. There was no additional fee for displaying an exhibit or booth. Exhibits to market commercial products or services are prohibited.