2007 Community Involvement Training Conference
About the 2007 Community Involvement Training conference

The 2007 Community Involvement Training Conference was held in Jacksonville, Florida at the Hyatt Regency Jacksonville Riverfront Hotel.

The conference theme, Community Involvement: Celebrating the Past, Looking to the Future, highlighted lessons from the successes of the previous ten years. It also explored innovative approaches for government to interact with communities to promote the protection and sustainability of our environment.

Over 330 attendees participated in training sessions, field trips, social activities and networking opportunities during the conference. Other noteable events at the 2007 conference included a musical performance and our first ever on-site video resource room.
Overview
The U.S. EPA Community Involvement Training Conference has been held annually from 1997-2007 in various locations throughout the United States. As of 2007, the conference moved to a biennial cycle. The conference provids professional training and a venue for discussing topics of interest for federal, tribal, state, and local agency staff who plan and implement environmental community involvement and public communication, education and stewardship programs. Attendees have had an opportunity to learn from and share experiences with each other as well as hear and learn from other stakeholders involved in such programs through:
classroom-style training
case studies
panel sessions
group discussions
information sharing
interactive exercises
field trips
networking opportunities
poster and multimedia presentations
The conference also provided a platform for all parties to discuss successes, obstacles and lessons learned, as well as an opportunity to cultivate cross-program/cross-agency relationships.
Conference Booklet
The conference booklet summarized conference activities and events and included an abstract for all conference sessions (90-minute information and training sessions of 3-, 4-, and 7-hours). In keeping with our Green Meeting goals, we did not print and distribute copies of the conference booklet. Rather, the booklet was distributed via email and posted as a downloadable file.
2007 Community Involvement Training Conference booklet (PDF) (18 pp, 425 K About PDF)
Search for 2007 Conference Presentations

| Category | Title | Presenters |
| --- | --- | --- |
| Category | Title | Presenters |
Presentations & Exhibits
Now Showing...Your Outreach Videos!
For the first time, the conference included videos submitted by various EPA offices and community groups. There was no charge for featuring these videos on our video resource room. We collected about 25 videos for conference participants to view.
Poster Presentations
Poster presentations on a specific project or activity were displayed during the first two-and-a-half days of the conference and highlighted during an evening Networking Reception on Tuesday and before conference sessions on Thursday morning. During these sessions, poster presenters interacted with participants to answer questions and provide additional information about the project or activity they presented. The posters were displayed on large panels in the Grand Ballroom, where plenary sessions were held.
Poster Winners
Awards were presented to the two best poster displays. Best Overall Award was selected by a panel of conference organizers. The People's Choice Award went to the poster that received the most votes from conference participants. Poster Award winners were announced during the Thursday plenary session, and the award recipients were honored with a prize.
Best Overall Award
The Best Overall Award was presented to Hayley Mason of the U.S. EPA Office of Solid Waste for her poster, Schools Chemical Cleanout Campaign (SC3). A photo of which is below: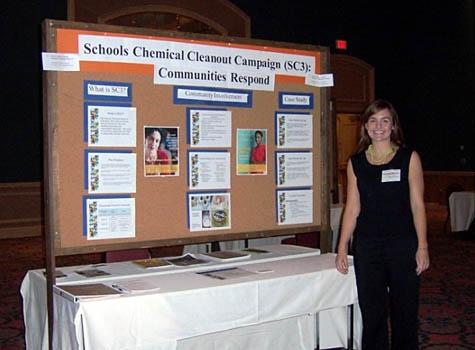 People's Choice Award
The People's Choice Award was presented to Glen O'Gilvie, Earth Conservation Corps and Frances A. Desselle, (U. S. EPA, Office of Water) for the poster highlighting environmental damage and restoration of the Anacostia River in Washington, D. C.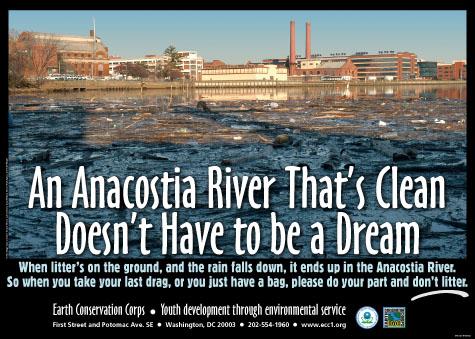 You can also view the "An Anacostia River That's Clean Doesn't Have to Be A Dream" poster (PDF) (1pp, 1.8 MB, About PDF).
Green Meeting Policy
EPA Green Meetings and Conferences Policy, May 1, 2007
The mission of the EPA is to protect human health and the environment. We expect that all Agency meetings and conferences will be staged using as many environmentally preferable measures as possible. Environmentally preferable means products or services that have a lesser or reduced effect on the environment when compared with competing products or services that serve the same purpose.
As in past years, the planning committee did many things to help make the Community Involvement and Training Conference more earth-friendly, and we recruited attendees' help to make the 10-year anniversary conference one of the greenest ever. Here are things that we requested of attendees:
Review the conference booklet before you leave for Jacksonville!
We elected to not distribute paper copies of the conference booklet. Instead, we made reference copies available in session rooms, break areas, and at the registration desk, and an electronic copy was available on a common computer in the registration area. Keep in mind that eliminating the printed conference booklet saved more than 18,400 sheets of paper!
Bring your own bag to tote your conference materials
Instead of providing participants with tote bags, we offered a "tote bag exchange." We invited attendees to bring an extra tote bag to exchange with others. This also provided an opportunity for other conference hosts to give away extra bags from their past conferences.
Share a ride from the airport
We offered a ride-sharing program as part of the registration process. This allowed people to opt-in to the ride-share program. After providing their arrival time, they were matched with people arriving at a similar time. If just 100 people share rides to and from the airport, we'll reduce the conference's carbon footprint by more than 1,000 pounds!
Once at the conference...
We provided recycling containers and encouraged attendees to recycle newspapers, cans, and glass, including those from their guest room, in marked containers in the conference area
Encouraged registrants to participate in the hotel's water, energy, and detergent conservation efforts by following the instructions posted in your room
Highlighted the conference's efforts to reduce the use of paper by limiting conference handouts at registration, using folders or handouts printed on high post-consumer recycled content paper using vegetable-based ink, and encouraging presenters to limit handouts
Conference Contacts
Chris Tirpak, 2007 EPA Conference Co-Chair
Office of Prevention, Pesticides and Toxic Substances
U.S. Environmental Protection Agency
1200 Pennsylvania Avenue, NW (7101M)
Washington, DC 20460
Phone: 202-564-0546
Fax: 202-564-0550
Email: tirpak.chris@epa.gov
Jason Edwards, 2007 EPA Conference Co-Chair
Office of Research & Development
U.S. Environmental Protection Agency
1200 Pennsylvania Avenue, NW (8104R)
Washington, DC 20460
Phone: 202-564-5568
Fax: 202-565-2925
Email: edwards.jason@epa.gov
Pat Carey, 2007 EPA Contact
Office of Superfund and Remediation Technology Innovation
U.S. Environmental Protection Agency
1200 Pennsylvania Avenue, NW (5204P)
Washington, DC 20460
Phone: 703-603-8772
Fax: 703-603-9102
E-mail: carey.pat@epa.gov
Community Involvement Conference Coordinator
Environmental Management Support
8601 Georgia Avenue, Suite 500
Silver Spring, MD 20910
Phone: 301-589-5318
Fax: 301-589-8487
E-mail: ciconference@emsus.com
If you have any questions or comments about this website, please contact the Conference Coordinators.