Making a Difference with the Superfund Job Training Initiative
On this page:
---
Program Benefits
By working together, EPA and its local partners can make the most of available resources and expertise to help citizens living in communities affected by Superfund sites.
SuperJTI benefits residents by:
Increasing their understanding of cleanup efforts in their community, consistent with EPA's community involvement objectives.
Providing them with new marketable skills, enhancing their employment potential.
Helping them play an active role in the protection and restoration of their neighborhoods.
SuperJTI assists local communities by:
Providing job opportunities for qualified residents.
Increasing the skills of the local labor pool.
Increasing the local tax base.
The program benefits contractors by:
Providing a local pool of trained workers.
Building goodwill in the community and boosting local economies.
Finally, SuperJTI assists EPA by:
Building long-term relationships with communities and partner organizations.
Raising community awareness of site conditions and cleanup efforts.
Providing skilled workers for site cleanups.
Demonstrating EPA's commitment to meaningful community involvement.
---
SuperJTI Training Locations
Hundreds of trainees nationwide have successfully completed SuperJTI trainings.
The map below illustrates the locations where recent SuperJTI trainings have been held.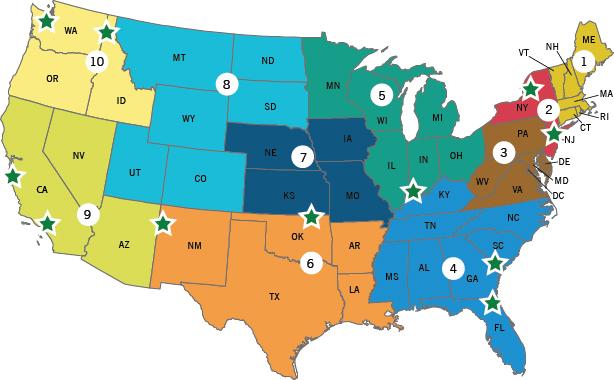 Coeur d'Alene Basin, Kellogg, ID Cycle 1
Coeur d'Alene Basin, Kellogg, ID Cycle 2
Colorado Smelter, Pueblo, CO
Diamond Alkali, Newark, NJ
Eagle Zinc, Hillsboro, IL
Fairfax St. Wood Treaters, Jacksonville, FL
Fort Ord, Monterey, CA
Jacobsville Neighborhood Lead Contamination, Evansville, IN
Jacksonville Ash Sites, Jacksonville, FL
Kerr-McGee Chemical Corp – Columbus, Columbus, MS
Lower Duwamish Waterway, Seattle, WA
Madison County Mines, Fredericktown, MO
Navajo Nation, Gallup, NM
North Ridge Estates, Klamath Falls, OR Cycle 1
North Ridge Estates, Klamath Falls, OR Cycle 2
Onondaga Lake, Syracuse, NY
Rockets, Fireworks and Flares, Rialto, CA
Savannah River Site, Aiken, SC Cycle 1
Savannah River Site, Aiken, SC Cycle 2
Tar Creek, Miami, OK
USS Lead, East Chicago, IN
SuperJTI graduates have been placed into a variety of jobs, working as:
Dump truck drivers
Environmental technicians
General production operators
Heavy equipment operators
Material handlers
Radiological control inspectors
80
---
The percentage of trainees from the SuperJTI program that have been placed into jobs.
Success Stories
The following success stories illustrate how EPA and communities have worked together to implement SuperJTI trainings.
You may need a PDF reader to view some of the files on this page. See EPA's About PDF page to learn more.
Recent Fact Sheets
Archives
---
News From Graduates
"SuperJTI was a career opportunity for me. I think if anyone is thinking about participating in the program, they should definitely do it. The skills you learn can be applied to a variety of jobs all over the country."
- Trainee
SuperJTI has caught up with a few trainees since their programs finished. Here's what's happening with them now:
Alejandro Xavier Juarez
On the day of his graduation from college, Alejandro Xavier Juarez received a notice from his college employment office about the Superfund Job Training Initiative. He didn't know anything about the program, but as a new college graduate without a job on the horizon, he was pleased to attend a SuperJTI orientation. After trying out and completing the training, he says it was "much, much, more than he ever expected." He was hired at the conclusion of the training program and he credits SuperJTI with creating a path of opportunity for him, and getting him on the career path he wanted. He said that having graduated from college is good, but what he learned during his SuperJTI training about cultural competence, networking, team building and social interaction made him much better prepared to start working. Alejandro will be working on Superfund site cleanup, and he's excited for what's to come.
Leslie Hartley
After two years of working at the Savannah River site, Leslie Hartley knows his way around the large site, which Leslie says "is like a military installation" with areas sectioned off for different types of work. After graduation, Leslie started working in the "F" area working to unpack material waste. Since then, the man who graduated with the class award for "Einstein," has trained as a building operator and is now pursuing training as a Multi-Skilled Technician, a role that allows for versatility to work in several areas such as radiation control, electrician work and valving. The training is part of a project to build a facility on site, and Leslie hopes to complete training to be part of a certification crew and continue to work as a subject matter expert on the facility after it is built.
"Nothing is guaranteed in life," notes Leslie as he witnesses management changes and layoffs due to a reduction in force. But Leslie remains focused on his training and credits SuperJTI with the perseverance and commitment to his success.
"The Superfund Job Training Initiative turned my life 180 degrees." Whereas, pre-program, Leslie was living without heat and hot water, struggling to pay the rent, and had no real career prospects, Leslie has taken back full control of his life. "I had no reserves or contingencies should the worst happen, but now I have insurance, a 401K-type plan and savings."
Today, Leslie has happily switched from driving hand-me down repair nightmares to a brand new pickup truck and has purchased a new home overlooking a pond in Augusta, Georgia. As Leslie unpacks and settles into his new home, Leslie remembers the extra 'lift' that SuperJTI has given him. "I've already gotten more blessing from this program than I ever could have expected."
Jessica McCain
Jessica McCain looks back with fond memories at her SuperJTI experience and the changes in her life afterward. Having received the Class award for "Born Leader," the mother of two young boys had married and was one of a select few graduates to speak to a graduating class at a sister SuperJTI site. "Speaking to the next class of graduates gave me an opportunity to give back, like paying it forward."
What was she paying forward? The chance at success. "SuperJTI gave me the opportunity to have a career, the training and life skills to be a productive citizen," says Jessica citing the importance of balancing a checkbook, paying bills and taking care of responsibilities. Moreover, Jessica credits the community partners that helped see her through to training completion, from the local reverend to the trainers at the technical college, as well as those who provided food.
The complete life change remains vivid with Jessica. Prior to the program, Jessica was working at a daycare and making mediocre funds. But with stable work as a production trainee, Jessica has been able to buy a new truck and is in the process of buying a home.
Jessica continues to manage both her job and motherhood, but as a better worker, mother and family member. If asked to speak to another graduating class of trainees, Jessica would gladly do so. "I would do it. I love it."