Excess Food Opportunities Map
On this page: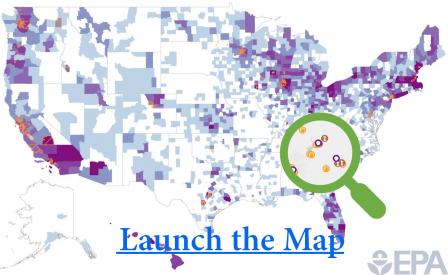 ---
About the U.S. EPA Excess Food Opportunities Map
The U.S. EPA Excess Food Opportunities Map supports nationwide diversion of excess food from landfills. The interactive map identifies and displays facility-specific information about potential generators and recipients of excess food in the industrial, commercial and institutional sectors and also provides estimates of excess food by generator type.
The map displays the locations of nearly 1.2 million potential excess food generators. These include:
correctional facilities.
educational institutions.
food banks.
healthcare facilities.
hospitality industry.
food manufacturing and processing facilities.
food wholesale and retail.
restaurants and food services.
The map also displays the locations of communities with source separated organics programs, as well as about 5,000 potential recipients of excess food. These include:
anaerobic digestion facilities.
composting facilities.
food banks. 
The map has been updated to Version 2.1. The updates in Version 2.1 are to the anaerobic digestion facilities and to the communities with source separated organics programs. Minor corrections were made to the composting facilities. For more information on the changes in Version 2.1, see the Frequent Questions about the U.S. EPA Excess Food Opportunities Map.
The mapped establishments and their locations are provided for informational purposes only. The Agency does not guarantee the  accuracy or completeness of the information provided as it has not been verified.
---
Using the Map
The map interface is designed for intuitive use and allows you to display multiple layers at once, as well as create customized filtered views to look at any area of the country in detail. Access the User Guide here. 
The map will help you learn about potential sources of excess food in your region and potential non-landfill recipients, such as food banks as well as composting and anaerobic digestion facilities. You can also use this map to inform and identify:
Excess food management decisions at the local level.
Potential sources of food for rescue and redistribution.
Potential feedstocks for compost, anaerobic digestion or other uses such as animal feed.
Potential infrastructure gaps for managing excess food.
Alternatives to sending excess food to landfills.
Technical functionalities of the map include the ability to:
View information about individual potential generators and recipients by turning on and off map layers and access full datasets in the accompanying attribute table.
Download data for up to 1,000 establishments at a time from the map or download the full map dataset from the EPA Environmental Dataset Gateway (ZIP)(305 MB) Free Viewers.
Print the current map view in a variety of formats and layouts.
---
Supporting Resources
---
Related Tools
---
Related Programs