On this page:
---
What is Food: Too Good to Waste?
Food: Too Good to Waste (FTGTW) consists of an implementation guide and toolkit that aim to reduce wasteful household food management practices.
The Implementation Guide is designed to teach local governments and community organizations how to implement a Food: Too Good to Waste campaign in their community using the Toolkit.
The Toolkit, which is in Appendix D of the implementation guide and posted separately below, provides behavior change and outreach tools designed to assist individuals and households to implement strategies to reduce wasted food in their homes. The FTGTW tools use community-based social marketing principles to reduce wasted food from households. A Food: Too Good to Waste campaign provides the tools in the toolkit to families and individuals to help them keep food out of landfills and more money in their pockets.
We hope this handbook will be used as a guide to start reducing wasted food in your community and home.
---
Why is Reducing Wasted Food Important?
Reducing wasted food has social, environmental and economic benefits.
Wasted food is a social problem: In 2018, 11.1 percent of U.S. households were food insecure at some time during the year. That is 37.2 million Americans, of which 11.2 million are children, living in food insecure households. Wholesome, nutritious food should feed people, not landfills.
Wasted food is an environmental problem: Food is the largest stream of materials in American trash. Once wasted food reaches landfills, it produces methane, a powerful greenhouse gas.  
Wasted food is an economic issue: It is estimated that at the retail and consumer levels in the United States, food loss and waste totals $161 billion dollars.
Learn more about why sustainable management of food is important. 
---
Who Should Use this Guide and Toolkit?
The toolkit is designed for use by households.
The implementation guide is intended for community organizations and local governments or any organization interested in reducing wasted food from households. For example, a local government or other community organization can take the lead in implementing a small-scale campaign, may participate as partners, and/or provide additional resources. Implementing a FTGTW campaign may align with organizational long-term objectives (e.g., reducing solid waste management costs, reducing carbon footprint or building a sustainable food system).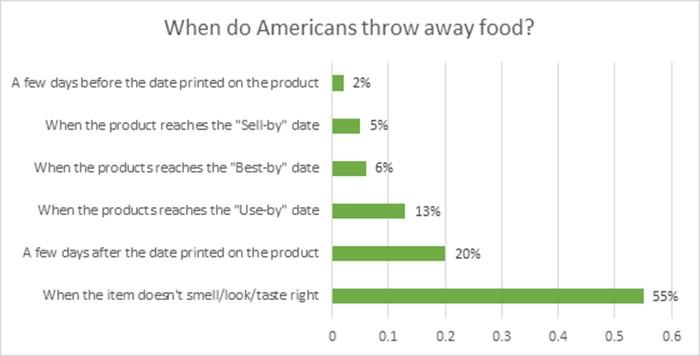 ---
Where do Potential Partners Come From?
In many cases local government will take the lead in implementing the FTGTW campaign. Other community organizations may also take the lead, may participate as partners, and may provide additional resources. Potential partners include:
Interested government programs that include waste management and food programs.
Civic or community groups and non-profits with constituencies who are part of a target audience or have an interest in related issues.
Food purveyors (e.g., restaurants, groceries) and other businesses.
Farmers markets, community supported agriculture (CSA) businesses and municipal waste management companies.
K-12 schools that would like to integrate information on wasted food prevention and reduction into their curriculum or colleges and universities that support sustainability programs.
---
How to Select a Target Population and Sample Size for a Small-Scale Campaign
The target population refers to the demographic that the implementing organization hopes to engage in the small-scale campaign. The sample size refers to the number of households that participate and from which the implementing organization will collect information. Generally, the target population size is larger than the sample size. A number of considerations go into selecting a target population and sample size, among these are:
demographics of the population the campaign is designed to reach,
type and amount of resources the implementing organization has available,
time frame planned for the campaign, and
implementing organization's objectives for the campaign.
Examples of a target population may be neighbors in a residential association or members of a church congregation or similar group.

Top of Page
---
Implementation Guide and Toolkit Documents
You may need a PDF reader to view some of the files on this page. See EPA's About PDF page to learn more.