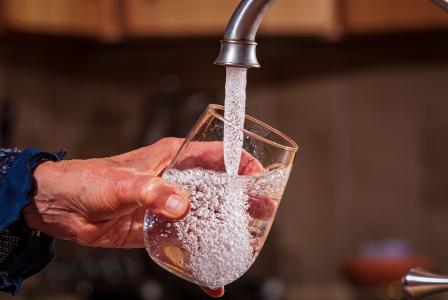 On this page:
Purpose
To assist federally recognized tribes within EPA Region 9 to improve public water system infrastructure.
Examples of Eligible Activities
Infrastructure projects funded through the DWTSA must address the most significant threats to public health associated with public water systems that serve tribal populations. Examples of eligible activities include:
Rehabilitate or develop drinking water sources (excluding reservoirs, dams, water rights);
Install or upgrade drinking water treatment facilities;
Install or upgrade drinking water storage facilities;
Install or replace transmission and distribution pipes;
Replace aging infrastructure;
Install new transmission, distribution or service lines to connect existing homes to a public water supply;
Water efficiency projects (e.g., installation of meters);
Expansion, consolidation or development of a new public water system; and
Develop preliminary engineering reports (PERs).
Eligibility Requirements
Only federally recognized Indian tribes within EPA Region 9 may submit proposals that benefit eligible public water systems (PWS). PWS eligibility is limited as follows:
Only public water systems that are community water systems or non-profit, non-community water systems are eligible to receive funding;
The water system must serve an Indian Tribe;
The water system must be in compliance with the National Primary Drinking Water Regulations unless the project which is being funded will ensure compliance;
The water system must be operated by adequately trained and certified operators.
The water system utility must have or be able to develop the technical, financial and managerial capacity to properly maintain the water system.
Funding
Approximately $7 million of FY21 funds may be available for projects ranging in size from $30,000 to over $2 million. Tribes may request that projects be awarded as either a grant to the Tribe or an interagency agreement with the Indian Health Service. This assistance will be awarded under Section 300j-12 of the Safe Drinking Water Act, 42 U.S.C. §1452. The Catalog of Federal Domestic Assistance Number is 66.468. The Funding Opportunity Number (FON) is EPA-CEP-01.
How Do I Apply for Funding?
To be considered for FY21 DWTSA funds, EPA must receive proposals by November 20, 2020.
All Project Proposal Applications must include the following:
Project Proposal Form; and
Tribal Government Endorsement.
Construction Project Applications must include:
A Preliminary Engineering Report (PER); and
Documentation to Support the health category ranking
Planning Project Applications must include:
A detailed project proposal and description of the health deficiency
Documentation to support the health category ranking
Proposed budget;
Timeline for completion;
The outcome of the project must be the development of a PER.
E-mail one electronic copy of the proposal and any documentation to:
Nancy Sockabasin (sockabasin.nancy@epa.gov).
Electronic files exceeding 8MB must either be separated into emails not exceeding 8MB each. If you have difficultly submitting electronic documentation, contact Nancy Sockabasin.
Important Dates
November 20, 2020
EPA must receive proposals by this date, including the proposal form, tribal government endorsement, and any preliminary engineering reports and supporting documents. Proposals received after November 20, 2020 will not be considered for funding.
January 2021
EPA will notify each applicant of the draft proposal priority and whether the project was selected to continue with the application process.
March 2021
Applicants can submit comments on the draft prioritization. For projects selected to continue with the application process, applicants must submit responses to any EPA comments, and submit any additional documentation or endorsements that EPA requests.
April-August 2021
EPA will notify applicants of the final priority list and funding decision, along with guidance letters for projects to be funded by a grant.
May-August 2021
Tribe submits grant application, or Indian Health Service submits draft Memorandum of Agreement and Project Summary (exact dates will be included in funding decision notification letters).
September 2021
EPA awards funds for selected projects.
Documents
If you experience a problem reading a document with assistive technology, please contact us.
You may need a PDF reader to view some of the files on this page. See EPA's About PDF page to learn more.