Basic Information About Class V Injection Wells
On this page:
The information provided below explains how Class V wells work. It will help you understand how to manage Class V wells to prevent contamination of underground sources of drinking water (USDWs).
What is a Class V well?
A Class V well is used to inject non-hazardous fluids underground. Fluids are injected either into or above an underground source of drinking water.
Class V wells include any wells that are not already classified as Classes I-IV or Class VI wells. This diverse group ranges from simple shallow wells to complex experimental injection technologies.
Most Class V wells are "low-tech" and depend on gravity to drain fluids directly below the land surface. Dry wells, cesspools, and septic system leach fields are examples of simple Class V wells. Because their construction often provides little or no pretreatment and these fluids are injected directly into or above an underground source of drinking water, proper management is important.
More sophisticated Class V wells may rely on gravity or use pressure systems for fluid injection. Some sophisticated systems include advanced wastewater disposal systems used by industry, experimental wells used to test new or unproven technologies, and systems used to inject and store water for later reuse.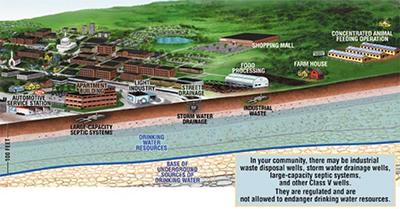 In your community, there may be industial waste disposal wells, storm water drainage wells, large-capacity septic systems, and other Class V wells. They are regulated and not allowed to endanger drinking water resources.
---
What are the common uses of Class V wells?
Class V wells provide for the injection of fluids for a variety of municipal, business and industry practices.  They include injection wells with both simple and complex designs.  
Examples of "low-tech" Class V injection wells that typically rely on gravity drainage include:
Gas stations where service floor drains lead to a septic system
Apartment buildings that use septic systems for sanitary waste disposal
Municipalities where stormwater flows into dry wells
Strip malls where businesses such as photo processors and dry cleaners discharge sanitary wastes and process chemicals into septic systems
Office buildings that inject water passed through heat exchangers to cool the buildings
Carwashes where wastewater enters a floor drain that leads to a dry well or septic system
Examples of sophisticated Class V wells include:
Experimental wells used for slurry injection of municipal waste
Wells used for the injection of drinking water treatment residuals
Deep brine injection wells
---
How many types of Class V wells are there?
Class V wells vary according to the businesses that use them, their construction, and the fluids they receive. In 1999, EPA conducted a study of 23 Class V well types and estimated that there are more than 650,000 of these wells in use in the United States. Class V wells are located in every state, especially in unsewered areas where the population is also likely to depend on ground water for their drinking water. EPA's Class V study provides detailed information on: 
Specific Class V well types 
Geographic distribution of Class V wells 
Characteristics of injected fluids 
Individual state regulations
Read EPA's Class V Underground Injection Control Study to learn more about Class V wells 
---
How Do the Requirements for Class V Wells Prevent Contamination?
Class V wells are a concern because they pose a risk to underground sources of drinking water. Because of this they are regulated by the Underground Injection Control (UIC) program under the Authority of the Safe Drinking Water Act.
EPA established minimum requirements to prevent injection wells from contaminating underground sources of drinking water (USDWs). In addition, Class V regulations are linked to EPA's source water assessment program. 
Learn more about the federal requirements for Class V Wells.
What Can I Do to Protect Drinking Water?
Preventing contamination can save you money and protect your family's health. Here are some things you can do to help protect your drinking water source:
Know where the drains in your home or business discharge. Many homes or businesses have septic systems equipped with leach fields or dry wells. You should only dispose of household sanitary wastes in these wells.
Become involved in source water protection. Every state has performed a "source water assessment" that identifies the major threats (including Class V wells) to public drinking water supplies. Communities can use this information to plan drinking water protection activities. These activities may include proper management of Class V wells to prevent contamination of drinking water sources. For example, EPA has banned motor vehicle waste disposal wells in some areas near drinking water sources. States are also encouraged to target these areas for protective measures. Class V well owners who are also business owners can be important advocates for a community's source water protection plan.
Read your consumer confidence report. Published once a year by your water company, this report has information about the quality of your drinking water and about threats to drinking water sources.