Urban Waters and the Meramec and Big Rivers (Missouri)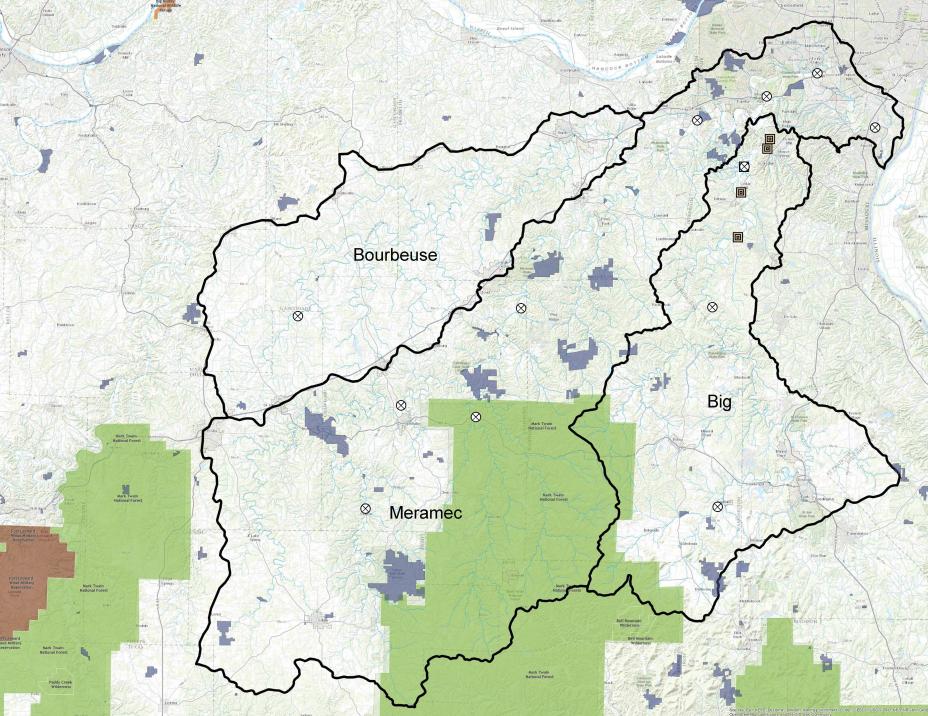 The Meramec and Big River project is located southwest of St. Louis, Missouri. The Meramec River is one of the longest waterways flowing through Missouri before emptying into the Mississippi River and is well known for its recreational uses.
Formerly a booming lead-producing region, the towns in the Meramec and Big River watersheds hold over 200 years of lead mining pollution. As a result, high levels of heavy metals and lead sediment have entered the Meramec and Big Rivers. Lead contamination has affected wildlife, especially mussel and fish populations. Public consumption warnings still exist on the tributaries of the Meramec and Big River.
Seeking to address the lead contamination, the U.S. Environmental Protection Agency (EPA) and the U.S. Army Corps of Engineers (USACE) serve as members of the Big River Task Force. This is a group of various governmental organizations, from federal to local levels. Their work aims to facilitate the cleanup, restoration, and remediation efforts on the Meramec and Big Rivers.
Additionally, the Urban Waters Federal Partnership and an Urban Waters Ambassador intend to break down federal and state silos and facilitate collaborative practices.  Together, these efforts can improve the public's and the rivers' health.
List of Partners
Federal Government
National Park Service
U.S. Army Corps of Engineers
U.S. Department of Agriculture
U.S. Geological Service
U.S. Fish and Wildlife Service
U.S. Forest Service
U.S. Environmental Protection Agency
Corporation for National and Community Service
Agency for Toxic Substance and Disease Registry
Center for Disease Control
Department of Housing and Urban Development
Natural Resources Conservation Service (NRCS)
Strong Cities, Strong Communities (SC2)
Non-Federal Partners
Missouri Botanical Gardens
Missouri Department of Conservation
Missouri Department of Natural Resources
East West Gateway Council of Governments
Meramec Regional Planning Commission
Metropolitan St. Louis Sewer District
Missouri State
St. Louis University
The Nature Conservancy
Kiefer Creek Watershed Coalition
Missouri Stream Team
Non-Governmental Orgs
Missouri Department of Natural Resources (Our Missouri Waters)
East West Gateway Council of Governments
Meramec Regional Planning Commission
Soil and Water conservation Program
Meramec River Recreational Association
Belews Creek Watershed
Kiefer Creek Watershed Group
Missouri Botanical Gardens
Great Rivers Greenway
National Parks Service
Open Space council
Sierra Club
Watershed Cairns
Metropolitan Sewer Distric (Project Clear)
The Nature Conservancy
Missouri Coalition for the Environment
---