National Vehicle and Fuel Emissions Laboratory (NVFEL) Vehicle Technology Showcase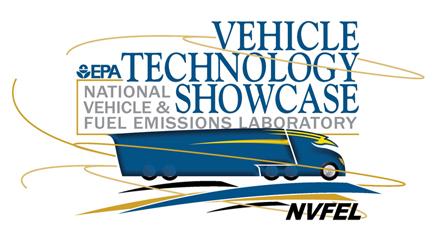 Highlighting innovative technologies to improve fuel efficiency and reduce greenhouse gas emissions from heavy-duty trucks. 
---
EPA hosted the third Vehicle Technology Showcase at our Ann Arbor, MI vehicle emissions testing laboratory. This year's event focused on highlighting innovative technologies that reduce greenhouse gas emissions and improve fuel economy from heavy-duty vehicles. EPA also gave out the annual SmartWay awards to top-performing partners for cutting the carbon footprints of their freight supply chains. 
Agenda
Opening Event:
Ribbon Cutting of the newly installed Heavy-Duty Chassis Dynamometer Test Site. This facility is a unique 10,000-square-foot expansion to the NVFEL laboratory, which will allow EPA to test the largest buses and semi-tractors for fuel economy and greenhouse gas emissions.
Truck Technology Displays:
Advanced technology vehicles and components including the Freightliner SuperTruck, Waste Heat Recovery, Hybrid Powertrain, Aerodynamic Fairings, Low Rolling Resistance Tires, Dual Clutch Transmission, Smart Controls and more. Companies showcasing technologies are:
Achates Power
Allison Transmission
Con-way Truckload
Cummins Inc.
Daimler Trucks North America LLC
Dana Corporation
Ford Motor Company
Frito Lay
The Goodyear Tire & Rubber Company
Honeywell Transportation Systems
Michelin North America, LLC
New Eagle Control Systems
Parker Hannifin
SABIC
Tenneco
University of Michigan
Wabash National Corporation
Webasto Thermo & Comfort North America, Inc.
Keynote Address:
Janet McCabe, Presidential Nominee and Acting Assistant Administrator of EPA's Office of Air and Radiation.
Announcement of the 2015 SmartWay Excellence Awards for Shippers and Logistics Partners:
The annual SmartWay Excellence Award honors top freight shippers and logistics company partners for superior environmental performance and for demonstrating environmental leadership.
Expert Panel Discussion:
Moderator:
Angela Cullen, Director, Data and Testing Center, Office of Transportation and Air Quality, U.S. EPA
Panelists:
Randy Cornell, Vice President of Maintenance, Conway Truckload
Nic Lutsey, Program Director for Heavy Duty Vehicles, The International Council on Clean Transportation
Sean Waters, Director of Compliance & Regulatory Affairs, Daimler Trucks North America LLC
Wayne Eckerle, Vice President of Research & Technology, Cummins Inc.
James Scarcelli, Vice President of Corporate Strategy & Governmental Affairs, Wabash National Corporation
Gus Sumcad, Director of Engineering, Wabash National Corporation
Bill Van Amburg, Senior Vice President, CALSTART
For more information, please email us at nvfel-vts-2015@epa.gov.
Related Information