Research to Support and Implement Recreational Water Quality Criteria (RWQC)
On this Page
In 2012, EPA issued current recreational water quality criteria (RWQC) recommendations for ambient waters, reflecting the latest scientific knowledge, public comments, and external peer review. The criteria are designed to protect the public from exposure to harmful levels of pathogens in all water bodies designated for primary contact recreational uses, such as swimming, wading, and surfing. Low concentrations of human pathogens in ambient waters, most of which originate from fecal sources, are often difficult to detect but can result in elevated risks of human illness while recreating.
To help reduce health risks associated with exposure to fecal contaminants in recreational waters, scientists in EPA's Office of Research and Development are conducting research studies to strengthen the scientific basis of existing―or to advance new―fecal contaminant detection methods, source tracking, predictive tools, and health effects assessments that support human health RWQC recommendations.
Research activities are organized into three areas: (1) fecal indicator and pathogen analytical method development to support RWQC, (2) predictive modeling to support RWQC implementation for fecal indicators and pathogens, and (3) characterization of human health risks associated with fecal indicator and pathogen measurements.
Fecal Indicator and Pathogen Method Development to Support RWQC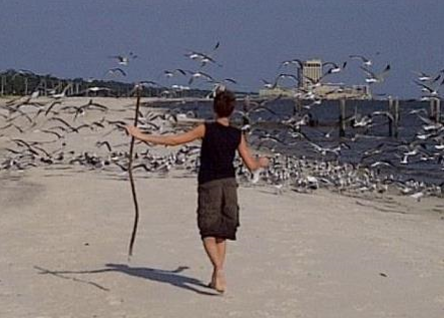 EPA research focuses on the development of new or improved analytical methods for high priority fecal indicators, such as rapid fecal indicator bacteria methods, coliphage, and microbial source tracking tools, as well as the science to support implementation of these methods in recreational waters.
Rapid E. coli Enumeration in Recreational Beaches
The 2012 RWQC recommends tools to rapidly enumerate (measure concentrations of) fecal indicator bacteria Enterococcus spp. using the molecular method, quantitative real-time PCR (qPCR). Research leading to these criteria demonstrated the levels of Enterococcus spp. enumerated by qPCR and showed a positive relationship with gastrointestinal illness rates among beach-goers. Despite the added value of water quality same-day notification, there is a reluctance among some states and freshwater beach management authorities to adopt the Enterococcus spp. qPCR method due to the historical use of established Escherichia coli (E. Coli) culture-based water quality standards. In response, EPA is working to develop a rapid E. coli qPCR method for site-specific analysis.
Research activities include (1) a multiple laboratory method performance assessment of EPA methods for enterococci qPCR and E. coli qPCR and (2) the development of qPCR DNA standards for multiple laboratory implementation.
Coliphage
EPA researchers are investigating the potential use of coliphage as a viral indicator for RWQC applications. Viruses cause many illnesses associated with primary contact recreation in surface waters. Compared to bacteria, viruses are typically much smaller and more persistent through wastewater treatment and in environmental waters. Coliphages may be useful for evaluating surface water quality because they may exhibit numerous desirable indicator characteristics. Therefore, the development of coliphage as a viral indicator could represent a major improvement for future RWQC and the protection of human health. However, the smaller size and lower concentrations of coliphage in ambient waters have necessitated the development of improved concentration and detection methods.
Research activities include (1) the development of a method for the concentration and quantification of F-specific and somatic coliphage in fresh and marine waters, and (2) the characterization of relationships between coliphage and other fecal indicators in recreational waters.
Microbial Source Tracking (MST)
General fecal indicators (enterococci and E. coli) typically used to assess fecal pollution do not provide information about the source(s) of contaminants. Information on fecal sources is important because the level of human health risk can change from one animal source to another and water quality managers will likely use different remediation strategies based on the source of fecal pollution. EPA has published the first nationally validated protocols for human fecal pollution characterization in recreational waters. However, little guidance is currently available on the proper application of these standardized protocols.
Research activities include (1) the development of human and other fecal source-associated methods and the science to support implementation in recreational water settings and (2) MST case studies to evaluate performance in real-world scenarios.
Recent Technical Publications
Predictive Modeling to Support RWQC Implementation for Fecal Indicators and Pathogens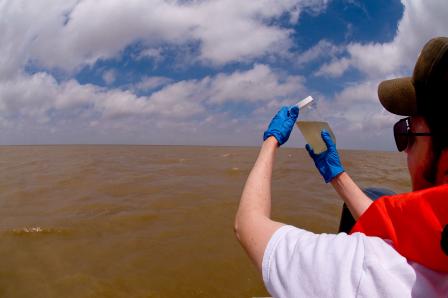 Contamination of ambient waters by harmful levels of pathogenic microorganisms occurs through complex, poorly understood interactions involving variable microbial sources, hydrodynamic transport, and microbial fate processes. Understanding the persistence of fecal indicators provides scientific information to assess their suitability for use as human pathogen surrogates in recreational waters.
Research activities include (1) fate and transport modeling of high priority microbial contaminants in watersheds and controlled microcosm studies in fresh and marine settings; and (2) development of microbial water quality forecast modeling with Virtual Beach and process models, including software design for coliphage and other contaminants.
Recent Technical Publications and Tutorials
Characterization of Human Health Risks Associated with Fecal Indicator and Pathogen Measurements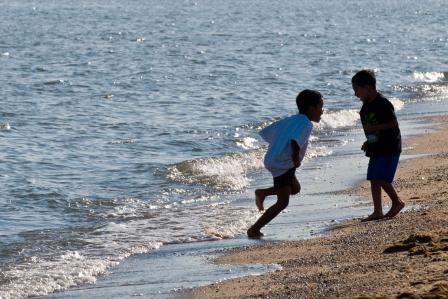 Current RWQC rely on general fecal indicator bacteria, such as enterococci and E. coli, to estimate potential public health risk associated with polluted waters. This effort addresses a broad series of human health risk research topics, including the use of epidemiology, new analytical methods to quantify pathogen exposure, and quantitative microbial risk assessment (QMRA) to estimate public health risk in recreational settings.
Research activities include (1) the comparison of infection rates, self-reported symptoms, and water quality conditions with an emphasis on novel indicators, such coliphage, rapid E. coli qPCR, and human-associated MST procedures; (2) the use of QMRA to estimate potential public health effects in recreational water settings; (3) improved recreational user information, such as swimming duration, activities, and behaviors across age groups to more accurately assess beach-goer exposure to fecal pollutants; (4) use of saliva testing procedures to compare the incidence of specific waterborne infections among swimmers and non-swimmers at recreational fresh and marine beaches; and (5) the use of an animal model to develop estimates of Campylobacter loading potential of human and avian isolates.
Recent Technical Publications
Related Resources