Media Room

WaterSense Editorial Calendar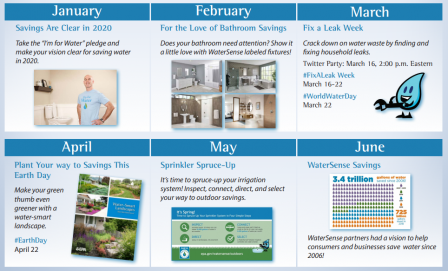 You can use the 2021 WaterSense editorial calendar (2 pp, 2 MB, About PDF) to develop timely campaign-related leads throughout the year.
We can provide guest blogs, video, infographics or other content. Please contact the WaterSense Helpline or (866) WTR-SENS (987-7367).
Get The Facts

Did you know that a leaky faucet that drips at the rate of one drip per second can waste nearly 3,200 gallons of water per year?  Also, check out our program documents, which includes our media label and logo use guidance and WaterSense Current newsletter.
Social Media
We continuously post on social media to keep you informed on newly published WaterSense articles, tips on saving water, and partner happenings.
WaterSense Press Releases