Soil Moisture-Based Control Technologies


Residential outdoor water use in the United States accounts for nearly 9 billion gallons of water each day, mainly for landscape irrigation. As much as half of this water is wasted due to evaporation, wind, or runoff, often caused by improper irrigation system design, installation, maintenance, or scheduling. EPA has developed a draft specification for soil moisture-based irrigation control technologies (8 pp, 294 K, About PDF) to accompany its specification for weather-based irrigation controllers in order to provide additional options for efficient irrigation scheduling.
Overview
More than 28 million homes across the United States have in-ground sprinkler systems that typically schedule watering with a clock-timed device. WaterSense is seeking to publish a specification for soil moisture-based irrigation control technologies to help combat water waste from landscape irrigation. Also known as soil moisture sensors (SMSs), these technologies can detect the amount of moisture in the ground beneath the landscape and override scheduled irrigation when plants don't need water, reducing water waste and promoting plant health. SMSs can be stand-alone controllers or "add-on" or "plug-in" devices that can be used in conjunction with an existing clock-timed controller to help it water more efficiently.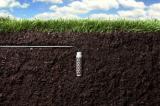 Irrigation soil moisture sensor (Image courtesy of Hunter Industries, Inc.)EPA anticipates that, once the specification is finalized and these products can earn the WaterSense label, installing a WaterSense labeled SMS can save an average home with an automatic landscape irrigation system more than 15,000 gallons of water annually. In the future, replacing clock-timers in all residential irrigation systems across the United States with SMSs that earn the WaterSense label could save more than 390 billion gallons of water each year. Read the Soil Moisture-Based Irrigation Control Technologies fact sheet (PDF) (1 pp, 402 K, About PDF) for more information.
Draft Specification
EPA released a draft specification for WaterSense labeled soil moisture-based irrigation control technologies on November 7, 2019.
EPA is also sharing its draft product notification template for SMSs. When EPA releases a final specification for SMSs, licensed certifying bodies will be required to submit information directly to EPA regarding WaterSense labeled products that have been successfully certified using this template:
The University of Florida's Soil Moisture-Based Irrigation Controller Final Test Report (17 pp, 3 MB, About PDF) is also available for review. This report details their performance testing of SMSs. The WaterSense Draft Specification for Soil Moisture-Based Irrigation Control Technologies references this report as it provides supporting data for criteria included in the draft specification.
On November 20, 2019, EPA held a teleconference and webinar with stakeholders to discuss the draft specification. EPA also presented the same information during a session at the Irrigation Show in Las Vegas, Nevada, on December 5, 2019.
All interested parties are welcome to comment on the proposed requirements in the draft specification, as well as the product notification template, until February 1, 2020. Please send any comments or suggestions to watersense-products@erg.com. Please review the instructions in the cover letter if you are submitting any data that needs to be handled as confidential business information (CBI). All comments, except data claimed as CBI, become a part of the public record.
To facilitate the consistency and usefulness of comments received, please submit your comments using the WaterSense Template for Public Comment Submission (DOC). You can either download and save this document template and directly insert your comments, or attach your comments in your own document, provided that you clearly reference the text/section in question, your recommended changes, and why you think these changes are needed.
WaterSense has compiled all the comments on the draft specification and product notification template that were received by February 1, 2020 when the comment period closed.
Additional Information
WaterSense has been working with the American Society of Agricultural and Biological Engineers (ASABE) as it develops a performance test standard for these technologies. The WaterSense Draft Specification for Soil Moisture-Based Irrigation Control Technologies references the draft standard, ASABE X633, Testing of Soil Moisture Sensors for Landscape Irrigation, published on October 18, 2019. A public comment period for this standard was open until December 2, 2019.
Background Materials
Notice of Intent
In May 2013, WaterSense issued a notice of intent (NOI) to develop a specification for bypass-type soil moisture-based control technologies. 
Specification Update
In December 2017, WaterSense provided a specification update to document progress made to date and describe remaining research needs.