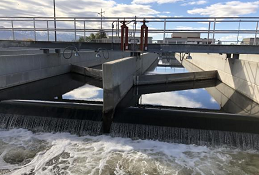 Borrower: Salt Lake City Department of Public Utilities
Location: Salt Lake City, Utah
WIFIA Loan Amount: $348.6 million
Total WIFIA Project Costs: $711.6 million
Population Served by Project: 194,000 people
Number of Jobs Created: 440 jobs
Project Description
The Water Reclamation Nutrient Project will reconstruct the 55-year old water reclamation facility and implement an additional treatment process to meet new regulatory total phosphorus limits, increase system resiliency, and provide for future expansion. The City is required to meet the new total phosphorus limit of 1 mg/L by state rule by January 1, 2025. At completion, the City will discharge lower nutrient concentrations into the Great Salt Lake. In addition, the project will increase the system's resiliency to seismic and flooding events.
Project Benefits
Enables Salt Lake City to comply with the new state nutrient discharge rule for total phosphorus limits by January 1, 2025 deadline.
Increases the system's resiliency by bringing the structure up to current building and seismic codes.
Saves Salt Lake City an estimated $102 million from financing with a WIFIA loan compared to typical market financing.
You may need a PDF reader to view some of the files on this page. See EPA's About PDF page to learn more.