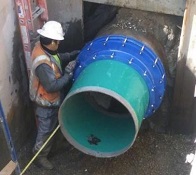 Borrower: City of San Mateo
Location: San Mateo, California
WIFIA Loan Amount: $85 million
Total WIFIA Project Costs: $173 million
Population Served by Project: 113,600 people
Number of Jobs Created: 556 jobs
Project Description
The Basins 2 and 3 Collection System Improvements Project will improve the city of San Mateo's sanitary sewer collection system by replacing aging lift stations, sewer mains, and manholes and constructing a new wastewater flow equalization facility. The project is designed to meet regulatory requirements, eliminate waste discharges, and correct conditions that cause sanitary sewer overflows. The project will increase the collection system's capacity to contain and manage higher flows during wet weather events and prevent the discharge of partially treated water into the San Francisco Bay and backups resulting in sanitary sewer overflows.
Project Benefits
Repairs and rehabilitates the city's aging sanitary sewer collection system.
Increases the storage and treatment capacity of the wastewater system.
Reduces sewer overflows and unauthorized discharges resulting in compliance with the Regional Water Quality Board order.
Saves the city of San Mateo an estimated $15.4 million from financing with a WIFIA loan.
You may need a PDF reader to view some of the files on this page. See EPA's About PDF page to learn more.