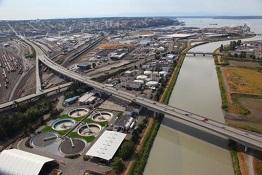 Borrower: City of Tacoma Sewer Utility
Location: Tacoma, Washington
WIFIA Loan Amount: $20 million
Total WIFIA Project Costs: $40.8 million
Population Served by Project: 210,000 people
Number of Jobs Created: 130 jobs
Project Description
The City of Tacoma's Electrical Distribution System Replacement Project will modernize the Central Wastewater Treatment Plant's entire electrical distribution system, which is over 40-years old. The project will improve the reliability and redundancy of the facility's primary electrical power. This will reduce the risk of plant failure and improve worker safety.
Project Benefits
Reduces the risk of a plant failure which would result in untreated wastewater spilling into the Puyallup River.
Improves worker safety by upgrading equipment that is outdated.
Saves the City of Tacoma an estimated $2.5 million from financing with a WIFIA loan compared to to typical market financing.
You may need a PDF reader to view some of the files on this page. See EPA's About PDF page to learn more.