How to Apply
How to successfully apply for an equivalency recommendation is to notify the Pathogen Equivalency Committee of your:
Intent

Develop a sample

Analysis plan to gather data in support of your process's equivalency

Carry out that sampling plan and

Complete and submit an official pathogen reduction equivalency application package.
---
The Pathogen Equivalency Committee will then evaluate the package and make its recommendation through the appropriate channels. This typical equivalency recommendation process is shown in this flow diagram.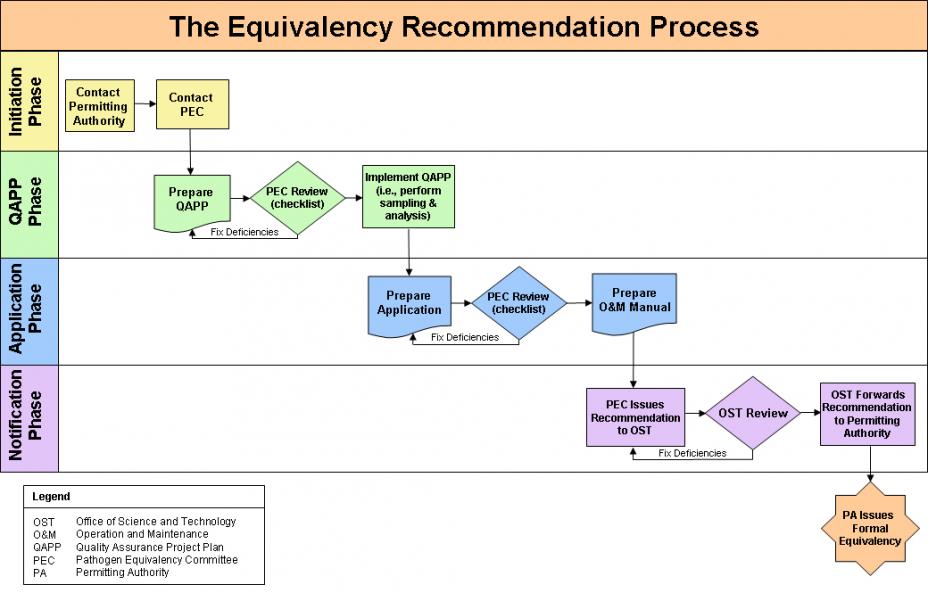 The twelve steps can be broken down into four main phases:
Resources
Listed below are some resources to help applicants submit an application package to obtain a recommendation for equivalency to a Process to Further Reduce Pathogens (PFRPs) or a Process to Significantly Reduce Pathogens (PSRP).
Quality Assurance Project Plan
A QAPP ensures that the desired quality in sample collection, laboratory analysis, data validation & reporting, and documentation & record-keeping are achieved and maintained.
Completeness Checklist (Word)
(8 pp, 269 K)
This checklist is used by the PEC to review submitted QAPPs and equivalency applications. It is provided to help applicants double-check that all required and applicable elements have been addressed in their QAPP/equivalency application before submittal.
Application Guidelines
A detailed outline for a full application for an equivalency recommendation. The outline is annotated, providing specific information appropriate for each section.