Chemicals Dashboard Help: Advanced Searches
A number of additional searches are possible the Advanced Search page located at https://comptox.epa.gov/dashboard/advanced_search/index, or accessed on the top left hand side of the page. Here the user can perform searches to support Mass spectrometry (formula and mass)
There is also a batch-based search located https://comptox.epa.gov/dashboard/dsstoxdb/batch_search or accessed on the top left hand side of the page.
Mass Spectrometry Based Searches
The MS-based searches allow for searches based on inputting masses or formulae as shown in the interface entry forms below.
Mass Search
This search is primarily incorporated to allow a user to search the database for chemicals matching a particular monoisotopic mass. This search will be of particular value for screening and non-targeted analysis users.  A search can be performed on a single mass +/- error, either in Da or ppm. The search can be performed ignoring multicomponent structures and ignoring isotopes. An example search such as 228.1 +/- 5 ppm gives 215 results in a Table or Tile format. Selection of the single component or ignore isotopes filters means that only chemicals containing one component will be returned (i.e. no multi component mixtures, no compounds with solvents of hydration, etc.) Pre-selection of the isotope filter removes all isotopically labeled compounds from the search results.
Generate Molecular Formulae
Generating one or more molecular formulae from a mass and error (a maximum error of 0.05 Da is allowed) generates all possible formulae depending on the elemental option settings and then ranks these formulae based on the number of matching hits in the database. For example, the search below for 162.116 Da +/- 5ppm produces a hit list of six formulae with only one matching formula as shown below.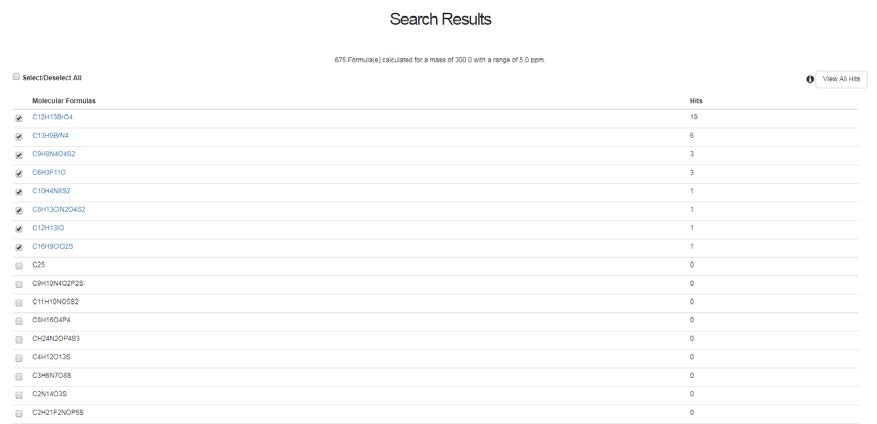 Selecting on a particular formula will open a new tab with the associated chemical structures shown. It is possible to View All Hits also by selecting the button (top right hand side)
The pre-defined options for the molecular formulae are as shown below. The default options ignore halogens. Other elements can be included by adding to the options input box.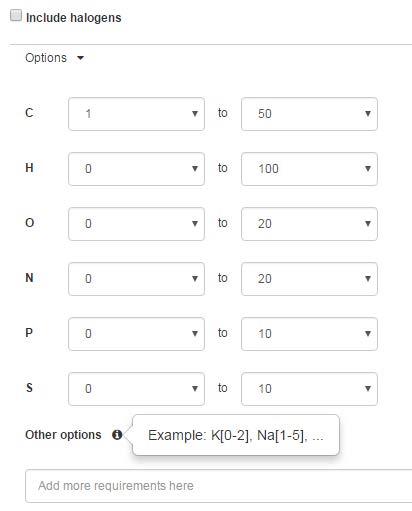 Molecular Formula Search
This search is primarily incorporated to allow a user to search the database for chemicals matching a particular molecular formula. This search will be of particular value for non-targeted analysis users who have already generated a potential molecular formula from an unknown observed chemical.  As with a mass-based search it can be performed on a molecular formula for a single component and multicomponent structures can be ignored.  An example search such as C15H16O2 yields 207 results.
Advanced Search Results Display
The results from a hit list can be shown as either a Table or in Tile form. The tile form of the hit list form is shown below. The tile list can be pruned using the check box below the structure and choosing the "View Selected" button. The hit list can be downloaded in the form of a TSV file, an Excel spreadsheet or an SDF file.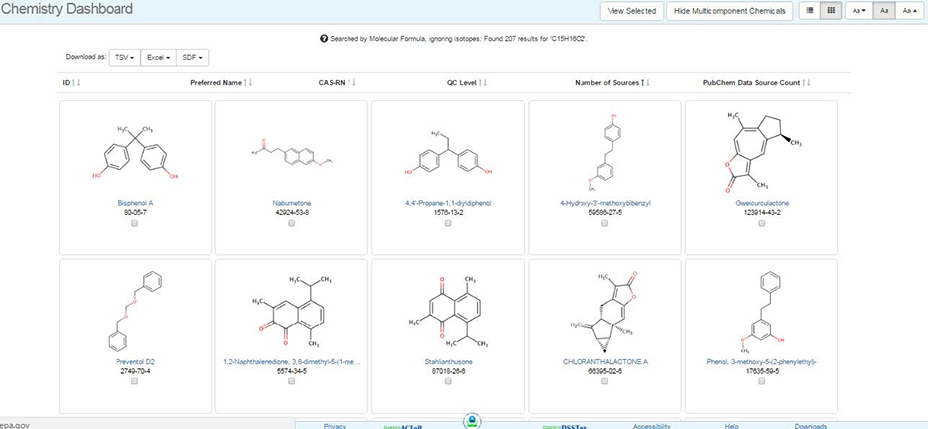 Using the buttons on the top right hand side allows the user to switch between table and tile mode and to show or hide multicomponent chemicals.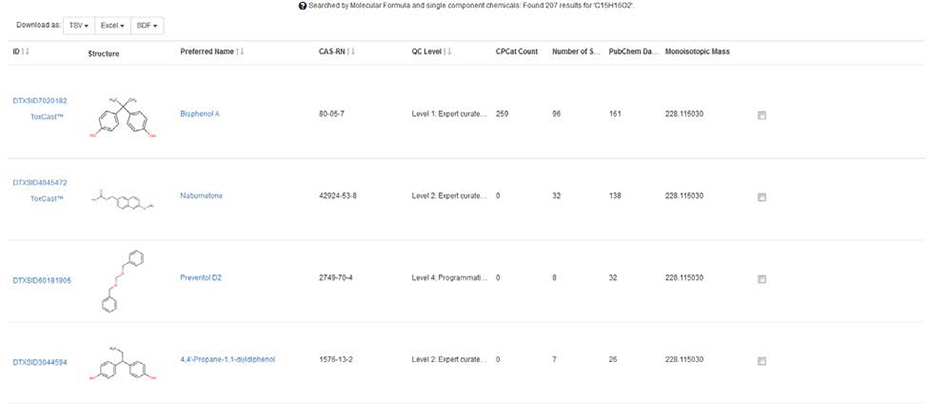 Data displayed for each record returned in the Search Results include DTXSID, structure, Preferred Name, and CAS.  Additional valuable data for suspect screening and non-targeted analysis are the number of data sources, number of PubChem data sources, and the product occurrence count (CPCat Count) of each chemical returned in the results.  It has been documented that ordering the number of data sources from high to low, the most likely chemicals observed in a sample rise to the top of the search results list (McEachran et al, 2016).  Results can be downloaded, sorted, and investigated one a time.  Additional data displayed as the ToxCast symbol on the left hand side indicates whether or not ToxCast data is available for the record.  Hovering on the label will display the overall percentage of active assays out of the total for that chemical (Bisphenol A says "14% Active Calls:  174 Active Assays/1220 Total").
Batch Searching
An additional manner in which to search the Dashboard is through Batch Searching, where a user can enter lists of many chemicals at a time and return results.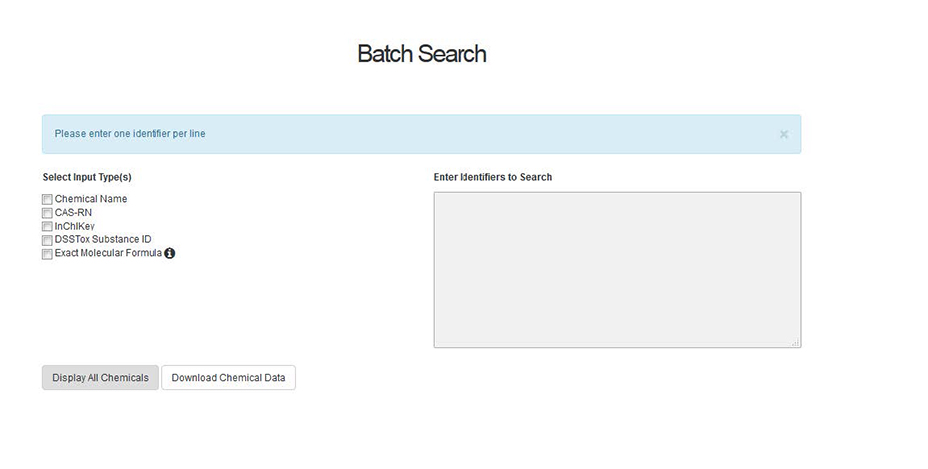 A user can search based on a list of CAS Numbers, Chemical Names, InChIKeys, DSSTox Substance Identifiers (DTXSIDs) or molecular formulae. Mixed searches, for example a mixture of names and CAS Numbers, is possible by selecting the input type and pasting a list of identifiers into the entry box. The user then selects whether they wish to display the chemicals hit list or whether to download the chemical data (see below for details). Of particular interest to suspect screening and non-targeted analysis is the ability to search many molecular formula(e) at once.  Having identified a potential chemical formula of an unknown chemical compound, a user can enter the formula into the box on the right after checking the "Molecular Formula" box.  This query searches the Dashboard for each formula entered and returns 1-10 results per formula (identified by the user) rank-ordered by the number of data sources.  Results can be displayed or downloaded.  When downloading results, the user selects data to be included in the download file (below).  This enables the user to return the most likely candidate chemicals for a long list of unknown chemicals with associated identifiers, structures, and chemical properties.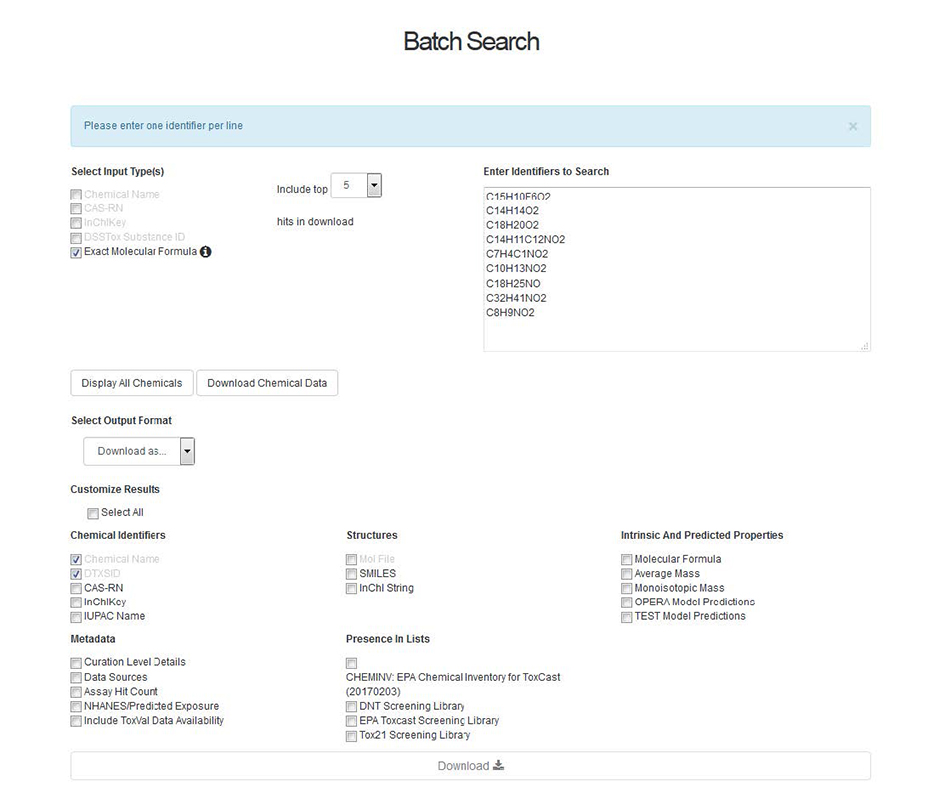 Of further interest to the mass spectrometry community is the creation and inclusion of "MS-Ready" structures in the Dashboard.  In this manner, an analyst attempting to identify unknowns searches the formula generated from spectra against de-salted, neutral, single component chemicals ("MS-Ready").  As one MS-Ready structure may map to several substances, the download of this file can rapidly expand to large files.