Chemicals Dashboard Help: Chemical Search
Chemical Results Page
The chemical results page for atrazine is given at https://comptox.epa.gov/dashboard/dsstoxdb/results?search=DTXSID9020112. An image of the results page is shown below.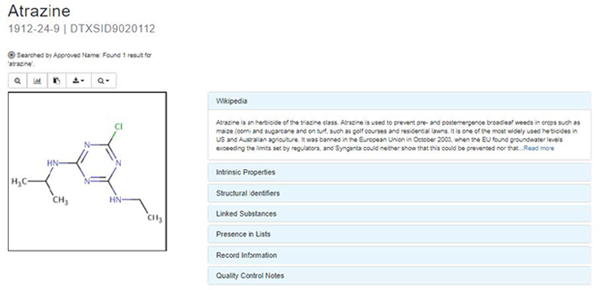 The page shows an image of the chemical structure and associated information. When a Wikipedia article is available then a snippet of that article is shown with a link out via the "Read More" link. There are ~760,000 substances on the dashboard and around 15,000 substances linked to Wikipedia only.
The intrinsic properties accordion includes molecular formula, average mass and monoisotopic mass, properties that are valuable to analytical scientists involved in structure identification and, in particular, to support targeted and non-targeted screening identification of environmental chemicals (for example, as reported by Sobus et al., McEachran et al. and Schymanski and Williams). "Find All Chemicals" will perform a formula search of the dashboard and will display all results in a Tile or Table view depending on the user selection. This will be covered in more detail later in this manual. All properties can be copied to the clipboard, individually, using the Copy button.
The structural identifiers accordion includes the IUPAC Name, SMILES, InChIString and InChIKey.
The InChIKey can be used to perform a search across the internet using the Google Search Engine. For example, for the chemical structure of Atrazine the InChIKey displayed above results in over 500 "exact structure" hits online: https://www.google.com/#q=MXWJVTOOROXGIU-UHFFFAOYSA-N. An InChIkey skeleton search ignores stereochemistry, charge and isotopes when searching for a particular chemical.
The Linked Substances accordion includes pre-defined searches for chemicals with the same connectivity, substances where the searched chemical is associated with neutralized forms or as a component of a mixture and a Tanimoto search (coefficient >0.8) across the entire database.

The Record Information accordion includes a citation for the chemical as a URL based on the DSSTox substance identifier (DTXSID). It also includes the data quality based on five levels of data curation. The bolded color bar indicates the level of data quality for the chemical.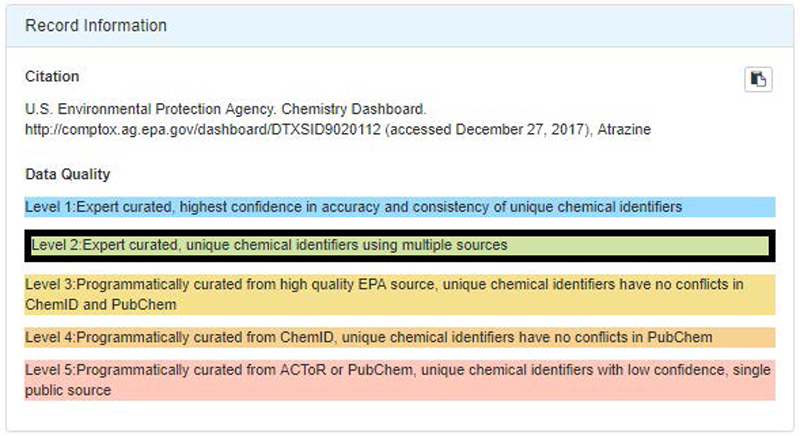 The Presence in Lists tab lists specific lists that the chemical is part of. Relative to work performed in NCCT this will include our ToxCast dataset and our Chemical Inventory list. For more details regarding the individual lists hover over the blue button to see a short description and to examine the list in more detail simply click on a blue button to open up a new tab containing the list.
The different levels that can be listed are as follows:
| Data Quality | Definition |
| --- | --- |
| Level 1 | Expert curated, highest confidence in accuracy and consistency of unique chemical identifiers |
| Level 2 | Expert curated, unique chemical identifiers confirmed using multiple public sources |
| Level 3 | Programmatically curated from high quality EPA source, unique chemical identifiers have no conflicts in ChemID and PubChem |
| Level 4 | Programmatically curated from ChemID, unique chemical identifiers have no conflicts in PubChem |
| Level 5 | Programmatically curated from ACToR or PubChem, unique chemical identifiers with low confidence, single public source |

Chemical Search Results Page
For each chemical, a series of tabs are displayed providing access to additional information about the chemical. The list of tabs is shown below. Each of these will be discussed in order.