CHP for Hospitals: Superior Energy for Superior Patient Care
---
CHP is a superior energy resource for hospitals because it can provide all of a hospital's energy services efficiently and indefinitely during grid outages. For hospitals, losing electricity—even for short periods—can disrupt critical life support systems. When the power goes out, lives may be at risk. And with weather-related events becoming more frequent and severe in the U.S., grid outages are becoming more common. CHP, an onsite generation resource, can enable hospitals to continue to provide all services during grid outages.
In addition to providing reliable energy and making hospitals more resilient, CHP can help hospitals reduce costs and meet their sustainability and emissions reduction goals.
---
About CHP
CHP, or combined heat and power, is the concurrent generation of electricity and thermal energy (i.e., heating, cooling, hot water, and steam for sterilization).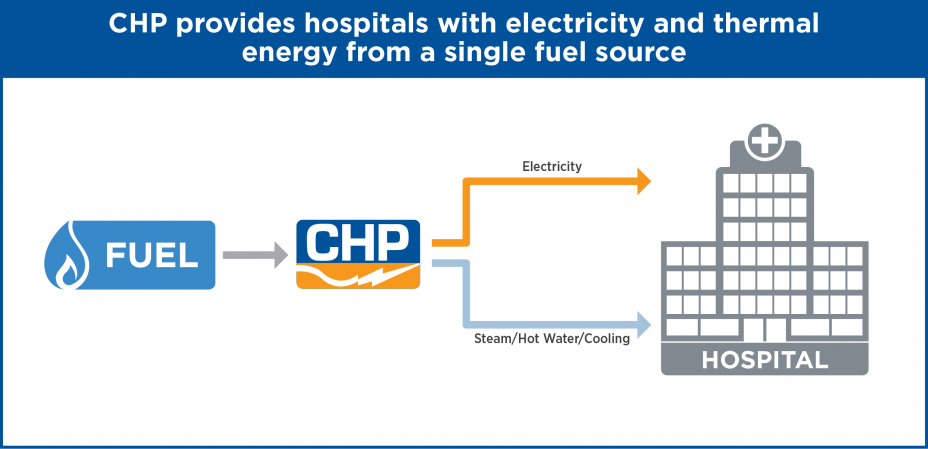 CHP has several advantages over conventional energy services (e.g., grid-supplied electricity and steam or hot water from an on-site boiler):
Resilience. CHP can operate independently of the electric grid, providing electricity to hospitals during grid outages.
Superior efficiency. CHP can provide the same energy services using approximately one-third less fuel than what would be required by a conventional energy system.
Cost savings. Superior efficiency means lower energy costs. CHP is especially cost-effective for hospitals because they operate continuously, have high energy costs, and use both electricity and thermal energy.
Lower emissions. By burning less fuel than used by conventional energy services, CHP systems produce fewer greenhouse gas emissions like carbon dioxide (CO2), and fewer nitrogen oxides (NOx) and sulfur dioxide (SO2) emissions.
Click an image below for a larger view.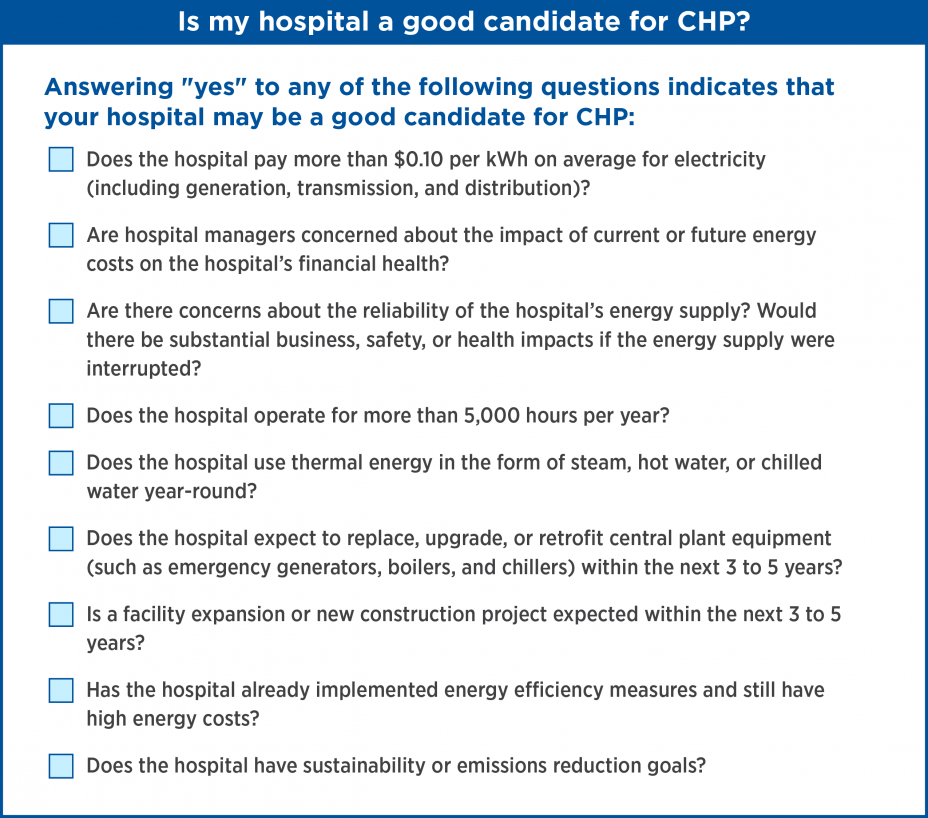 Why CHP in Hospitals?
Keeps the lights on and systems running. CHP can provide a hospital's entire energy supply year-round, even during grid outages caused by weather-related disruptions or other events. During a grid outage, hospitals are on the front line, saving lives and functioning as centers of refuge. A hospital shutdown threatens not only the continuity of patient care but the well-being of the community.
CHP: Above and Beyond Emergency Generators
CHP does not supplant the need for hospitals to install and maintain emergency generators to support life-critical services (as required by local, state, and federal codes and standards). However, adding CHP can be a better choice than relying solely on emergency generators.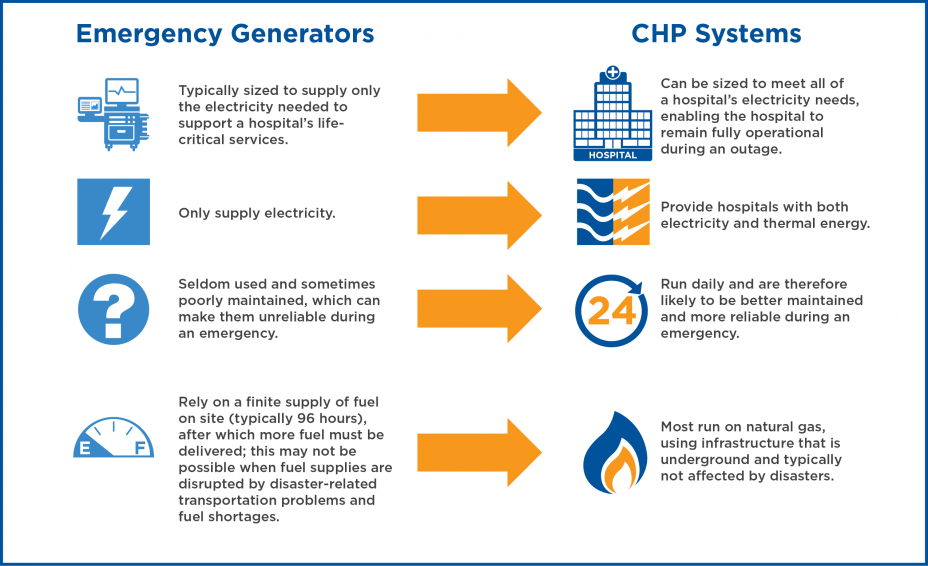 Montefiore Medical Center—Resiliency During Disaster
The electricity is out in New York City, but for Montefiore Medical Center (MMC), it's business as usual. Patient rooms are comfortable, hallways bright, and operating rooms and medical equipment are up and running. MMC remained operational during two of the United States' most catastrophic grid outages, the Northeast blackout of 2003 and Hurricane Sandy in 2012.
In 1993, MMC became the first hospital in New York City to install a CHP system, providing it with reliable, year-round energy services, even when the electricity goes out. In 2001, MMC increased its commitment to CHP, expanding the system from 5 to 9.5 megawatts.
The Northeast blackout affected 50 million people and disabled critical systems across the Northeast. MMC continued to operate with full electricity service, the only hospital in New York City to do so. The CHP system also continued to supply MMC with cooling during the heat wave at the time, further protecting patient safety.
Nine years later, Hurricane Sandy left more than 7.5 million people without electricity, including the area in New York City where MMC is located. MMC's CHP system again enabled it to remain fully operational, allowing it to accommodate patients who were evacuated from nearby hospitals due to a loss of electricity at those facilities.
MMC notes that its investment in CHP "allows us to provide to Montefiore patients, employees and members of the communities we serve a safe, reliable, resilient and environmentally-friendly source of power." Furthermore, the hospital estimates that its CHP system saves over $2 million annually in energy costs.
Frees resources for patient care. Hospitals spend $3.16 per square foot on energy costs each year on average, and this amount is climbing steadily. These costs can have a huge impact on a hospital. For example, a 237,400-square-foot, 75-bed hospital spends about $9,800 per bed on energy costs—about $735,000 per year. CHP can help reduce these costs and free resources for patient care. CHP can also help hospitals avoid losses that result from losing electricity, and can eliminate or defer the costs associated with replacing or retrofitting onsite boilers that are nearing the end of their useful lives or that require updating to comply with new environmental regulations.
Resilient Energy Services Like CHP Provide Value Beyond Energy Bill Savings
In addition to possible impacts on patient care, Health Care Without Harm (PDF) (24 pp, 2MB) Exit notes, the costs to hospitals of being ill-prepared for weather events can be immense. A loss of electricity can mean lost revenue, the loss of valuable research materials, higher insurance premiums, and overtime pay for staff.
"In a best-case scenario, extreme weather events make operating conditions more difficult for a health care facility by triggering the use of protective measures like sandbags or backup power generators. In a worst-case scenario, facilities are forced to evacuate patients and suspend, or even permanently close down, operations."
Reduces emissions. Many hospitals commit to sustainability and climate goals to reduce their environmental footprints. CHP can help hospitals meet those goals.
By reducing emissions of pollutants from the generation of electricity and the production of thermal energy, CHP contributes to cleaner air. This means better health for people, both within and beyond the community that a hospital serves.
A Proven Approach
More than 200 hospitals in over 30 states use CHP. And the following hospitals have earned the ENERGY STAR® CHP Award:
Resources
Some of the links below exit the EPA site Exit
CHP in Hospitals
Resiliency
Energy Efficiency