Nonferrous Metals Forming and Metal Powders Effluent Guidelines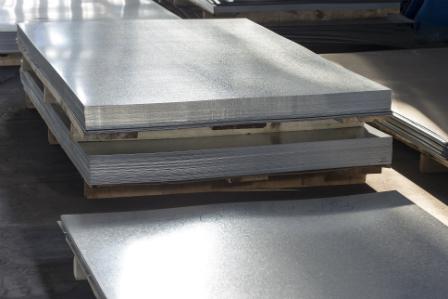 EPA promulgated the Nonferrous Metals Forming and Metal Powders Category regulation (NFMF) (40 CFR Part 471) in 1985 and amended the regulation in 1989. The regulation covers direct and indirect dischargers. The Effluent Guidelines and Standards are incorporated into NPDES permits for direct dischargers

direct dischargerA point source that discharges pollutants to waters of the United States, such as streams, lakes, or oceans., and permits or other control mechanisms for indirect dischargers

indirect dischargerA facility that discharges pollutants to a publicly owned treatment works (municipal sewage treatment plant). (see Pretreatment Program).
On this page:
---
What is the Nonferrous Metals Forming and Metal Powders Industry?
Forming is the set of manufacturing operations in which metals and alloys are made into semi-finished products by hot or cold working.
Forming operations include rolling (both hot and cold), extruding, forging, and drawing; also cladding, tube reducing, swaging, and metal powder production.
Ancillary operations include casting for subsequent forming, heat treatment, surface treatment, surface coating, alkaline cleaning, solvent degreasing, product testing, and wet air pollution controls on forming operations and the associated operations.
The product of one NFMF operation is often the starting material for a subsequent operation.
Cast ingots and billets are the starting point for making sheet and plate, extrusions, and forgings, as well as rod, for use in drawing operations.
Rolled sheet and plate can be used as stock for stampings, can blanks, and roll formed products; as finished products in building, and aircraft construction; or as foil.
Extrusions can be used as raw stock for forging and drawing; or can be sold as final products, such as beams or extruded tubing.
Forgings are either sold as consumer products or used as parts in the production of machinery, aircraft, and engines.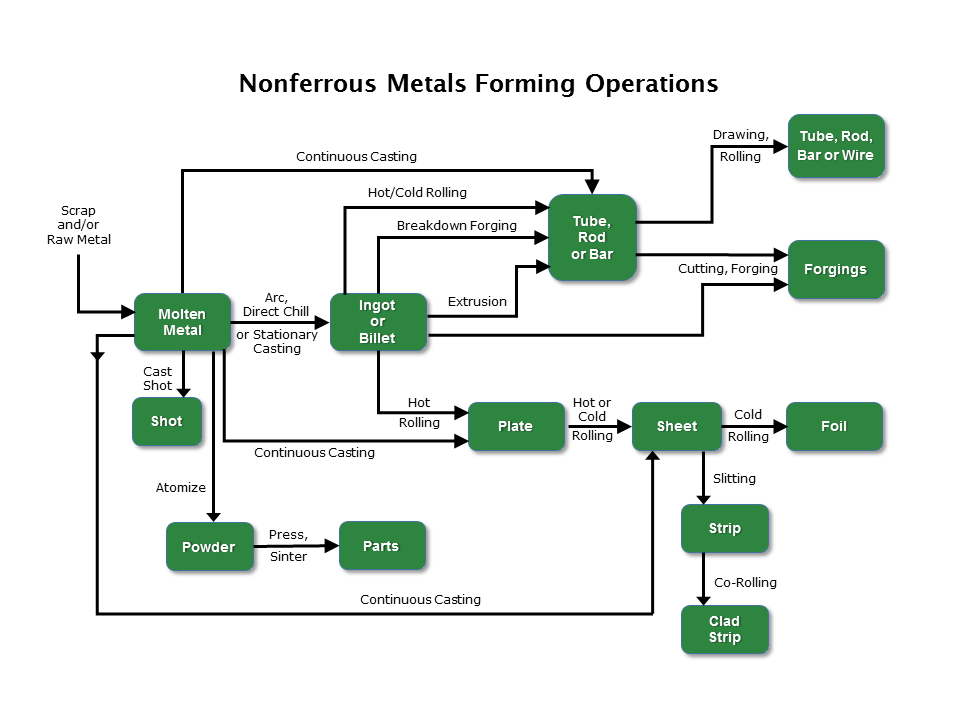 For the purpose of the NFMF regulation:
Nonferrous metal is defined as any pure metal other than iron, copper, or aluminum; or metal alloy for which a metal other than iron, copper, or aluminum is its major constituent by weight.

Alloys are considered as only one metal type. The metal type of any particular alloy is defined to be the metal that is the major component in percent by weight except for precious metals (silver, gold, platinum, and palladium) and beryllium. Any alloy containing 30 or greater percent by weight of precious metals is considered a precious metal alloy. Beryllium alloys are any alloy in which beryllium is present at 0.1 percent or greater by weight. Alloys for which iron, copper, or aluminum is greater than 50 percent by weight (except precious metals) are not included in the category of nonferrous metal alloys.

Metal powders include nonferrous metals and alloys as previously described, along with iron, copper, and aluminum and their alloys. Metal powder production processes include milling, abrading or atomizing.
Not covered by the NFMF regulation:
The production of metal powders by chemical means, such as precipitation

The production of metal powder as the final step in refining metal

Forming of the metals beryllium, cadmium, chromium, gallium, germanium, indium, lithium, manganese, neodymium, or praseodymium.  
NFMF activities are included broadly within the following NAICS groups:
331491: Nonferrous Metal (except Copper and Aluminum) Rolling, Drawing, and Extruding

332112: Nonferrous Forging

332999: All Other Miscellaneous Fabricated Metal Product Manufacturing
Note: The NAICS listing is provided as a guide and does not define the coverage of the NFMF category. For precise definitions of coverage, see the Applicability section at 40 CFR 471.01.
---
Facilities Covered
The NFMF Category comprises 10 subcategories:
Lead-Tin-Bismuth Forming

Magnesium Forming

Nickel-Cobalt Forming

Precious Metals Forming

Refractory Metals Forming

Titanium Forming
Uranium Forming
Zinc Forming
Zirconium-Hafnium Forming
Metal Powders
Metal types covered
Bismuth
Cobalt
Niobium (Columbium)
Gold
Hafnium
Lead
Magnesium
Molybdenum
Nickel
Palladium
Platinum
Rhenium
Silver
Tantalum
Tin
Titanium
Tungsten
Uranium
Vanadium
Zinc
Zirconium
Iron, Copper, and Aluminum Metal Powder Production and Powder Metallurgy Operations
---
Relationship to Other Categories
Iron, copper, and aluminum powder manufacturing and forming of parts from metal powders including milling, abrading, and atomizing, as well as any associated ancillary operations listed above are covered under the NFMF Category. Other forming operations for these metals are covered under separate regulations, including:
The production of metal powders by chemical means may be regulated under the Inorganic Chemicals Manufacturing Category (40 CFR Part 415). The production of metal powders as the final step in refining metal is regulated under the Nonferrous Metals Manufacturing Category (40 CFR Part 421).
Casting of nonferrous metals is included in the NFMF category when it is performed as an integral part of the nonferrous metals forming process and located at the same plant site at which nonferrous metals are formed. This includes shot-casting and casting of billets, ingots, bars, and strip which are subsequently formed on-site.
Surface treatment of nonferrous metals includes any chemical or electrochemical treatment applied to the surface of the metal. This process is considered to be an integral part of the NFMF category whenever it is performed at the same plant site at which nonferrous metals are formed.  Wastewater discharges covered by the NFMF category are not subject to the Electroplating Category (40 CFR Part 413) or the Metal Finishing Category (40 CFR Part 433).
---
Guidance Document
---
Rulemaking History
1989 Amendment
Amended subparts C and I. Promulgated pursuant to litigation.
1985 Initial Rulemaking
Documents, including:

Final Rule (August 23, 1985)
Development Document (September 1986)
Industry description, wastewater characterization, treatment technologies, regulatory compliance cost estimates and pollutant loadings for the final rule
Proposed Rule (March 5, 1984)
---
Additional Information
For additional information regarding the Nonferrous Metals Forming and Metal Powders Effluent Guidelines, please contact Anthony Tripp, tripp.anthony@epa.gov or 202-566-1419.