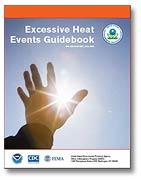 The U.S. Environmental Protection Agency has produced the Excessive Heat Events Guidebook with assistance from federal, state, and local and academic partners.
Designed to help community officials, emergency managers, meteorologists, and others plan for and respond to excessive heat events, the guidebook highlights best practices that have been employed to save lives during excessive heat events in different urban areas and provides a menu of options that officials can use to respond to these events in their communities.
The guidebook was developed with the National Oceanic and Atmospheric Administration (NOAA), the Centers for Disease Control and Prevention (CDC), and the Department of Homeland Security (DHS). Municipal officials in both the U.S. and Canada provided valuable information that the public can use to cope with excessive heat.
To help users find the most up-to-date information about extreme heat, in 2016 EPA and its federal partners updated Appendix A of the guidebook: "Excessive Heat Event Online Federal Resources."
As a quick reference resource, the Excessive Heat Events Guidebook in Brief offers summary information and useful tips to prepare for and respond to excessive heat.
EPA also has a page of general information related to extreme heat events, to help individual, communities, and businesses prepare for and respond to heat waves.
You may need a PDF reader to view some of the files on this page. See EPA's About PDF page to learn more.