Cleaning Up Electronic Waste (E-Waste)
EPA works bilaterally with governments and environmental officials around the world on e-waste management.  U.S. EPA and Taiwan Environmental Protection Administration (Taiwan EPA) coordinate the International E-Waste Management Network (IEMN), which has brought together environmental officials from Asia, Latin America, the Caribbean, Africa, and North America to exchange best practices on e-waste management since 2011.  
EPA also collaborates with the Solving the E-waste Problem Initiative (Step) Exit to jointly address the e-waste problem in developing countries. Step, formerly known as UNU-Step, was previously an initiative under the United Nations University (UNU).  EPA and UNU first signed a cooperative agreement to work together on e-waste in November 2010 and then again in 2015. Some of the work undertaken by UNU-Step included tracking global flows of e-waste, the Person-in-the-Port project in Nigeria, optimization of an e-waste dismantling facility in Ethiopia and the development of a tool to help gather information on volumes of e-waste generated within countries and exported to others. EPA is a founding member of the Step Initiative and serves on the Step Supervisory Committee.
Highlights
March 2019: EPA participated in the launch of the UNIDO-GEF project, "Strengthening of National Initiatives and Enhancement of Regional Cooperation or the Environmentally Sound Management of POPs in Waste of Electronic of Electrical Equipment (WEEE)." With EPA's support, Step developed a tool which will enhance the ability of participating countries to assess how much e-waste is generated, imported and exported.
The meeting took place in San Jose, Costa Rica with participation from the thirteen countries involved in the project, along with experts from around the region and the world. 
Understanding E-Waste
What is E-Waste?
"E-waste", "electronic waste", "e-scrap" and "end-of-life electronics" are terms often used to describe used electronics that are nearing the end of their useful life, and are discarded, donated or given to a recycler. Though "e-waste" is the commonly used term, EPA considers e-waste to be a subset of used electronics and recognizes the inherent value of these materials that can be reused, refurbished or recycled to minimize the actual waste that might end up in a landfill or improperly disposed in an unprotected dump site either in the US or abroad.
An undetermined amount of used electronics is shipped from the United States and other developed countries to developing countries that lack the capacity to reject imports or to handle these materials appropriately. Without proper standards and enforcement, improper practices may result in public health and environmental concerns, even in countries where processing facilities exist.
We have serious concerns about unsafe handling of used electronics and e-waste, in developing countries, that results in harm to human health and the environment. For example, there are problems with open-air burning and acid baths being used to recover valuable materials from electronic components, which expose workers to harmful substances. There are also problems with toxic materials leaching into the environment. These practices can expose workers to high levels of contaminants such as lead, mercury, cadmium and arsenic, which can lead to irreversible health effects, including cancers, miscarriages, neurological damage and diminished IQs.
EPA estimates that, in 2009, US consumers and businesses discarded televisions, computers, cell phones and hard copy peripherals (including printers, scanners, faxes) totaling 2.37 million tons. Approximately 25 percent of these electronics were collected for recycling, with the remainder disposed of primarily in landfills, where the precious metals cannot be recovered.
Understanding the Problem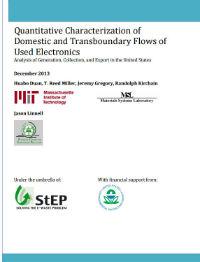 Better data are needed to create a more comprehensive picture of the overall trade flows. Accurate information about the amounts, types of materials and destinations of used electronics exported will provide valuable information for the Federal government, private industry and other stakeholders.
To this end, EPA funded UNU-StEP to lead a study on US exports of used electronics in an attempt to better define the US contribution to the overall e-waste problem.  StEP collaborated with the Massachusetts Institute of Technology (MIT) and the National Center for Electronics Recycling (NCER).  A workshop in July 2011 in Washington, DC gathered input from stakeholders to and helped chart a path forward.  In December 2013 the final study, 
Quantitative Chararcterization of Domestic and Transboundary Flows of Used Electronics,
 was released.  It presents a methodology for using existing trade data to calculate US exports and lays out challenges and options for future data-gathering efforts.
View the Report (PDF)
(121 pp, 1.9 M, About PDF)
Exit
National Strategy for Electronics Stewardship
In July 2011, the Task Force released the
National Strategy for Electronics Stewardship
 report, which details the federal government's plan to enhance the management of electronics by: 1) incentivizing greener design of electronics; 2) leading by example; 3) increasing domestic recycling; and 4) reducing harmful exports of e-waste and building capacity in developing countries.
The strategy provides four overarching goals, action items under each goal, and the projects that will implement each action item. The international goal is aimed at "reducing the harm from US exports of e-waste and improve safe handling of used electronics in developing countries." These recommendations are described in more detail in the report.
On August 4, 2014, EPA, CEQ, and GSA joined the US Postal Service in Washington, DC to release Moving Sustainable Electronics Forward: A Update to the National Strategy for Electronics Stewardship, a report detailing key domestic and international accomplishments as a result of the release of the National Strategy for Electronics Stewardship in July 2011.  The report highlights the improvement of information on global flows of e-waste, and the strengthening of capacity around the globe to better manage used electronics. 
Capacity Building
Building Capacity in Developing Countries and Sharing Best Practices
Ethiopia: 
Managing the e-waste created by an increasing amount of computer and telecommunication equipment is important to the Ethiopian government, and many international partners have worked in Ethiopia to help address this concern. 
In 2010, EPA provided funds to the United Nations University (UNU) to assess e-waste in Ethiopia. The assessment was carried out by Germany's Oeko Institute. Based on the results, the Global Environment Facility (GEF) invested $1 million in a project to strengthen Ethiopia's capacity to manage e-waste.  This was the GEF's first investment on the e-waste issue. The EPA and GEF projects build upon a previous World Bank-funded initiative aimed at enhancing Ethiopia's Information and Communication Technology (ICT) sector.  
Through this multiyear effort, EPA, UNU-Solving the E-waste Problem (StEP ) and the GEF assessed the state of e-waste in Ethiopia, studied national and international downstream markets for certain e-waste components, and identified financing models for sound e-waste management in Ethiopia.  The project also strengthened the capacity of a demanufacturing facility to process e-waste in Addis Ababa. 
The United Nations Industrial Development Organization (UNIDO) was the overall manager of the GEF project, with UNU-StEP's Initiative team serving as the technical experts.  EPA served as an international advisor to an Ethiopian working group on e-waste management during the course of this work.  The project ended in late 2016.
These efforts developed the following publications: 
The following links exit the site Exit
International E-Waste Management Network:
The International E-Waste Management Network (IEMN) is a network of government officials that come together annually to exchange best practices and learn from experts how to improve management of used electronics in their own countries.  US EPA and the Taiwan Environmental Protection Administration (EPAT) support this effort through a cooperative agreement.  
The IEMN began in 2011 and held its 6th annual workshop in October 2016 in Kuala Lumpur, Malaysia.  Officials from the governments of Asia, Africa, Latin America, the Caribbean and North America were present to learn and share about new tools and approaches to e-waste management.   
Multilateral Cooperation 
In addition to country-specific capacity building, EPA engages in longer-term multilateral cooperation with key international organizations to address the export of used electronics from one country to another and its ramifications.
Additional Links
You can learn more about EPA's work on e-waste and used electronics management at the following links:
Contacts
For additional information on EPA's international work on e-waste, contact:
Stephanie Adrian
(202) 564-6444
For more information EPA's participation in the IEMN, 
contact:

U.S. Environmental Protection Agency
Office of International and Tribal Affairs (2670R)
1200 Pennsylvania Ave., NW
Washington, DC 20460