Collaboration with the Asian Development Bank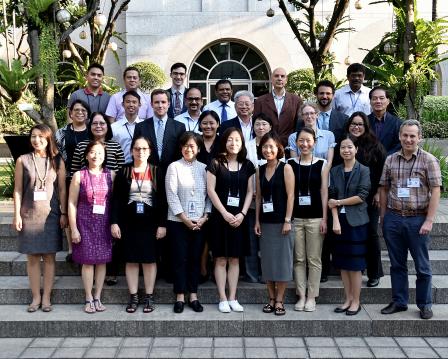 Participants of the ADB-EPA sponsored Environmental Benefits Mapping and Analysis Program Training, August 9 – 10, 2017 in Manila, Philippines.EPA and the Asian Development Bank (ADB) have a common interest in enhancing environmental protection and sustainable development in the Asia Pacific region.   ADB is an Asia regional development organization dedicated to reducing poverty in Asia and the Pacific through loans, grants, technical assistance, and equity investments to promote social and economic development. 
EPA's cooperation with ADB has included technical assistance, training, and joint project development to improve air quality, safety of drinking water, management of toxic substances, environmental governance, and water resource management.
---
Explore our recent work with the Asian Development Bank: 
Improving Air Quality for a Healthier Tomorrow
Environmental Benefits Mapping and Analysis for Communities
EPA  held a workshop with ADB in August 2017 to build capacity in Asia to create air quality management plans that reflect the best available science, address regional air quality challenges, and reduce intercontinental transport of pollutants including PM 2.5 and ozone. EPA experts trained ADB and country staff in EPA's approach for quantifying the health impacts and economic value of air pollution-related benefits. This approach uses the BenMAP-CE tool. The workshop participants learned to use this tool.
EPA followed-up on benefits mapping work by collaborating with the Asian Institute of Technology Center in VietnamExit to deliver a BenMAP-CE "train-the-trainer" workshop in Hanoi in May 2018. The training team included two participants from the previous train-the-trainer workshop. The audience included government officials, academics, and public and private sector stakeholders from Bhutan, South Korea, Myanmar, the Philippines, and Vietnam.
Air Quality Management and Mitigation
EPA collaborated with ADB to train ADB and country staff in April 2017 on air pollution, health, and safety matters. Modules delivered by EPA expert staff addressed identifying sources of air pollution in development projects in the Asia Pacific region, air quality assessment and monitoring, and methods for incorporating air pollution management into project design. EPA also delivered a workshop on features and benefits of using AirNow-International, a system that helps countries and regions around the world inform the public about the quality of the air they breathe.
Improving Access to Clean Water
Market-Based Approaches, Regulations, and Partnerships
An EPA expert participated in ADB's first Green Business Forum for Asia in November 2016. EPA shared examples of successful market-based environmental protection approaches in the United States, focusing on New York City's high quality unfiltered drinking water system and how it leverages federal regulations and financial incentives. Protecting water sources and the ecosystem through partnerships and national financing programs provides co-benefits and saves money over building a costly water filtration plant and program. This presentation challenged participants to think about innovative ways to protect watershed and attract green business.
Building Strong Institutions and Legal Structures
Enhancing Environmental Compliance Inspections and Enforcement, Nepal
In January 2017, EPA trained officials of the Government of Nepal on principles of environmental enforcement and conducting environmental compliance inspections. Through lecture, discussions, case studies, field inspections, and role plays, the course enabled Nepalese officials to develop management approaches to environmental problems, draft enforceable requirements and enforcement and compliance strategies, perform inspections and gather sound evidence, and respond to violations to resolve enforcement cases.
Mainstreaming Legal Knowledge on Environmental Issues, Cambodia
EPA Environmental Appeals Board judges delivered trainings in August 2017 in Phnom Penh and Siem Reap, Cambodia to build capacity of the Cambodian judiciary. The EPA judges worked with Cambodian Supreme Court and other judges, prosecutors, and officials to enhance understanding, implementation, and enforcement of environmental laws in Cambodia. Coursework included sessions on court rules, procedures, scientific evidence handling, and environmental impact assessment.
Strengthening Judicial Capacity and the Rule of Law in Environmental Cases, Bhutan
A team from EPA's Environmental Appeals Board, the Asian Development Bank and UN Environment delivered a training on environmental adjudication for the Judiciary of Bhutan in July 2018. EPA presented on principals of adjudication, rules of court, and judging evidentiary issues in environmental cases. The class roster of over 40 participants included the Chief Justice of the Supreme Court of Bhutan and judges from Bhutan, India, and Pakistan, as well as other environmental law stakeholders in the region. The modules included practical exercises and collaborative work with the judges on recommendations for the country's draft Green Bench Book—the rules of court procedure for their newly developed judicial process for hearing environmental cases.
For additional information on EPA's work with the Asian Development Bank, contact:
Joshua Novikoff
U.S. Environmental Protection Agency
Office of International and Tribal Affairs (2650R)
1200 Pennsylvania Ave., NW
Washington, DC 20460
(202) 564-1032