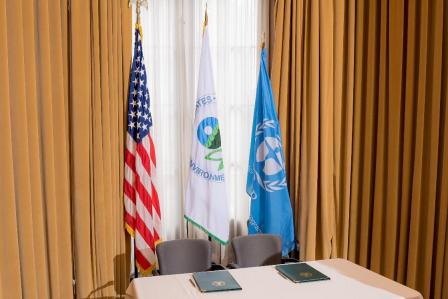 In September 2016, EPA and the UN Environment Programme signed a Memorandum of Understanding (MOU) at EPA headquarters in Washington, DC. The MOU identifies areas for strategic cooperation, including:
strengthening environmental laws and national governance; 
creating healthy communities, particularly for children; 
facilitating the transition to a green economy; 
responding to global challenges such as climate change; 
and providing scientific leadership. 
The first EPA-UNEP MOU was signed during the 26th Session of the UNEP Governing Council Meeting/Global Ministerial Environment Forum, Exit in Nairobi, Kenya, in 2011.
Learn more about our Role in the United Nations Environment Programme.
You may need a PDF reader to view some of the files on this page. See EPA's About PDF page to learn more.