Public Participation Guide: Process Planning
The success of a public participation program is largely determined by how thoroughly and thoughtfully it is planned. Successful meetings and events are determined by the degree to which an agency effectively commits to and prepares for the entire process, especially creating and providing the information needed by stakeholders and building effective relationships with key stakeholders.
There are five key steps in the planning process, each of which is discussed below:
---
Step 1. Organize for Participation
Ensure that public input is possible
The first step in planning for public participation is to ensure that you are seeking to obtain and use public input and not merely seeking public buy-in to an already determined outcome.
If there is little or no room for public influence over the decision, then public participation is not a reasonable option for your project. Instead, you should consider a public information or public relations project appropriate to your needs, timing, and circumstances.
Ensure that the sponsor agency is committed and able to involve the public
Once it is determined that real public participation is your intent, it is important to engage all levels of the sponsor organization, especially the decision-makers, to understand their willingness to engage the public in the decision or action, and what the organization is seeking to gain from public participation. Factors to consider include:
Are decision-makers open to and committed to considering public input in the decision process?
Are there constraints around the decision that limit the ability to engage the public?
What will a "successful" decision look like?
Are there conflicting or competing priorities or goals within the sponsor organization?
Are there unspoken interests or hidden agendas?
Will the sponsor agency commit the necessary resources? Can the required staff commit the necessary time?
Is there internal public participation capability? If not, can it be developed with additional training? Is the sponsor willing to contract for the expertise needed?
To what extent will the decision-maker and key project personnel commit to public participation? What needs to be done to affirm and strengthen this commitment?
Identify where public input is desired and possible
It is not always possible for the public to be involved in all major decisions, or in all aspects of any given decision or action. It is essential for an agency to clarify for itself the specific issues and questions where public input is desired and where the public can have influence. Any constraints to public input need to be identified. The more clearly you articulate the areas for input, the more meaningful the ultimate input will be.
Assess and assemble needed skills
A wide variety of skills and experience are required to plan and implement meaningful public participation. Paramount among these are:
Communication. The ability to identify and to portray the information that the public requires in order to participate meaningfully. The ability to listen for and understand the public's interests and concerns.
Facilitation.The ability to recognize the importance, role and appropriate use of a facilitative presence and apply it effectively in facilitating both the overall process and specific events.
Conflict Management. The ability to recognize the role of conflict in reaching a final solution and to work through and manage conflict situations.
Identify and commit needed resources
Identify the individuals, resources, organizations, and contractors that you will need to conduct the various facets of public participation and meet your promise to the public. Identify any training and development that is necessary for the team to succeed. Get these in place early so that all team members can plan together and begin developing needed stakeholder relationships.
 
Consider working directly with your stakeholders to design your public participaton program. This will dramatically improve stakeholder understanding and support of the process.
---
Step 2. Identify and Get to Know Your Stakeholders
Identify the range of stakeholder perspectives that should be involved in your project
It is important to conduct a situation assessment to understand who might be impacted, who should be involved, and what concerns they bring to the process. It is essential that you identify all of the viewpoints and interests that must be heard to create a fully participatory process.
You should consider a broad range of interests that may be important to the community such as:
Health
Safety
Pollution
Property values
Jobs
Congestion
Crime
Local economy
Identify specific stakeholders
By matching specific groups and individuals to the identified interests, you will ensure that your process will engage the full range of perspectives needed to conduct meaningful public participation. Careful consideration should be given to stakeholders that have a disproportionate burden regarding the decision you are making, to assure they are aware of the project and how they can provide input (if applicable).
You can identify additional information about the range of interests to be engaged by asking specific questions about your stakeholder community, such as:
Who will be directly affected by the decision?
Are there parts of the community that might be disproportionately burdened by the project?
Who will be indirectly affected by the decision?
Who wants to be involved?
Who is already engaged or has contacted us in this issue?
Who will be upset if they have no input to this decision?
Who can affect the decision?
Who can claim a legal standing (legal rights to...) that would be affected by the decision?
Who has real or perceived moral claims that could affect the decision process or outcome?
Who has the political clout to draw elected and appointed officials into the dispute?
Who is committed to the various interest groups, such as community groups or business groups, and will be responsible for acting as liaison and leader?
Who will be responsible for implementing the decision?
Whose support is needed to implement and enforce the decision?
Who could take legal action to block implementation of the decision?
Who could undermine the decision?
Who is committed to resolving this issue?
Who will be committed to following the process, including attending meetings, gathering information, and other practical, logistical, and tactical requirements of the process?
Who is affected by the decision? Is there a part of the community that is already suffering from health impacts of other project? Will this project create a greater burden on that part of the community?
At the end of this assessment, you should have built a comprehensive stakeholder list. This forms the foundation for your outreach and ensures that you are reaching the full range of community interests throughout the project. This list should grow throughout the process as more stakeholders are identified and become interested. It is important to identify reliable means for communicating with each stakeholder.
Build relationships
Once you have identified the full range of interests that need to be engaged and have specific groups and individuals that are representative of those interests, it is important to begin the process of understanding your stakeholders and relationship-building.
No effective participation process can be designed without first learning about and developing some level of relationship with the stakeholders that will be engaged. Meeting with stakeholders at the beginning of a project will help you to know your public, make them more accepting of you and the information you provide, and help you to design a public participation program that responds to their needs and concerns.
The most direct and effective process is to engage in extensive stakeholder interviews during the project planning stage. Try to reach a diverse set of stakeholders representing all of the interests that you have identified.
The interview process involves going directly to your stakeholders and asking them about their concerns, interests, and values. Get to know them as people and let them get to know you as well. It is important to understand how your stakeholders view your project and why. A guide to designing these interviews can be seen in the situation assessment section. Identify and plan possible cultural and language differences in the community before conducting stakeholder interviews.
---
The different levels of public participation are described in the section, Selecting the Right Level of Public Participation. There is no "right" level of public participation. For each project, agencies must consider the circumstances, their willingness and ability to share power, and the nature of the stakeholders' desire and need to participate.
As a rule of thumb, it is a good idea to try to meet the participation needs and desires of key stakeholders. Stakeholders who are shut out of a process that is important to them will not simply go away. Rather, they will look for other venues – such as legal, political, or media – in which to influence the decision.
However, in no circumstance should an agency ever commit to participation at a level higher than the decision-makers are willing or able to engage stakeholders.
The following flowchart can be useful in understanding your intent and matching that to an appropriate level of public participation. You can also think about additional questions to ask yourself at each stage.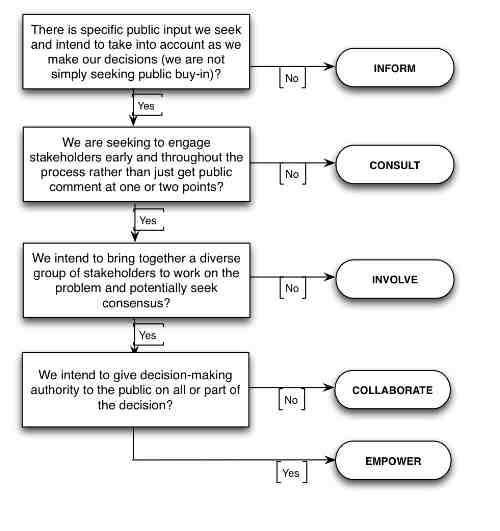 Once you identify the right level of public participation for your project, remember that you must develop a clear goal statement for public participation so that everyone on the team has the same understanding of the role of the public.
You must also prepare a clear promise to the public, so that all stakeholders understand their potential for influence on the decision and what they can expect from you as the process progresses.
---
Step 4. Integrate Public Participation in the Decision Process
Creating an environment for dialogue, particularly by breaking into smaller groups, is an effective way to both get public input and help the public learn about each other's viewpoints.
In order to have clear and meaningful public participation, it is important for all stakeholders to fully understand the decision process being used. Creating a visual representation of this process is helpful. Both internal and external stakeholders must have the same understanding and expectations regarding the decision process and how and when public input will be obtained. Key points to consider in describing the decision process include:
What are the key steps and timing in the process?
At which points will public input be obtained and used?
How will the public be kept informed throughout the process?
How will decision criteria be established?
How will alternatives be developed?
Who will make the final decision?
Meaningful participation requires that public participation activities be integrated directly into the steps in the decision process. It is essential to start public participation early so that stakeholders and staff are on the same learning curve about issues and development of alternatives and solutions. Most important, it is essential that stakeholders have a common understanding of the problem to be addressed and the criteria that will be used to arrive at a decision. These early activities are critical to getting meaningful input and an overall understanding of the final decision.
---
Step 5. Match Public Participation Tools to Objectives Throughout the Process
 Once the decision process is mapped out, it will become clear where and how the public is to be engaged. At each point that the public is to be informed or provide input, it is important to identify a clear objective for that interaction in order to design an effective process and to maintain clear expectations among all stakeholders.
Only after clear goals and objectives are established can appropriate tools be selected and customized to the circumstances and audience in order to best meet the established objectives. In any given process, a variety of tools will likely be required including:
An overview of these tools is provided in other sections of this guide.
(More resources on planning for public participation)
---
Contacts
For additional information on EPA's Public Participation Guide, contact:
Shereen Kandil
U.S. Environmental Protection Agency
Office of International and Tribal Affairs (2650R)
1200 Pennsylvania Ave., NW
Washington, DC 20460
E-mail: kandil.shereen@epa.gov