Healthy Places for Healthy People
On this page:
---
Background
Healthy Places for Healthy People engages with community leaders and health care partners to create walkable, healthy, economically vibrant downtowns and neighborhoods that can improve health, protect the environment, and support economic growth. These partners include community health centers (including Federally Qualified Health Centers), nonprofit hospitals, and other health care facilities.
Health care facilities can promote health, environmental, and economic goals by:
Contributing to economic development and downtown revitalization by locating health centers, hospital facilities, and associated programs in walkable, compact neighborhoods and central business districts that are accessible via a range of transportation options.
Supporting local entrepreneurs who have business ideas that will contribute to a healthy community and create economic opportunities for residents.
Working with partners and stakeholders in various sectors to use health as an economic driver for a local, thriving economy and a healthy community.
Fostering collaboration between workforce development and economic development initiatives to renovate and repurpose abandoned downtown buildings into new health center sites, affordable housing, retail, and other community assets.
Providing primary care and preventive services to those who do not have access to care.
Promoting healthy behaviors and lifestyles through activities such as supporting downtown farmers markets, co-op markets, and community gardens that provide access to fresh, healthy, local food.
Creating physical activity programs and supporting sidewalks, bike paths, trails, and parks in the community that promote active living.
The 2018 projects are sponsored by EPA, the U.S. Department of Health and Human Services — Health Resources and Services Administration (HRSA), and the Delta Regional Authority. Health care facilities can be particularly helpful partners in rural communities and small towns, where their economic impact in catalyzing downtown revitalization can be especially important. To find more resources for rural places and learn about how revitalization can help towns strengthen their economies, improve quality of life, and protect the environment and human health, see our Smart Growth in Small Towns and Rural Communities page.
If you have questions about Healthy Places for Healthy People, please read the Frequently Asked Questions (FAQs) About Healthy Places for Healthy People.
---
2018 Partner Communities
partnered with the following communities in 2018: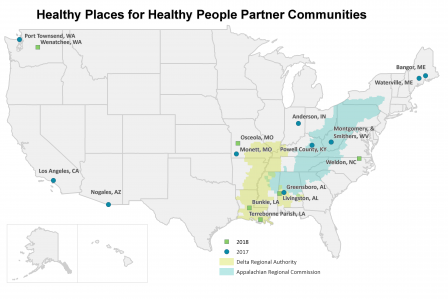 Healthy Places for Healthy People partner communities, 2017-2018. Click on the map to enlarge.
Bunkie, Louisiana: The city of Bunkie, Move Bunkie Forward, and Bunkie General Hospital aim to integrate Main Street revitalization strategies with health improvement efforts, seeking greater economic stability and improved human health.
Terrebonne Parish, Louisiana: The Isle de Jean Charles Biloxi-Chitimacha-Choctaw Tribe is relocating to a new community in Schriever, Louisiana, after being displaced from an area of Louisiana that has experienced coastal land loss. The workshop helped them visualize an environmentally friendly design with access to physical activity, healthy food, and health care.
Livingston, Alabama: The city of Livingston and the University of West Alabama collaborated to develop health and wellness initiatives in downtown Livingston, the Sumter County seat, in an effort to improve access to health care and healthy food, provide economic development opportunities, and support downtown revitalization efforts.
Osceola, Missouri: The West Central Missouri Community Action Agency, the city of Osceola, the Osceola Optimist Club, Osceola Schools, and the St. Clair County Economic Development office are working with two hospitals that have invested in health clinics in Osceola to plan for new sidewalks, trails, and housing to serve an aging population. This work ties health into broader economic development efforts that take advantage of the area's natural assets to boost tourism and the economy.
Weldon, North Carolina: The town of Weldon, Halifax Community College, and the Roanoke Valley Community Health Initiative are partnering to improve health care access and walkability downtown with the goal of improving economic, environmental, and community health.
Wenatchee, Washington: The Trust for Public Land, the city of Wenatchee, Confluence Health, Community Choice, and neighborhood residents aim to revitalize a park in South Wenatchee. The goal is to connect the park to downtown, support health-focused entrepreneurs, and help the community embed economic development considerations into efforts to improve the mental, physical, and environmental health for all residents.
The application period for this round of planning assistance from Healthy Places for Healthy People closed on October 25, 2017. The application is available here for reference only.
---
2017 Partner Communities
EPA partnered with the following communities during the pilot phase of Healthy Places for Healthy People:
Anderson, Indiana, where the Madison County Council of Governments, the city of Anderson, and several local hospital and health center partners developed a plan to create Health Districts throughout the city around key health care facilities to help revitalize the neighborhoods, improve the environment, and contribute to health improvements for residents.
Bangor, Maine, where the city of Bangor, Eastern Maine Healthcare Systems, Acadia Hospital, Penobscot Community Health Care (a Federally Qualified Health Center), and other partners worked to integrate public and environmental health initiatives with downtown revitalization strategies, including creating more transportation opportunities and promoting business development downtown.
Greensboro, Alabama, where the city of Greensboro partnered with the West Central Alabama Area Health Education Center, Hale County Hospital, Whatley Health Services (a Federally Qualified Health Center), Project Horseshoe Farm, Hale Empowerment and Revitalization Organization, and others to revitalize Greensboro's downtown corridor while enhancing the community's environmental and economic health.
Los Angeles, California, where the nonprofit New Economics for Women partnered with the nonprofit public charter school NEW Academy of Science and Arts and the Arroyo Vista Family Health Center (a Federally Qualified Health Center), each headquartered in the Pico-Union/Westlake neighborhood, to address blight, air quality, and poverty, while also meeting the housing and health care needs of the primarily immigrant community it serves.
Montgomery and Smithers, West Virginia, where Fayette County partnered with Montgomery General Hospital and New River Health Association (a Federally Qualified Health Center that runs a school-based health clinic) to identify ways that the health and wellness sector can reinvigorate the regional economy and contribute to cleaning up blighted properties downtown.
Monett, Missouri, where the local hospital, CoxHealth, worked with the city of Monett, the local school district, the Monett Main Street Organization, and other partners to improve health and the environment in the downtown and surrounding neighborhoods by building opportunities for walking and physical exercise, improving access to healthy food, and creating downtown revitalization strategies.
Nogales, Arizona, where Mariposa Community Health Center (a Federally Qualified Health Center) explored creating a downtown clinic location. As the health center incorporates health and wellness into its plans, it envisions green and open spaces for walking and physical activity and more economic opportunities for new businesses to start downtown.
Port Townsend, Washington, where the North Olympic Peninsula Resource Conservation and Development Council, Jefferson Healthcare, and the city of Port Townsend partnered with community organizations to repurpose a former school into an integrated center to house health care, social services, community wellness, and strengthened emergency preparedness.
Powell County, Kentucky, where the Kentucky River Foothills Development Council, which operates a Federally Qualified Health Center, and its partners worked together on the "Healthy Powell County" effort to create walking trails, community gardens, and transportation options to improve health, economic, and environmental outcomes in communities throughout the county.
Waterville, Maine, where Healthy Northern Kennebec, a coalition supported by MaineGeneral Health, partnered with Inland Hospital, Colby College, and other partners through the "Healthy Waterville" initiative to revitalize downtown Waterville while ensuring all residents have access to healthy food, health care, and economic opportunity.