Environmental Professional's Guide to Lean and Six Sigma: Appendix C
Lean and Six Sigma Glossary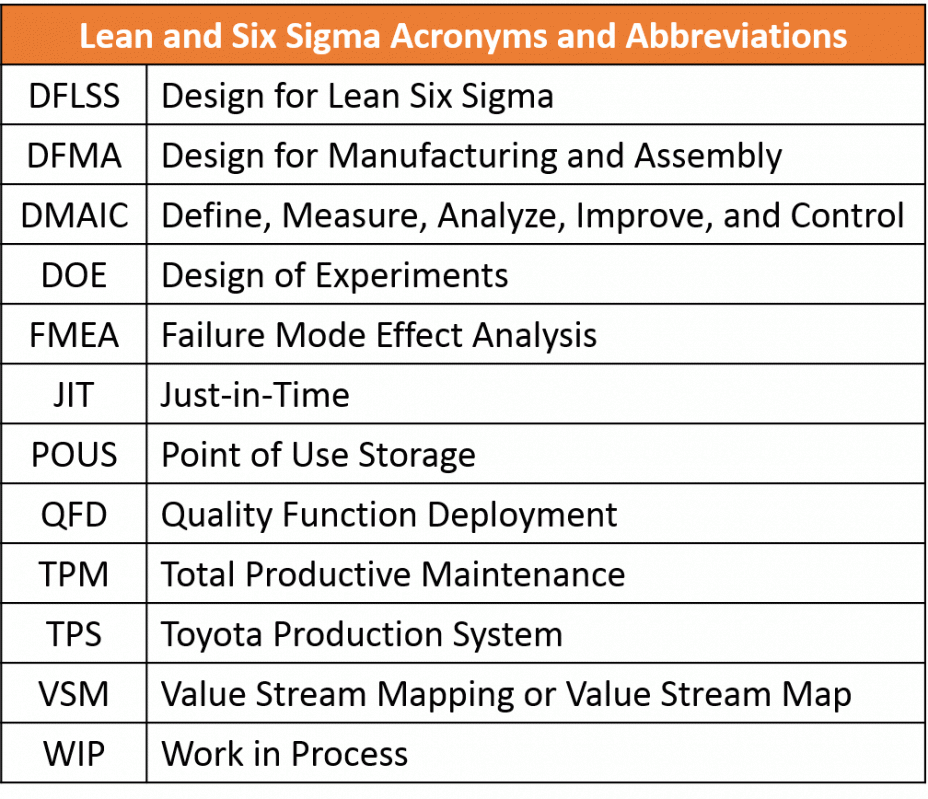 Lean and Six Sigma Terms and Definitions*

A
A3 - Manufacturers use the A3 method to write reports or "storylines" to solve problems, report project status, and propose changes in policy. "A3" refers to the size of paper used.
B
Batch and Queue - The mass production process of making large lots of a part and then sending the batch to wait in the queue until the next operation in the production process begins. Contrast with one-piece-flow.
Bottleneck - Any part of a production line that adversely affects throughput. See also constraint.
C
Cause-and-Effect Diagram - A cause-and-effect diagram is also known as fishbone diagram or an Ishikawa diagram (after its originator, Karoru Ishikawa). This technique is used to trigger ideas and promote a balanced approach in group brainstorming sessions where individuals list causes and effects of problems.
Cell - An arrangement of machinery, tools, and personnel designed to most logically and efficiently complete a production sequence. Cells help enable one-piece flow.
Cellular Manufacturing - An approach in where manufacturing work centers (cells) have the total capabilities needed to produce an item or group of similar items; contrasts to setting up work centers on the basis of similar equipment or capabilities, in which case items must move among multiple work centers before they are completed.
Chaku-Chaku - A method of conducting one-piece flow, where the operator proceeds from machine to machine, taking the part from one machine and loading it into the next. Japanese for "load, load."
Changeover Time - The time that elapses between the completion of one production run and the beginning of another production run.
Constraint - Anything that limits a system from achieving higher performance or throughput.
Cycle Time - The amount of time to accomplish the standard work sequence for one product, excluding queue (wait) time. If the cycle time for every operation in a process can be reduced to equal takt time, products can be made in one-piece flow.
D
Define, Measure, Analyze, Improve, and Control (DMAIC) - The DMAIC process is used to guide implementation of Six Sigma statistical tools and to identify process wastes and variation.
Design of Experiments (DOE) - Design of experiments offers a structured statistical approach to understanding the factors that affect a process and then create meaningful and effective tests to verify possible improvement ideas or theories. DOE is a good method for discovering and validating the relationships between the inputs and outputs in a process, in order to obtain improved results.
Design for Lean Six Sigma - A method for designing processes that support Lean Six Sigma objectives, such as reduced variability, to improve yield, reduce waste, and accelerate time-to-market.
Design for Manufacturing and Assembly (DFMA) - A simultaneous engineering process designed to optimize the relationship between design function, manufacturability, and ease of assembly.
F
Failure Mode Effect Analysis (FMEA) - A technique used to identify potential failure modes or causes of failures that may occur as a result of design or process deficiencies. FMEA is used to estimate the effects and level of severity of failures, and identify corrective design options or process changes.
5 Whys Approach - The approach of asking "why" five times to explore the cause/effect relationships underlying a particular problem and determine a root cause of a defect or problem.
5S or 6S - A method used to create and maintain a clean, orderly, and safe work environment. 6S is based upon the five pillars (5S) of the visual workplace in the Toyota Production System, plus a separate pillar for safety. The 6 pillars are: Sort, Set in order, Shine, Standardize, Sustain, and Safety.
H
Heijunka (Load Leveling) - The principle of keeping total manufacturing volume and mix as constant as possible. Synonymous with level load scheduling or production smoothing.
Hoshin Kanri (Policy Deployment) - A method devised to capture goals, projects to achieve the goals, designation of people and resources for project completion and establishment of project metrics. It is also a way to capture flashes of insight about the future and develop ways to make the future a reality.
I
Inventory - Goods and materials that a business has available in stock.
J
Jidoka (Autonomation) - Stopping a line automatically when a defective part is detected.
Just in Time - A production scheduling concept that calls for any item needed at a production operation—whether raw material, finished item, or anything in between—to be produced and available precisely when needed.
K
Kaikaku - This term refers to "quantum leap" or "breakthrough" improvements that are significantly greater than the level of gains typically achieved through daily continual improvement activities. Japanese for "radical improvement of an activity."
Kaizen - The incremental and continual improvement of production activities aimed at reducing waste, and designed around planned, structured worker-oriented events. Kaizen is a combination of two Japanese words meaning "to take apart" and "make good."
Kanban - A card or sheet used to authorize production or movement of an item.
Kanban System - A system that controls production inventory and movement through the visual control of operations.
L
Large Lot Production - The production of the same product or service in large quantities during a single, designated period of time. This is not characteristic of Lean manufacturing.
Lead Time - The total amount of time it takes to produce and deliver a product to a customer, from start to finish, including idle time and other non-value added activities.
Lean Supplier Network - A buyer-supplier relationship where designated lean production protocols, supporting sustained interactions between members, helps produce a network-based competitive advantage.
M
Mistake Proofing - Technology and procedures designed to prevent defects and equipment malfunction during manufacturing processes. Also known in Japanese as Poka-Yoke.
Monument - A production machine or tool that is difficult and/or costly to move due to its size or other physical constraint. Often materials must be brought to the monument in batches.
Muda (Waste) - The Japanese term for any human activity that absorbs resources, but creates no real value (i.e., waste; activities and results to be eliminated). Categories of waste in Lean include: defects, overproduction, transport of materials, unnecessary movement, waiting, inventory, and over-processing.
N
Non-Value-Added - Activities or actions taken that add no real value to the product or service from a customer's perspective, making such activities or actions a form of waste.
O
One-Piece Flow - A situation in which products proceed, one complete product at a time, through various operations in design, order-taking, and production, without interruptions, backflows, or scrap. Also known as single-piece flow.
P
Pacemaker - Any process point along a value stream that sets the pace for the entire stream.
Pitch - The time needed in a production area to make one container of products. For example, if takt time equals 30 seconds and pack size is 20 pieces, pitch is 10 minutes.
Pareto Charts - Pareto charts weigh each type of defect according to severity, cost of repair, and other factors in order to determine which types of defects occur most frequently. The Pareto chart is a bar graph arranged in descending order of size of importance from left to right.
Point-of-Use Storage (POUS) - Point-of-use is a system in which all necessary supplies, chemicals, etc. are within arm's reach of the worker, and positioned in a logical sequence of use.
Poka-Yoke - See Mistake Proofing
Policy Deployment - See Hoshin Kanri
Pull Production System - A production system in which nothing is produced by the upstream supplier until a need is signaled by the downstream customer.
Q
Quality Function Deployment - A method used to transform customer demand into design quality and ultimately the manufacturing process.
Queue Time - The time a material spends waiting in line for use in the production process.
R
Right-sized - The matching of production tooling and equipment in a scale that enables its use in the direct flow of products such that no unnecessary transport or waiting is required.
S
Six Sigma - Six Sigma is a continual improvement philosophy and a set of statistical analysis methods quality used to identify and reduce process variation in products and processes.
Supermarket - A tightly managed amount of inventory within the value stream to allow for a pull system. Supermarkets, often called inventory buffers, can contain finished items or work-in-process.
Supply Chain - A group of all suppliers involved in the manufacture of a product, beginning with the simplest part and ending with the production of the final product.
T
Takt Time - The available production time divided by the rate of customer demand. Takt time sets the pace of production to match the rate of customer demand and becomes the beat of a lean system.
3P - Production Preparation Process (3P) is a lean method for product and/or process design. 3P designs and implements production processes, tools, and equipment that support one-piece flow, are designed for ease of manufacturing, and achieve appropriate cost, quality, and lead time. Also known as Pre-Production Planning.
Total Productive Maintenance (TPM) - A Lean method that focuses on optimizing the effectiveness of manufacturing equipment. Total Productive Maintenance builds upon established equipment-management approaches and focuses on team-based maintenance that involves employees at every level and function.
Toyota Production System (TPS) - The manufacturing strategy of Toyota, upon which the terms "Lean production" and "Lean manufacturing" are based.
V
Value Stream - All activities (value added and non-value added) involved in producing a product or delivering a service to a customer, from receipt of raw materials to the delivery of finished products to the customer.
Value Stream Mapping - A process mapping method used to document the current and future states of the information and material flows in a value stream.
Visual Controls - Visual mechanisms for creating a transparent, orderly, and waste-free environment. This includes displaying the status of an activity so employees can see it and take appropriate actions.
W
Work in Process (WIP) - Production material in the process of being converted into a saleable product.
Y
Yokoten - The principle of replicating actions and sharing best practices from one project to another, to emphasize learning at an organizational level. Yokoten means "across everywhere."
Footnotes
* Sources of these definitions include Productivity Press Development Team, LeanSpeak: The Productivity Business Improvement Directory, Productivity Press, 2002, and the Lean and Green Summit, "Lean and Green Glossary."
Toolkit Navigation
Appendix C: Lean and Six Sigma Glossary