Environmental Professional's Guide to Lean and Six Sigma: Appendix E
Summary of the Washington Lean and Environment Pilot Projects
Background
The Washington State Department of Ecology's (Ecology) Hazardous Waste and Toxics Reduction (HWTR) Program and Washington Manufacturing Services (WMS) partnered in a project to provide Lean and environmental technical assistance to manufacturing facilities in Washington State through three pilot projects. Participating facilities included:
Canyon Creek Cabinet Company (Canyon Creek), a large manufacturer of custom frameless and framed style cabinetry in Monroe.
Lasco Bathware (Lasco), a manufacturer of fiberglass and acrylic bath and shower fixtures in Yelm.
Columbia Paint & Coatings (Columbia Paint, now part of Sherwin-Williams), a manufacturer of residential, architectural, and industrial paint and coatings in Spokane.
Ecology provided environmental expertise for the pilot projects, while WMS provided Lean manufacturing expertise and management of on-site activities at the facilities. The overall project objectives were to: (1) develop a partnership between Ecology and WMS, (2) evaluate the benefits of deliberately integrating environmental tools into Lean practices, and (3) gain the expertise to offer and promote future Lean and environment projects to manufacturers statewide. EPA, Ecology, and NIST contributed funding to the project, while each facility paid a portion of the costs for WMS' Lean facilitation services.
Project Activities
Ecology and WMS jointly marketed the pilot projects to manufacturers across Washington and selected facilities based on their ability to meet certain criteria (e.g., demonstrating potential for environmental improvement and securing management buy-in). Each pilot project included the following on-site activities:
Lean 101 and environment training (for facilities new to Lean)
Value stream mapping workshop (4–5 days) designed to assess the current state of the value stream or process and identify improvement projects
3–5 kaizen events (or "get 'r done" events), each lasting 4–5 days, to implement process changes, document results, and develop standard work for the new process or operations
Roles of Environmental Professionals
Ecology's technical assistance staff participated and added value to the Lean and environment pilot projects in a variety of ways, including the following.
Project Design, Scoping, and Planning
Worked with facilities and Lean service providers to determine the scope and objectives of the Lean improvement projects, and built relationships with participants to support their long-term success.
Lean and Environment Training
Conducted portions of "Lean 101" training for facility managers and staff, ensuring that Lean efforts consider the full range of wastes.
Value Stream Mapping Workshop Participation
Helped participants to document the "current state" of the value stream or process, including analyzing data on environmental wastes and costs.
Built the capacity for employees to "learn to see" environmental wastes and look for environmental improvement opportunities.
Supplemented value stream mapping with P2 process mapping to look more closely at the inputs and outputs of processes.
Participated in brainstorming discussions with the lean team to identify process-improvement opportunities and develop an implementation plan.
Kaizen Event (or "Get 'R Done" Event) Participation
Participated in kaizen events as team members and assisted with the planning and implementation of process changes.
Worked with the team to collect and analyze "before" and "after" metrics of the process changes, including environmental data and cost savings.
Assisted the facility with promptly addressing any potential regulatory compliance issues.
Provided environmental technical assistance and training for staff to support the project's objectives and ensure the sustainability of the results.
Follow Up
Followed up with the facility to answer questions, check on the status of action items, and identify needs for technical assistance.
Pilot Project Results
The pilot projects yielded impressive operational and environmental results. Cost, time, and environmental savings at each facility are summarized in Table 4.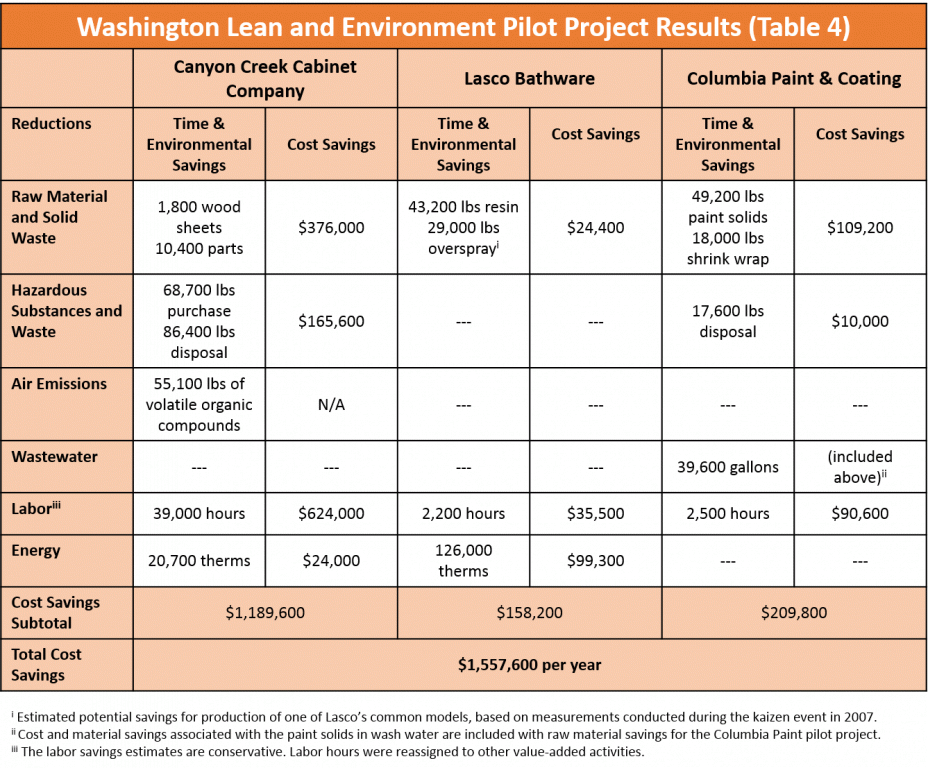 In addition to these savings, other improvements from the pilot projects included:
Increased production without the need of a Clean Air Act Title V air permit at one facility.
Reduced total lead time for producing products.
Increased flexibility and efficiency of production, enabling facilities to be more responsive to customer demands and more competitive in the marketplace.
Reduced product defects, improved overall workplace organization and ergonomics, and reduced worker exposure levels.
Enhanced staff morale, improved communication between staff and management, and empowered staff to initiate process improvement activities.
Concurrently with the three pilot projects, WMS and Ecology worked on several separate Lean and environment efforts with other manufacturers in Washington. WMS and Ecology have also continued to develop and enhance their partnership.
Toolkit Navigation
Appendix E: Summary of the Washington Lean and Environment Pilot Projects​​​