Environmental Professional's Guide to Lean and Six Sigma: Chapter 5
Why Does It Matter How We Talk About Lean and Environment?
Talking About Lean and Bridging Parallel Universes
This section discusses key strategies environmental professionals have used to effectively communicate with Lean practitioners and bridge the "parallel universes" of Lean and environmental activities at facilities.
Learn the Language. Environmental professionals don't need to become experts to learn the language of Lean. Listening, combined with reading and training, can equip you to talk effectively with Lean practitioners about environmental issues. Just as the terminology of Lean may initially be unfamiliar to environmental professionals, Lean audiences may not be familiar with environmental terms and acronyms. Consider exchanging glossaries with Lean practitioners to facilitate improved communications (see Appendix C for a Lean and Six Sigma Glossary and Appendix D for an Environmental Glossary).
Frame "Environment" in Lean Terms. It's not necessary to convince Lean practitioners to become environmental experts or "environmentalists" to integrate Lean and environmental initiatives. Lean practitioners love nothing more than finding and eliminating waste. If you can help them see wastes that were previously hidden, they will often become zealous partners in improving environmental performance. It is also useful to look for the specific places, or entry points, within Lean methods where asking a simple question can help Lean practitioners see environmental wastes. EPA's Lean toolkits offer many specific ideas of where you can find entry points in Lean methods. 
Learn How to Say "Yes." When environmental professionals are viewed as only saying "No" to potential Lean projects, invitations to participate in Lean events can be scarce. Instead, think creatively about how to address challenges and meet both environmental and operational objectives. Some Lean facilitators even ban the word "can't" and suggest reframing concerns by saying, "We could if…" By working collaboratively to develop solutions—identifying ideas that can reduce environmental wastes, eliminate worker health and safety hazards, and/or avoid environmental risks associated with regulatory compliance obligations—environmental professionals can cultivate an important new venue for environmental expertise, tools, and information.​
In many organizations, there can be functional divides or "silos" between people leading operational improvement activities such as Lean and people responsible for managing environment health and safety issues, regulatory compliance activities, and environmental improvement efforts. Similarly, Lean service providers and environmental technical assistance providers sometimes operate in "parallel universes," even though both types of assistance providers seek to improve the performance of the organizations they work with.
Bridging the "Lean" universe and the "environmental" universe can yield substantial benefits for all parties involved. Fortunately, it doesn't have to be difficult to overcome these differences, break down organizational silos, and work together to achieve common objectives such as waste elimination, continual improvement, and creating a good working environment for employees. Box 16 describes a few simple steps that both Lean and environmental professionals can take to help realize these common objectives.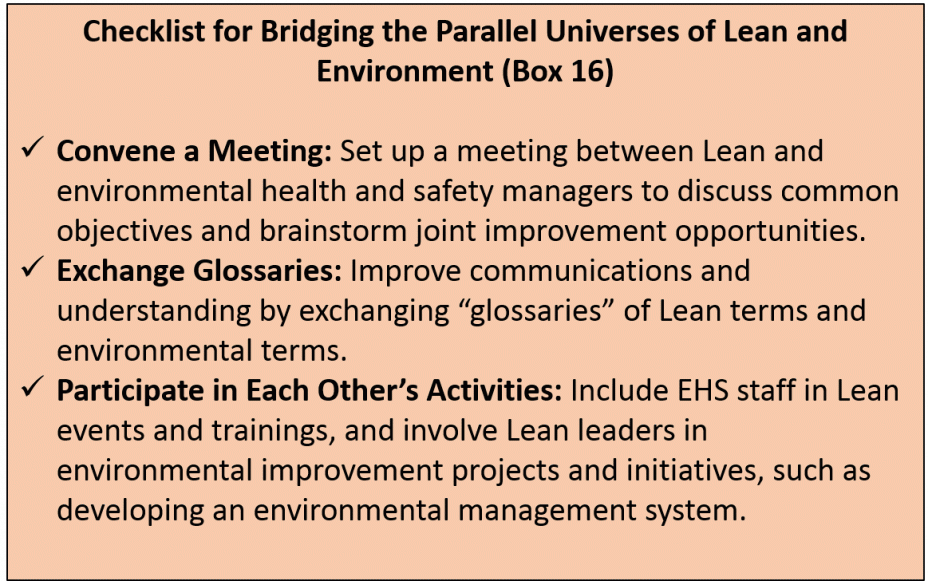 The ultimate goal of Lean and environment efforts is to seamlessly integrate environmental considerations into Lean so that eliminating environmental wastes becomes just another part of doing Lean.

Safety is about a decade further along in being integrated into Lean efforts. Many Lean books, training courses, and tools now incorporate safety considerations as standard practices. For example, many organizations commonly refer to 5S as 6S or 5S+Safety. While more work is needed to fully integrate safety issues into Lean, the evolution of safety's relationship to Lean may provide a model for environmental professionals.
What's in a Name? Branding Lean and Environment
Given that much work lies ahead to connect Lean with environmental improvement efforts, how should environmental professionals refer to or "brand" integration efforts? A variety of terms have been used, including "Lean and Environment," "Lean and Green," and "Lean and Clean." These terms can be useful in drawing attention to efforts to integrate the parallel universes of Lean and environment, and, for technical assistance providers, in making a distinction between standard Lean services and integrated services that combine Lean and environmental expertise. At the same time, these "Lean and Environment" terms can imply that environmental considerations are an add-on, something distinct and separate from Lean, when the real goal is more seamless integration. Furthermore, efforts to "paint Lean green" may not get far with all Lean practitioners and promoters.
Environmental professionals should think carefully about what to call Lean and environmental integration efforts. Branding Lean and environment using terms such as those described above may be fully appropriate and useful when communicating with other environmental professionals. Many businesses and operations personnel, however, may be skeptical of the value of incorporating environmental issues into Lean. In addition, as noted previously, saying that Lean and/or Six Sigma are the same as pollution prevention can lead operations personnel to dismiss the ideas of the environmental professional.
When communicating with operations personnel at businesses, a subtle approach to describing Lean and environment may work best. Rather than elevating environmental issues to be on par with Lean, environmental professionals may be better served by leading with Lean and discussing how environmental professionals can help these methods find and eliminate even more waste. The idea of adding one more waste - environmental waste - to Lean's "deadly wastes" is a powerful concept that may increase receptiveness and lower barriers to connecting Lean and environment. Furthermore, consider relabeling "environmental waste" using terms that operational audiences may receive better. Examples of alternate terms for environmental wastes include "process wastes," "fallout wastes," and "material wastes."

Lessons Learned about Convincing Companies of the Value of Lean and Environment
Practitioners and service providers with Lean and environment experience have shared the following suggestions on how to talk with companies about the value of Lean and environment.
It's important to speak the language of business and explain how Lean and environment efforts will address core business needs, including:

Reducing costs 
Decreasing production lead times
Increasing value to customers
Staying in business and retaining jobs
Addressing key problems and areas of "pain" (i.e., what keeps operations managers up at night?)

Examples that illustrate the true value of environmental wastes (how much money a company is throwing away), as well as specific results from previous projects, are very useful for developing the business case for Lean and environment.

However, it is not necessary to precisely define the anticipated cost savings from process changes in advance, since Lean operates with a presumption of benefit and favors action over planning.

It can be easier to convince a Lean manager of the value of addressing environmental waste than to convince an environmental manager about the value of Lean and environment. If a company is already implementing Lean, it's likely to be receptive to the idea of addressing other wastes.
The more that Lean practitioners become aware of the business value that can stem from folding environmental considerations into their Lean initiatives, the more environmental benefits will result.
Furthermore, when environmental improvement opportunities are included with Lean initiatives, those ideas receive more management attention and become higher priorities for implementation. Effective integration of Lean and environmental efforts creates a powerful approach to find hidden cost savings, identify and eliminate all forms of wastes, reduce business risks, and improve organizational performance.
Toolkit Navigation
​Chapter 5: Why Does It Matter How We Talk About Lean and Environment?