Environmental Professional's Guide to Lean and Six Sigma: Chapter 6
Lean and Environment Applications
Connecting Lean, Six Sigma, and Environmental Efforts at Facilities
As described earlier, there are many reasons why environmental health and safety managers and other staff with EHS expertise would want to connect with Lean improvement efforts. Lean can be a powerful vehicle for generating environmental results, yet without active engagement of staff with EHS expertise, there's a risk that these business improvement efforts will overlook environmental opportunities or that they will create regulatory compliance and/or worker health and safety issues.
While ideally EHS personnel should not be the only employees looking for environmental wastes and improvement opportunities; there are several ways that environmental professionals can help integrate environmental considerations into Lean efforts at companies. Three important steps include:
Learn about Lean. Learning about Lean principles and methods is a good first step for understanding how these efforts can advance environmental objectives. Along with this guide, the EPA has developed a series of Lean and environment publications, and many organizations, including NIST MEP centers, offer Lean training courses. Another useful way to learn is to listen to Lean practitioners and to observe Lean implementation efforts. Consider attending the report-out sessions of Lean events or participating in a full event. A little time spent listening and observing can be much more effective than just relying on books and training courses to get a practical understanding of Lean.
Get Involved with Lean Efforts. If you work at an organization implementing Lean or Six Sigma, set up time to meet with Lean leaders in your organization or geographic area. Often the greatest benefits come from simple conversations and relationships. With Lean's focus on eliminating "waste" in all its forms, there should be some natural synergies and places where EHS personnel could offer to help with Lean efforts. Lean teams often look for people with outside perspectives to participate in events, and directly participating in Lean efforts is one of the most powerful ways to influence them.
Bring a "Problem Solving" Orientation to Lean Teams. The rapid time frames of Lean (e.g., teams identify and implement process changes in a week) mean that there is a bias for quick and simple solutions. Working effectively with Lean efforts may require environmental professionals to operate in different ways, focusing on quickly identifying simple solutions to reduce wastes as part of cross-functional Lean teams. There may be a need to think creatively about ways to proactively address potential regulatory compliance issues, in order to enable process changes that could improve both environmental and operational results.
By understanding the schedule and scope for upcoming Lean projects, environmental professionals can identify information that can reveal environmental wastes and anticipate regulatory and compliance issues that may affect changes made during the events. Moreover, environmental professionals can open a significant new market for the expertise and tools developed by environmental organizations, including pollution prevention and waste minimization techniques, Design for Environment methods, EMS, and life-cycle analysis techniques.
Environmental agencies can help facilitate the integration of Lean, Six Sigma, and environmental improvement efforts at facilities in a number of ways. Potential roles for environmental agencies include:
Adapt or "translate" existing environmental tools for Lean and Six Sigma audiences and applications.
Partner with Lean organizations to integrate environmental considerations into Lean training curriculums, publications, and other efforts.
Support Lean and environment technical assistance and training programs (see section below).
Address regulatory barriers or uncertainties with applying Lean tools to environmentally sensitive processes.
Disseminate results and best practices from Lean and environment efforts.
Develop Lean and environment tools and educational materials.
The rising prominence of Lean presents a window of opportunity for environmental professionals to help manufacturing companies generate better environmental results while supporting business competitiveness initiatives.
Delivering Lean and Environment Technical Assistance
Environmental technical assistance providers—including not-for-profit pollution prevention centers, government agency technical assistance programs, and private consulting firms—can improve environmental results, provide more value to businesses, and reach new audiences through efforts to integrate environmental considerations into business improvement initiatives such as Lean. Environmental service providers can accomplish this in two primary ways:
Partner with Lean Service Providers: Environmental service providers can partner with Lean service providers to offer Lean and environment services to facilities. There are several models for this type of joint service delivery, as discussed further below.
Provide Direct Support to Facility Lean Efforts: Facilities implementing Lean approaches may request assistance or "pull" services of outside environmental professionals to address environmental wastes in the context of Lean. For example, companies have invited environmental agency staff to participate in Lean events on processes with significant environmental impacts. P2 assistance providers have also provided training and technical assistance to facilities to support Lean implementation and address specific operational problems (e.g., training on spray efficiency techniques to develop standard work).
Lean and Environment Efforts Involving Manufacturing Extension Partnership Centers
Several organizations have developed Lean and environment technical assistance programs involving partnerships with National Institute of Standards and Technology (NIST) Manufacturing Extension Partnership (MEP) centers. MEP is a national network of manufacturing assistance centers that provide Lean manufacturing and other services to small-to-medium sized businesses to make them more competitive. A list of MEP centers is located at the NIST MEP website: https://www.nist.gov/mep. Here is an example of a Lean and environment program involving MEP centers:
New York LE2 Program: The New York State Pollution Prevention InstituteExit offers integrated Lean, Energy, and Environment (LE2) analytic services to New York manufacturers. This detailed, in-depth value stream analysis involves a lean practitioner, an EHS professional, and an energy expert taking a critical look at the process and identifying inefficiencies, safety and environmental issues, and energy wastes. The LE2 assessment includes an LE2 value stream map, recommendations, a written final report, and a presentation to management and stakeholders. Assistance and training for the implementation may also be available upon request.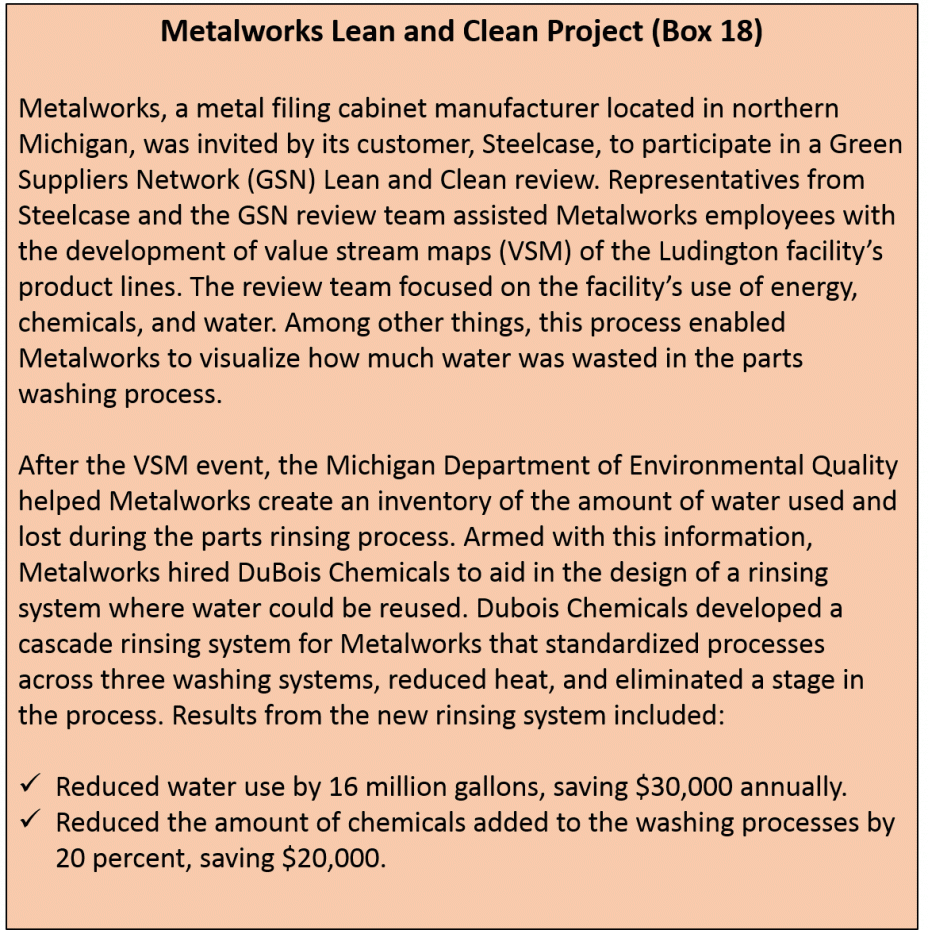 These established programs do not represent the full range of "Lean and environment" service delivery efforts. For example, the Oregon Manufacturing Extension PartnershipExit has partnered with the Pacific Northwest Pollution Prevention Resource CenterExit (PPRC) on a few Lean and environment projects, and the Idaho Department of Environmental Quality Exit has worked with Idaho TechHelp Exit and PPRC on a Lean and environment project. In addition, several private consulting companies are developing integrated Lean and environment services.

While Lean and environment technical assistance programs have had substantial success, it is not necessary to have a separate Lean and environment program to enhance the environmental results of Lean implementation. Some Lean service providers are moving towards integrating environmental and energy considerations into standard Lean training curricula, tools, and service delivery approaches, as part of continually improving their efforts. As discussed in the last chapter, there may be some value in de-emphasizing "environment" and similar terms in talking with businesses about Lean and environment services, because of any false perceptions it may generate.
Using Lean to Enhance Environmental Programs and Processes
Just as environmental tools can add value to Lean efforts, the principles and tools of Lean can enhance the effectiveness of environmental programs and processes. Two example applications are as follows.
Applying Lean to Government Processes: EPA and about 20 state environmental agencies have successfully used Lean methods to improve the efficiency and effectiveness of permitting and other agency processes. The results these agencies have achieved are impressive. For example, the Vermont Department of Environmental Conservation cut the time needed to process a wastewater permit application from a maximum of 542 days to 34 days. The Iowa Department of Natural Resources eliminated a 600-permit backlog in air construction permits within 6 months of a Lean event and cut process steps by 70 percent.
Applying Lean Concepts to Compliance Assistance Resources and Environmental Management Systems: Visual controls, standard work, 6S (5S + Safety), and other Lean Six Sigma tools can be very effective for increasing awareness and use of appropriate procedures and practices for protecting worker health, safety, and the environment. See Figure 17 for an example of using visual controls to assist with regulatory compliance.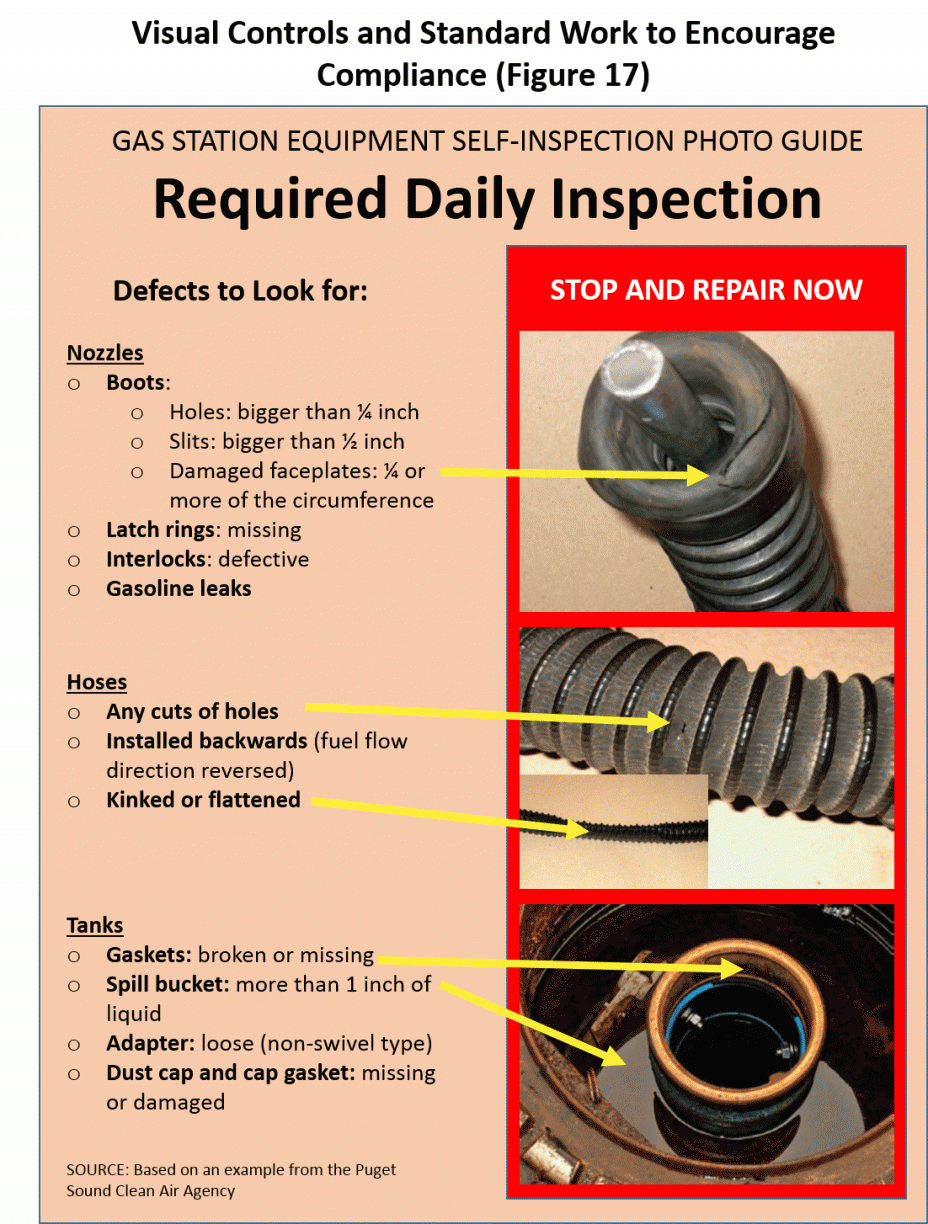 Lessons from the Field
Although there is no single "right" way to do Lean and environment, practitioners and service providers with Lean and environment experience have shared a variety of tips and suggestions for environmental professionals based on what has worked well and not well in previous efforts. These suggestions address some common pitfalls when environmental professionals engage with Lean (Box 19).

Participating in Lean Activities
It's not necessary to be a Lean expert before participating in an event. Many practitioners recommend, "Just do it." The best way to learn about Lean—and Lean and environment—is to participate in events and look for opportunities where you can add value in the process. 
While environmental professionals can add value in most any Lean or Six Sigma project, they can offer the greatest service in Lean events that include processes with significant environmental impacts or issues. Two key strategic areas for involvement of environmental personnel are:

Participating in value stream mapping events, when teams examine the entire value stream or process and plan future Lean activities
Planning for and participating in kaizen events that address environmentally sensitive processes or processes that generate significant amounts of environmental wastes

Some of the best ways to find wastes and improvement opportunities are very simple. For example, walking through the value stream, closely observing how processes actually work, and asking questions can yield considerable benefits (see Box 20).
Similarly, simple tools and solutions tend to work best in Lean. For example, photos and videos of processes are very useful as training tools.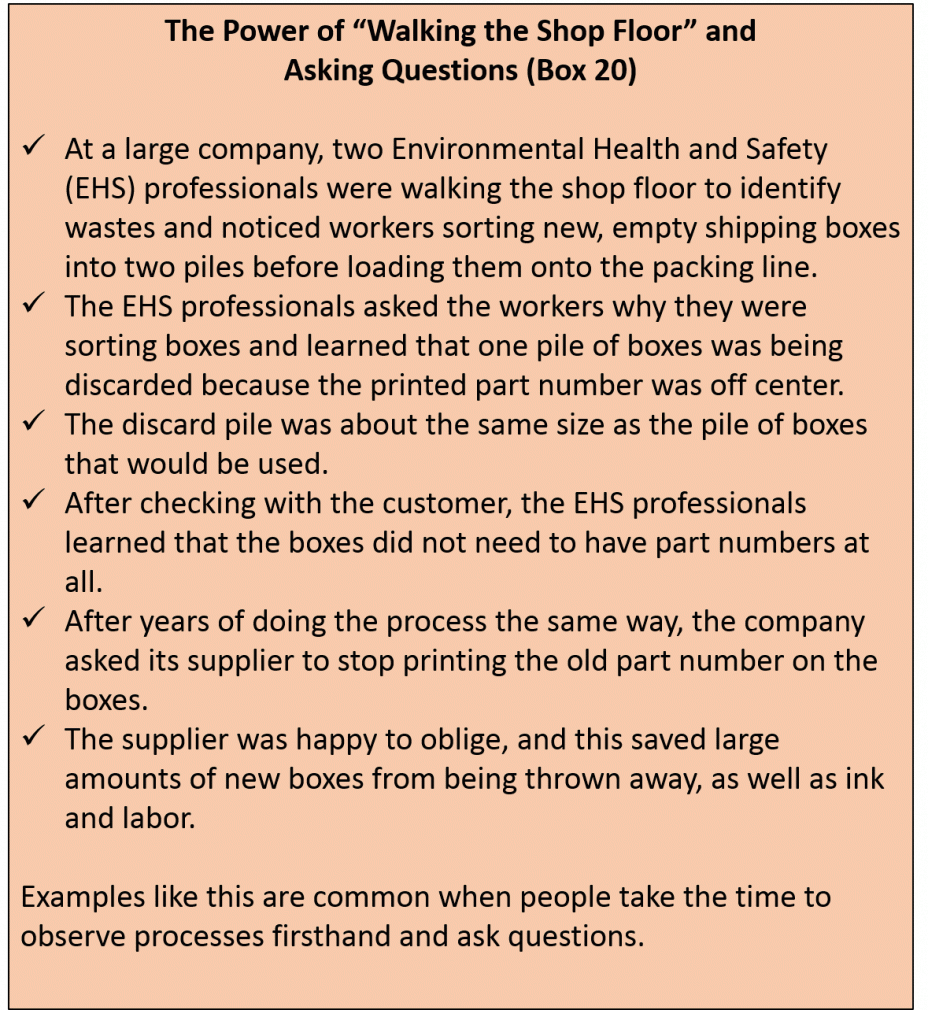 Developing Lean and Environment Service Delivery Partnerships
There is great potential for mutual gain from partnerships between Lean and environmental service providers, such as environmental agency technical assistance programs and NIST MEP centers. Nevertheless, it is important to be aware of the differences between "government culture" and "manufacturing culture."
Lean and environmental service providers may need to make adjustments to work more effectively and efficiently as a team.
It is important to respect the client's agenda and to work from a results-oriented view. For this reason, it can be helpful to let the MEP or other Lean provider lead the process of marketing the project to clients and negotiating the client interactions to define the scope of the project.
Clearly establishing and communicating the roles for environmental personnel, especially those from regulatory agencies, can address common misperceptions. Workers may assume that people from environmental agencies are there to find regulatory compliance violations rather than to provide technical assistance.
Find a balance between metrics that serve the environmental agency and metrics that serve the client. While it may be appropriate to identify "soft" cost savings and benefits in projects, it may not be productive to push for detailed calculation of these benefits. Doing so can take significant effort and potentially undermine the facility's ownership of the results.
Having grant funding or other financial assistance to "buy into the game" for Lean and environment projects is helpful; however, sometimes subsidized or free services can raise a red flag for companies.
The amount of staff and funding available for Lean and environment technical assistance efforts influences the scale of those efforts, not whether they are possible to do. For example, it is possible to be strategic about when environmental agency staff engages in Lean activities. Even small Lean and environment efforts can generate compelling results.
With the expansion of Lean implementation in manufacturing and industry, as well as the growing recognition of the importance of environmental, energy, and sustainability issues, environmental professionals are well positioned to leverage Lean business trends to reduce wastes and improve environmental outcomes.
Toolkit Navigation
​Chapter 6: Lean and Environment Applications