Brownfields and Land Revitalization in Region 1
EPA Region 1 manages Brownfields and Land Revitalization programs in Connecticut, Maine, Massachusetts, New Hampshire, Rhode Island and Vermont.
Visit the national Brownfields Program web site for general information about the Brownfields Program and competitive grants and the Land Revitalization Program web site for additional information on EPA efforts to previously contaminated properties back into productive use.
On this page:
Technical Assistance to Brownfields Communities
Targeted Brownfields Assessments (TBAs)
Subtitle A of the Small Business Liability Relief and Brownfields Revitalization Act authorizes the United States Environmental Protection Agency (EPA) to establish a program to perform Targeted Brownfields Assessments (TBAs) such as Phase 1 and Phase 2 environmental assessments at properties within Region 1 at no cost to local governments, quasi-governmental agencies and tribes. Information gathered from a TBA gives local governments and Prospective Purchaser a better understanding of potential contamination issues at Brownfields sites in their communities. EPA, at no charge to the community, will characterize a Brownfield to determine the nature and extent of contamination. Results are provided to the community to assist them in redevelopment planning.

Getting started with TBA.
Technical Assistance to Brownfields (TAB)
The brownfields Technical Assistance to Brownfields (TAB) program provides technical assistance to brownfields communities and stakeholders. TAB providers serve as independent resources and can provide expert technical assistance and guidance for parties interested in acquiring, assessing, cleaning up and redeveloping brownfields properties. The TAB program is funded by EPA and available to all stakeholders. The New Jersey Institute of Technology (NJIT) offers free technical assistance and training program services to EPA Brownfields grantees and those seeking to Brownfields grants in New England.
Materials for Brownfields Grants
Application Resources
Grant Resources
Stories from Around the Region
Brownfields Success Videos
Highlights from Region 1
PREPARED Workbook
Process for Risk Evaluation, Property Analysis and Reuse Decisions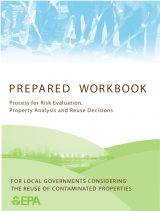 Download Workbook
The Workbook was developed by EPA New England and its contractors for local governments (it should also be useful to states, counties, tribes and quasi-governmental redevelopment entities). PREPARED is a risk management framework for evaluating various actions that a local government might take to bring about a desired reuse at contaminated properties that it does not currently own. These actions are referred to in the Workbook as property recovery actions. Worksheets are also provided to help document and guide the evaluation process. More information about the PREPARED Workbook.
Key Companion Document
Revitalizing Contaminated Sites: Addressing Liability Concerns (June 2014) ("Revitalization Handbook")
PREPARED Workbook Worksheets:
Worksheet 1: Establishing Project Goals(1 pg, 15 K)
Worksheet 2: Reuse Assessment(2 pp, 14 K)
Worksheet 3: Preliminary Screening of Property Recovery Actions(3 pp, 17 K)
Worksheet 4: Due Diligence(4 pp, 17 K)
Worksheet 5: Identification and Prioritization of Redevelopment Obstacles(1 pg, 13 K)
Worksheet 6: Identification of Potential Risks and Actions to Resolve Information Gaps(1 pg, 13 K)
Worksheet 7: Identification of Risk Management Tools(1 pg, 15 K)
Proforma Worksheet: Real Estate Pro Forma for Redevelopment(2 pp, 20 K)
For more information about Region 1's Land Revitalization program, contact:
Christine Lombard (lombard.chris@epa.gov)
617-918-1305
Connecticut Web-Enabled PREPARED Workbook Exit
State Cleanup Programs within Region 1
News & Events
To Be Rescheduled
Region 1 What's New
Add Me to What's New
Remove Me from What's New