Coal Mine Methane Country Profiles
You may need a PDF reader to view some of the files on this page. See EPA's About PDF page to learn more.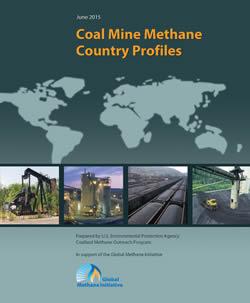 This is the fourth edition of the Coal Mine Methane Country ProfilesExit (formerly the Coal Mine Methane Global Overview), updated in June 2015. This document contains individual, comprehensive profiles that characterize the coal and coal mine methane sectors of 37 countries—29 Global Methane Initiative (GMI) Partner Countries and an additional eight coal-producing nations. The Executive Summary provides summary tables that include statistics on coal reserves, coal production, and methane emissions by country.
An International Coal Mine Methane Projects Database Exit accompanies this document. It contains detailed and comprehensive information on more than 200 coal mine methane (CMM) recovery and utilization projects around the world. Project information in the database is updated regularly.
Suggestions for updates and revisions can be submitted to the Administrative Support Group Exit and will be incorporated into the document as appropriate.
The following links exit the site Exit
* GMI Partner Country