Benchmarking Advanced Low Emission Light-Duty Vehicle Technology
On this page:
---
Overview of Advanced Low Emission Vehicle Technology Benchmarking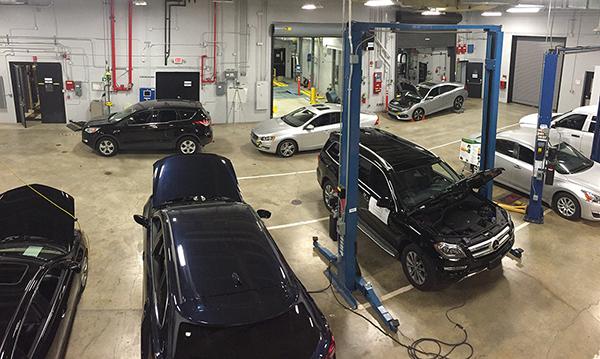 NVFEL Laboratory Benchmarking Test SitesThe National Center for Advanced Technology (NCAT), part of the National Vehicle and Fuel Emissions Laboratory (NVFEL), assesses the effectiveness of advanced low emission and low fuel consumption technologies for a broad range of key light-duty vehicles, engines and transmissions.  The NCAT team benchmarks advanced technologies using laboratory test methods to characterize engine controls and measure emissions and fuel consumption.  Technologies benchmarked thus far include boosted and high compression ratio naturally-aspirated engines (containing advanced components such as variable valve lift, cylinder deactivation and integrated exhaust manifolds), high-ratio automatic transmissions, continuous variable transmissions, and hybrid components.
NCAT leverages best laboratory testing practices to evaluate advanced vehicle, engine and transmission technology.  The test data are used for a variety of purposes including documenting engine performance in complete engine maps, performing technical analyses regarding technology effectiveness, and providing information for complete vehicle simulations with the Advanced Light-Duty Powertrain and Hybrid Analysis (ALPHA) tool. Both laboratory test data and ALPHA simulation results have been used to support technical engineering analyses of CO2 emissions from advanced automotive technologies which could be used to meet light-duty vehicle standards, as well as in numerous technical papers.  For more information on the ALPHA Tool, see:
One of the goals in establishing an extensive engine and vehicle benchmarking program is to determine appropriate modeling guidelines to ensure robust, consistent and meaningful outputs.  For an overview presentation of the benchmarking and simulation activities presented at the 2016 SAE Government Industry Meeting, see:  
---
Test Data Packages from Benchmarking
NCAT benchmark testing evaluates and characterizes vehicle, engine and transmission behaviors over specified test cycles and methods. Data from these tests are collected into test data packages which describe the test procedures and provide the results from benchmarking various advanced technology components.  The test data packages include at a minimum partial engine maps from steady-state testing like the one shown at the right.  These maps show the engine's performance results over the range it was actually tested and confirmed in the laboratory. When available, engine test data packages also include details about idle, wide-open throttle, motoring, high load enrichment and cylinder deactivation operation.
Following EPA's commitment to transparency, NCAT publishes the test data packets from benchmarking for use in other modeling and analysis activities. The test data packages below contain test report documentation which describes in detail how the testing was conducted, the data that were measured and a spreadsheet file containing the corresponding test data for use in technical analyses.  Please use the citation included in each test report when referencing any of these documents.
Engine Test Data
Transmission Test Data
Vehicle Test Data
---
Technical Publications and Presentations Concerning Benchmarking
The technical publications and presentations listed below describe benchmarking studies conducted on vehicles and engines selected for their specific vehicle technology content.  The test articles, procedures, and results from benchmarking activities are described and support the goal of publishing research in peer-reviewed papers and journals to increase transparency.